MJ Zipshirts Give Back to Cancer Patients
| December 6th, 2016
A simple idea and a devoted seamstress providing comfort and dignity for patients
---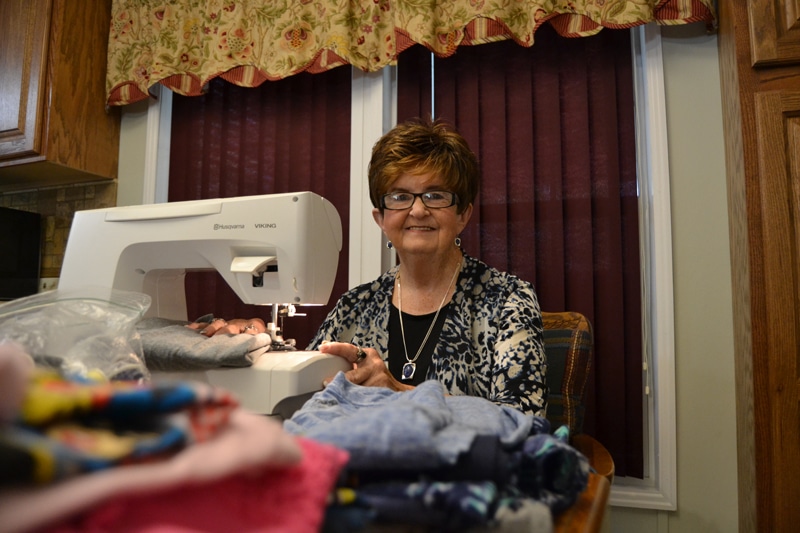 Here's a question you may not have thought about recently. What's your favorite T-shirt in your wardrobe? Is it the one your children gave you 20 years ago that proclaims you BEST DAD? Or, maybe it's the T-shirt you picked up last year during that once-in-a-lifetime vacation? For most of us it's probably a tough decision narrowing the selection to just one, but for more than 1,000 people across the country, picking their favorite T-shirt is an easy choice. It's the shirt that changed their lives.
Four years ago, Powhatan County resident Mary Jane Namola created the MJ Zipshirt when her goddaughter's 3-year-old son was undergoing cancer treatment. "I'm a nurse and a seamstress. I thought of putting an invisible zipper in a T-shirt so that he didn't have to take off his shirt when the doctors and nurses were trying to get to his port," explains the soft-spoken Namola. "I thought of an invisible zipper in the T-shirt, and it worked wonders. He was so happy he didn't have to take his shirt off anymore."
Namola's initial creations included Mickey Mouse, Minnie Mouse and Donald Duck "zipshirts." She's expanded to making MJ Zipshirts for patients of all ages – from all different kinds of T-shirts. "I've made them in sizes from 24 months to 2 XL. For children, I purchase T-shirts with Disney characters. For men and women, nice crewnecks. I make a variety of … colors, sizes and different patterns," explains Namola. "There's a difference between a 30-year-old and a 70-year-old."
An average MJ Zipshirt costs anywhere from $5 to $8. Mary Jane purchases the T-shirts and zippers on sale. She can make a shirt in about 15 minutes. "I enjoy doing these shirts, and I know what comfort and dignity it gives the patient – especially the teenagers," says the 66-year-old grandmother of three. "Patients only have to unzip the zipper to the port, and that's all they have to expose. The dignity and the worth they receive … it's very rewarding."
All total Namola has given away nearly 4,000 MJ Zipshirts. By her calculations, she's made over 2,000 for the children's hospital in Pennsylvania where her goddaughter's son received treatment, and she's made over 1,600 here in Virginia, distributing them at Bon Secours and Children's Hospital of Richmond at VCU. "I keep on making them, and they just keep on giving them out," exclaims Namola. She's received a few financial donations along the way from community groups including her church, St. John Neumann in Powhatan, and the Knights of Columbus. The money has helped to defray some of the costs, and a few supporters are trying to start a GoFundMe campaign to help Namola even more.
For Namola, the out-of-pocket costs have never been a concern. It's all about Giving Back. "There was one little girl, I made a special one for her. She had a left port, and she wanted a T-shirt with princesses on it. I delivered it to her, and she cried," says Namola, in a voice in which you can feel both her pain and her joy.