More What's Booming RVA: December 8 to 14
December 8th, 2022
Plus announcements and down-the-road events
---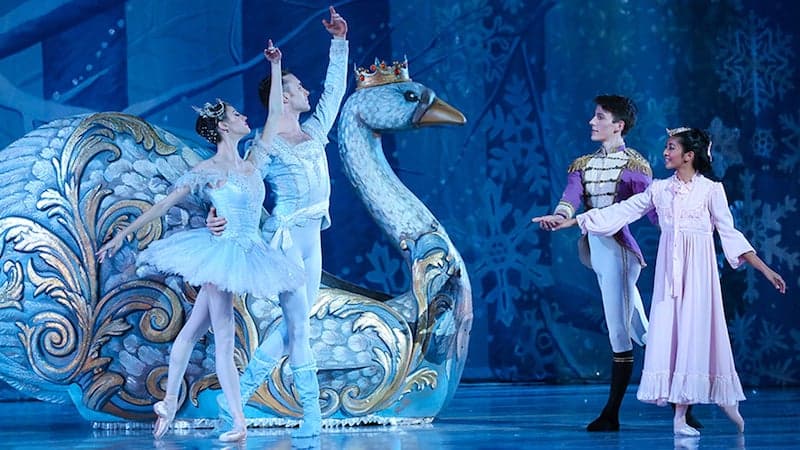 More of What's Booming in Richmond, Virginia, from December 8 to 14 and then some: music, museums, festivals, fundraisers, announcements, holiday happenings, and more.
---
Note: Check websites for more details, including prices, Covid policies, and registration requirements.
December 8 to 14
Thursday, December 8
An Evening on Kilimanjaro with Robert Dortch. See this week's top 5 What's Booming picks.
Hip Hop Nutcracker. The holiday mash-up blends innovative digital graffiti and visuals to transform the landscape from traditional 19th-century Germany to the vibrant sights and sounds of contemporary New York City. December 8 at 7 p.m. at Altria Theater, Richmond.
Richmond Night Market Holiday Villages. Live music serenades shoppers at this outdoor market of local and handmade artisans and businesses. December 8, from 2 to 7 p.m., at The Valentine Museum, and Dec. 10 and 11, from noon to 5 p.m. both days, at the 17th Street Market, Richmond.
Starr Hill Brewery Richmond 3rd Anniversary Celebration. Eleven days include beer and swag releases, workshops, comedy, live music, market, food trucks, and more. December 8 to 18 at Starr Hill Richmond Beer Hall & Rooftop, Richmond.
Friday, December 9 
Vespers and Candlelight Walk. A half-hour vespers service at Historic St. John's Church is followed by a candlelight parade of participants, led by the Richmond Pipes and Drum Corps. Dec. 9, beginning at 7 p.m. at St. John's Church, Richmond.
"Home Alone." Can we ever tire of seeing 8-year-old Kevin McCallister making absolute fools of the bungling burglars? I think not, ya filthy animal. Dec. 9 at 7 p.m. at Henrico Theatre, Highland Springs.
"The Polar Express." Embrace the wonder of life in the classic holiday book come to the grandeur of the screen. Dec. 9, 7 p.m. at Ashland Theatre, Ashland.
Pam Tillis: "Belles & Bows" Country Hits & Christmas Favorites. The country music performer and child of country music royalty presents music to engage the soul. Dec. 9 at 8 p.m. at the Tin Pan, Richmond.
Keeping Christmas: 200 Years of Virginia Traditions. Take a candlelit tour through the festively decorated historic house and learn about holiday traditions, including on early Virginia plantations, by plantation owners and enslaved and freed people of color. Dec. 9 and 10, 6 to 8 p.m. both days, at Wilton House Museum, Richmond.
Richmond Ballet's "The Nutcracker." New scenery and choreography and refreshed costumes, using the storybook vision from Stoner Winslett's production Dec. 9 to 23 at Dominion Energy Center, Richmond.
See our top 5 event picks:
"What's Booming RVA: Mount Kilimanjaro, Shenandoah Valley, and RVA Holidays"
Saturday, December 10 
Santa Paws. Pooch portraits with Santa along with a vendor fair, family activities, and a food truck. Dec. 10, 10 a.m. to 1 p.m. at Short Pump Park, Henrico.
Christmas Through the Centuries. Explore the sights, smells, and sounds of Christmas to Virginians from the 17th century. Evening guests can wander the re-created English settlement by candlelight, stopping by fireplaces and bonfires. Dec. 10, noon to 8 p.m. at Henricus Historical Park, Chester.
Varina Big Toy Parade. Cheer on the parade from River Bend Estates to Osborne Park at 1 p.m., then enjoy the after party festivities at 4 p.m. Dec. 10, 1 to 4 p.m., at Osborne Park & Boat Landing, Henrico.
Christkindlmarkt. Browse the gifts and goodies from local makers while sipping cider – cold and hot – on Dec. 10, 1 to 5 p.m., at Blue Bee Cider, Richmond.
Good Shot Judy – A Crooner's Christmas! The 20-piece orchestra pays tribute to classic Christmas hits from artists like Frank Sinatra, Bing Crosby, Ray Charles, Michael Buble, Louis Armstrong, Ella Fitzgerald, and more. Dec. 10, 2 and 7:30 p.m. at Jimmy Dean Theater at the Perkinson Center, Chester.
Richmond Boat Parade of Lights. Owners decorate their boats and parade down the James River. Dec. 10 at 4:45, beginning at Rocketts Landing, Richmond.
Jolly Jaunt: Tacky and Classy. Dress for holiday cheer and jingle your way around Ashland's fine shops, restaurants, and breweries. End your festive evening with a concert at Ashland Theatre: live music, raffles, cash bar, and concessions. Jaunt from 6 to 8 p.m., followed by concert at 8 p.m. in Ashland.
CarMax Tacky Light Run: "10 Years of Tacky." Join the colorful nighttime 6k walk-jog-run event. Dec. 10, 6 p.m., beginning at Mid-lothian Mines Park, Chesterfield.
Fan District Association's Diamond Jubilee Holiday House Tour. See this week's top 5 What's Booming picks.
Richmond Makers Market: Holiday Cheers. New makers monthly ranging from candlemakers and crafters to confections and works of clay at a dog-friendly brewery. Dec. 10 and 11, noon to 6 p.m. at Basic City Beer Co., Richmond.
Ugly Sweater Party Weekend. The Goochland cidery celebrates the season with two days of holiday specialty drinks – ciders, beers, and spiked eggnog – foods, ugly sweater contest, and a prize wheel. Each day has unique features, including a hot chocolate bar and mimosas, food specials, and mini market. Dec. 10 and 11 at Courthouse Creek Cider, Goochland.
"Isaac Julien: Lessons of the Hour – Frederick Douglass." See this week's top 5 What's Booming picks.
Sunday, December 11
Richmond Run-A-Latke. Run, walk, stroll on this one miler or 5k family fun event, then stay for the donut, hot chocolate, and latke after party. One miler begins at 9:30, followed by 5k and after party at Weinstein JCC, Richmond.
Winter Wander: Celebrate Court End. Hot beverages, family crafts and games, live music, and a self-guided tour of the historic Court End neighborhood, plus a shuttle to nearby cultural sites for open houses and other activities. AND a Silent Dance Party to boot! Free but registration is required. Dec. 11, noon to 4 p.m. at The Valentine, Richmond.
Church Hill Holiday House Tour. See this week's top 5 What's Booming picks.
Chester Kiwanis Christmas Parade. Small-town shindig for holiday cheer. Dec. 11, 2 to 5 p.m., Chester.
Firehouse Radio Players. An evening of original comedies performed in the style of an old-time radio show. Voice actors present dozens of characters and sound effects to tell tales of daffy detectives and spacey sci-fi heroes. Dec. 11, 7:30 p.m., at Firehouse Theatre,  Richmond.
Vienna Boys Choir. Soak in the sweet holiday sounds of the renowned choir. Dec. 11 at 7:30 p.m. at Richmond's First Baptist Church, Richmond; Dec. 12, 7:30 p.m. at Harrison Opera House, Norfolk; and Dec. 13, 7:30 p.m. at Saint Bede Catholic Church, Williamsburg.
Tuesday, December 13 
Henrico Pops Chorus Holiday Concert. Holiday favorite tunes at the annual concert on Dec. 13, 7:30 p.m., at Henrico Theatre, Henrico.
John R. Miller of "Depreciated." See this week's top 5 What's Booming picks.
Wednesday, December 14
Happy Hour Poetry. Community showcase poets and an open mic sign up for those with a verse or two to drop, plus a cash bar. Open mic signup starts at 5:45. Dec. 14, 6 p.m., at Firehouse Theatre, Richmond.
A Magical Cirque Christmas. World-acclaimed performers and cirque artists take audiences back in time, immersing them in the spirit of the season and performing Christmas classics through the decades. Dec. 14 at 7:30 p.m. at the Altria Theater, Richmond.
Lauren Calve Band. The storyteller, singer, and songwriter and her band will perform their blend of blues and Americana, guitar and lap steel, presenting earlier songs as well as new tunes from the upcoming album. Opening act: Jacob Bennett. Dec. 14, 8 p.m., at the Tin Pan, Richmond.
Submit your event for What's Booming!
Exciting Announcements + Ticket Flash Sale
"Annie JR" holiday flash sale. Use code SMILE26 for $26 tickets through Dec. 15. Fees not included. Online discount only. Tickets available at DominionEnergyCenter.com.
FREE Admission for Commonwealth of Virginia employees throughout December to the Virginia Museum of History & Culture (VMHC) and its special exhibition, American Democracy: A Great Leap of Faith, which is on view through Dec. 31.
200 Years, 200 Stories. The Library of Virginia, one of the oldest state libraries and archives in the nation, will mark its bicentennial in 2023 with this free exhibition and multimedia experience celebrating 200 Virginians whose fascinating narratives reflect the stories of Virginia. The Virginians include heroes and villains, the famous and infamous, the powerful and the powerless – for example, Ethel Bailey Furman, one of the first Black female architects in Virginia; David Martin, founder of the Martin Agency and creator of the famed tagline "Virginia is for Lovers"; Chinese immigrant Ow Chuck Sam, who became a naturalized citizen and served in the armed forces during World War II; and more. Jan. 24 to Oct. 28, 2023 at the Library of Virginia, Richmond.
5th Annual Wild & Scenic Film Festival. Informative and inspiring films highlight topics related to nature, community activism, adventure, conservation, water, energy and climate change, wildlife, environmental justice, indigenous culture, and more. March 9, location TBA. More information coming soon.
"Apollo: When We Went to the Moon." Virginia Museum of History & Culture presents a new interactive and immersive exhibition exploring Virginia's role in the U.S. space program. The 7,000-square-foot exhibition organized by the U.S Space & Rocket Center will immerse visitors in the epic story of manned space flight through the eyes of the astronauts, and the 400,000 scientists, engineers, and contractors who made our landings on the Moon possible 50 years ago. Launching March 18, 2023 at the Virginia Museum of History & Culture, Richmond.