More What's Booming RVA: September 21 to 28
| September 21st, 2023
A week of events, announcements, and a link to future fun
---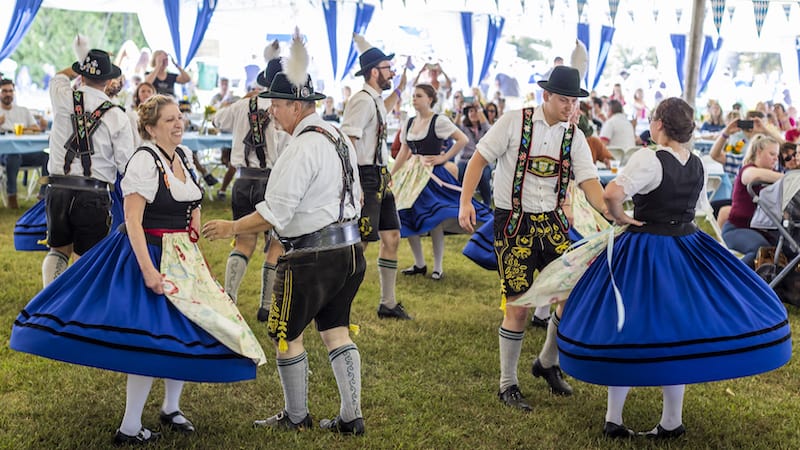 More of What's Booming in Richmond, Virginia, September 21 to 28, 2023. 'Tis the season for German-inspired beer fests, spooky explorations, and pride – and 'tis always the season for performing arts, parties, and a paddle battle.
---
Check out the Boomer Top 5 picks in RVA, browse the week ahead, or go to our updated events page  for Down the Road happenings and ongoing exhibitions and performances.
September 21 to 28
What's happening in and around the Richmond region
Thursday, September 21
Oktoberfest at Libbie Mill. Bavarian-inspired festival of traditional music and dance performances, food trucks, and German brews. Including Peter's Pretzels & Brats, The Original Elbe Musikanten German Band, and S.G.T.E.V. Hirschjäger Bavarian Dancers. September 21, 6 to 9 p.m., at Libbie Mill – Midtown, Richmond.
Friday, September 22
Ashland Fourth Fridays. Sidewalk sales, art exhibits, live music, and outdoor dining. Sept. 22, 5 to 8 p.m., in downtown Ashland.
Camera to Canvas. Pairing some of the region's best artists with their favorite Bill Draper photos to create original works for a charity auction benefitting the mission of the Friends of the James River Park. Cocktails, food, music, silent and live auctions, and plenty of beautiful art. Plus online auction live now. Sept. 22, 6 to 9 p.m., at The Boathouse at Rocketts Landing.
Full Moon Cabaret / Artspace's 8th Annual Fine Art Auction. In-person and online silent auction and gala event to benefit Artspace. Artwork on view from Sept. 22 to 30, opening reception on Sept. 22, 6 to 9 p.m., and gala closing event on Sept. 30, 6 to 9 p.m., at Artspace, Richmond.
Bier-Garden. See Boomer's Top 5 Picks.
"Carmina Burana." The City Choir of Washington joins Richmond Ballet and Richmond Symphony. Carl Orff's masterful choral score joins the strength and passion of John Butler's choreography and music by modern British composer Oliver Davis. Sept. 22 to 24 at Dominion Energy Center, Carpenter Theatre, Richmond.
Treasures of the Earth Gem, Mineral and Jewelry Show. Vendors from around the U.S. display and sell their loose stones, beads and supplies, museum-quality minerals and fossils, crystals, and more. Sept. 22 to 24 at Richmond Raceway Complex, Richmond.
Virginia Numismatic Association Convention. Over 100 tables of U.S., foreign, and ancient coins and currency, stamps, tokens, and more. FREE. Sept. 22 to 24 at Fredericksburg Expo & Convention Center, Fredericksburg.
The State Fair of Virginia. See Boomer's Top 5 Picks.
Saturday, September 23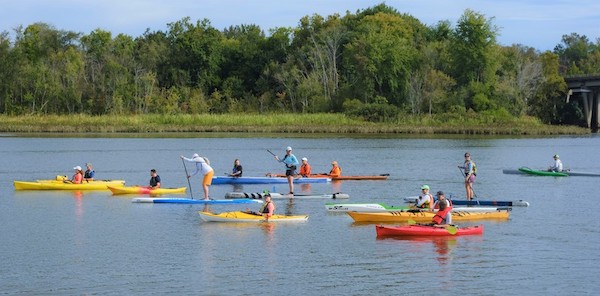 15th Annual Paddle Battle. Choose to race or paddle leisurely along the 10-mile route or join the guided Shorty Paddle. Rentals available. Plus finish line festivities with free paddling experiences for all ages and skill levels. Benefits Friends of the Lower Appomattox River. Sept. 23, 7 a.m. to 1:30 p.m., beginning at Petersburg Rotary Park on Pocahontas Island and ending at Hopewell City Marina.
VA Pridefest 2023. Honor and celebrate the LGBTQ community with national, regional, and local entertainment, plus mega-vendors and fun, a Youth Pride Pavilion, and a sober space from the McShin Foundation. FREE. Sept. 23, noon to 8 p.m., on Brown's Island, Richmond.
Book Signing for "Werewolves, Dogmen, and Other Shapeshifters Stalking North America." Pamela K. Kinney signs copies of her nonfiction mythology book. Sept. 23, 1 to 3 p.m., at Barnes and Noble Libbie Place, Richmond.
Rocktoberfest. Live music, beer, food trucks, stein hoisting, arcade, and more. FREE. Sept. 23, 1 to 8 p.m., at Center of the Universe Brewing, Ashland.
Who Wore What to the American Revolution. The 18th-century styles in men and women's clothing were considered revolutionary. Discover the glorious, frugal, and tantalizing creations of this significant era in fashion. Sept. 23, 2 to 3 p.m., at Meadow Farm Museum at Crump Park, Glen Allen.
"Hope for Ukraine Tour" Concert. See Boomer's Top 5 Picks.
Miles in Memory Remembrance Walk/Run. An event to help participants honor a loved one. People of all ages and fitness levels are invited to participate in-person or virtually. Full Circle is a Richmond-based nonprofit providing bereavement resources. Sept. 23, 10 a.m., at Deep Run Park, Richmond.
Hermitage H.S. Class of '68, 55th Reunion. Heavy hors d'oeuvres, beer, wine, soda, tea, DJ spinning tunes from the '60s & '70s. Sept. 23, 5 to 9 p.m., at Lakeside Moose Lodge, Richmond.
Rodney Stith and the Soul Foundation. Classic R&B sounds from the soul singer, songwriter, and producer hailing from Petersburg. Sept. 23, 6 to 9 p.m., at Dogwood Dell, Richmond.
Aspiring Writers Seminar. Libby McNamee, author of two works of historic fiction, guides wannabe writers through the writing process. Reservations required at 804-748-1498. The two-session seminar is on Sept. 23 and Oct. 28 at Magnolia Grange House Museum, Chesterfield.
Oysters in the Orchard. Raw oysters, mussels, and Oysters Pablo paired with live music plus cider, beer, wine, and cider cocktails. Oct. 23 and 24 at Courthouse Creek Cider, Maidens.
Slashing Through Ashland: A Paranormal Investigation. The storied history of Ashland: the RF&P railroad in the 1830s, a mineral springs resort, racetrack, a Confederate training grounds, and a war zone. Plenty of opportunities for haunts and spirits. Explore two historic buildings – Ashland Theatre and the Hanover Arts & Activities Center – guided by Transcend Paranormal. Sept. 23, 7 p.m., beginning at Ashland Theatre, Ashland.
Bobby Smith & RL Rowsey. Kick off the 2023-2024 Legends on Grace: Nightcaps & Stories series. Sept. 23, 8 p.m., at Dominion Energy Theater, Richmond.
Wild Kratts: Creature Power! Diverse environments that immerse children and families in explorations of animals, habitats, and the relationships between them. Sept. 23 to Jan 21, 2024, at the Science Museum of Virginia, Richmond.

Sunday, September 24 
Final Gravity Brewing 8th Anniversary Bash. An afternoon of live music, pizza, lobster, and beer. Sept. 24, noon to 6 p.m., at Final Gravity Brewing, Richmond.
Party on the Avenues. Take in the food, shopping, and charm of this historic Westhampton neighborhood. Food, craft beverages, local vendors, and family-friendly entertainment. Sept. 24, noon to 6 p.m., on Libbie Avenue, Richmond.
The Diamond Flea Market. More than 100 vendors offer vintage, thrift, and handcrafted goods, accompanied by live music and beverages. Sept. 24, noon to 6 p.m., at The Diamond.
"Sign Spotting" Tour – with live audio description by Virginia Voice. From vintage neon to local advocacy signs and Jim Crow era signs, the exhibition explores the use of Richmond signage. Sept. 24, 2 to 3:30 p.m. (exhibition extends till May 31, 2024), at The Valentine, Richmond.
Meet Artist Jacob Coble. In town for the Friends of James River Park fundraiser, Camera to Canvas, the nature watercolor artist and his works will be at a local gallery that showcases art of "Nature, Habitat, and Our Place Within." Sept. 24, 2 to 5 p.m., at Mystic Osprey Gallery, Midlothian.
Tuesday, September 26
Profs & Pints Richmond: The Search for Alien Worlds. See Boomer's Top 5 Picks.
An Evening with Christy Cashman. The novelist, actress, and producer talks about her novel, "The Truth About Horses," and more. Sept. 26, 7 to 9 p.m., at Book People, Richmond.
Genealogical Virtual Event: Using WikiTree: Making the Most of Your Time.WikiTree is a free community of genealogists dedicated to growing an accurate single family tree using DNA and traditional genealogical sources. In this program, you will learn key features of WikiTree and learn tips and techniques. Hosted by GRIVA, the Genealogical Institute of Virginia. Sept. 26, 7 p.m., online.
"Spider-Man: Into the Spider-Verse." Take in the film accompanied by a blend of symphonic orchestral music with hip-hop. The Broadway Sinfonietta, an all-women, majority women-of-color orchestra, band, and turntables with a scratch DJ. Sept. 26, 7:30 p.m., at Altria Theater, Richmond.
Richmond International Film Festival. See Boomer's Top 5 Picks.
Wednesday, September 27
Remember When: 1930s. The decade introduced many new things to American pop culture and society: foods, games, movies, and more. Learn the story through historical displays, trivia, music, and refreshments of the Great Depression era. Sept. 27, 10 a.m., at Belmont Recreation Center, Henrico.
"Berta, Berta." After committing an unforgivable crime, Leroy is granted one final wish: a chance to make amends with his long-lost lover Berta. Their reunion swells from a quarrelsome conjuring of the past to an impassioned plot to escape their impending fate. Sept. 29 to Oct. 15 at Firehouse Theatre, Richmond.
Thursday, September 28
UnHappy Hour: The Poedown. A Western-themed evening with music from Mackenzie Roark and the Hotpants, Three Notch'd beers, food from TBT El Gallo, and the Richmond bucket-list book from Boomer editor Annie Tobey (which just might mention the Poe Museum!). Sept. 28, 6 to 9 p.m., at the Poe Museum, Richmond.
Sign Painting with Sure Hand Signs. Ross Trimmer, founder and owner of Sure Hand Signs, talks about his craft and gives a demonstration of his reverse glass lettering technique. Sept. 28, 6 to 7 p.m., at The Valentine, Richmond.
Conversation with Lafayette. Join costumed historian Charles Wissinger as he recounts stories of the Marquis de Lafayette's time during and after the American Revolution as he helped America gain independence. Part of Henrico's 250th anniversary programming of the Revolutionary War Era. Sept. 28, 7 to 8:30 p.m., at Belmont Recreation Center, Henrico.
News worth knowing
Julia Child, Ashland Theatre Gala, Lincoln Prize Lecture
Ashland Theatre announces its 75th Anniversary Gala. Artists, patrons, and supporters of the arts can support the town's historic theater with food, drinks, and the music of Steve Bassett, of "Sweet Virginia Breeze" renown. Oct. 14, 6 to 10 p.m., at Caravati's, Ashland.
The American Civil War Museum announces the inaugural Lincoln Prize Lecture. Part of a new partnership with Gilder Lehrman Institute for American History. The award is given to the finest scholarly work in English on Abraham Lincoln, the American Civil War soldier, or the American Civil War era. This year's co-winner, Dr. Jonathan White, will be in attendance. Oct. 26, 6 p.m. reception and 7 p.m. lecture and book signing, at the American Civil War Museum at Tredegar, Richmond.
The VMHC announces "Julia Child: A Recipe for Life." The exhibition highlighting the popular chef will make its only East Coast stop on a national tour at the Virginia Museum of History & Culture. Including video, audio, photographs, memorabilia, recreated scenes from the chef's life, and a special section exclusive to VMHC that highlights Julia Child's impact on Virginians. March 16-Sept. 2, 2024, at the Virginia Museum of History & Culture, Richmond.
---
Anticipation … ! Click here to make plans with this list of events to come and ongoing exhibitions and performances.
Follow What's Booming on Boomer, updated every Thursday, and sign up at the bottom of our website for our twice-weekly newsletter.