NAMA Indian Restaurant Opens in Downtown Richmond
| August 22nd, 2019
Colors and flavors transport you across the globe
---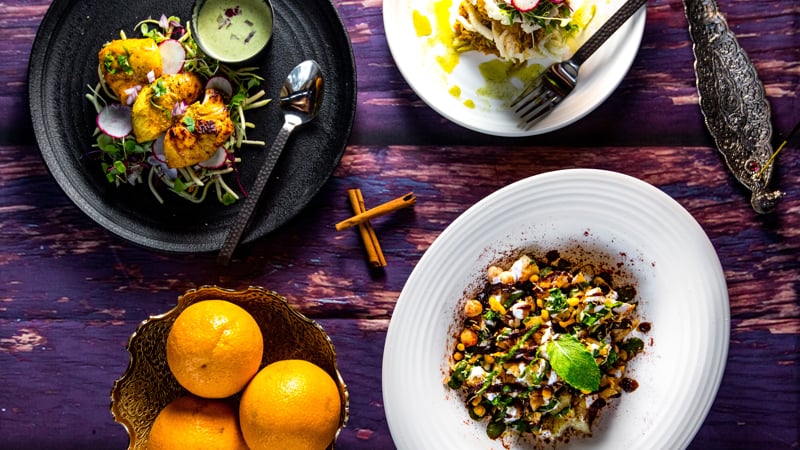 Transport yourself to India without the airfare or jetlag. Located in downtown Richmond, at 15 W. Broad St., the new NAMA restaurant speaks first to your sense of sight: the vibrant colors, tasteful gold fixtures, bamboo bar stools and other touches bring to mind the country's rich culture. Your sense of smell will be immediately engaged, too, as the odors of curry and other Asian spices greet you.
Given the pedigree of the kitchen, you can be confident that your Indian-loving palate will be pleased, too.
Head chef Joseph Mattupurath was born in Kerala, on India's southwest tropical Malabar Coast, to parents who owned both a grocery store and restaurants. His classical training and 20 years of restaurant experience help elevate the cuisine. Consulting chef Ramesh Kaundal began his culinary art studies in New Delhi and has worked in kitchens in India, New York City and D.C. Consulting chef Madhu Bhargava has extensive culinary experience – including cooking for Ang Lee and hosting cooking classes in Hollywood – and brings added creativity to the NAMA menu.
The menu offers both traditional and innovative Indian cuisine, with 40 items inspired by the Indian street food of metropolitan cities. In addition to shareable plates, NAMA offers six rotating curry pots with options including fish, chicken, lamb and vegetarian, as well as classic curry pots like tikka masala and palak paneer. The food is designed to present the best of American-friendly Indian spice – not too hot, but a gentle warmth – and can be adjusted by request for most dishes.
A tasting menu will be available for parties of eight or more by reservation.
The restaurant comes from the LX Group, a partnership between Kunal Shah, Neal Patel and Jay Sean, which is also the team behind Switch Pop-Up Bar, Kabana rooftop bar and Belle.