A natural pandemic getaway
| February 16th, 2021
Find renewal in a Virginia State Park cabin
---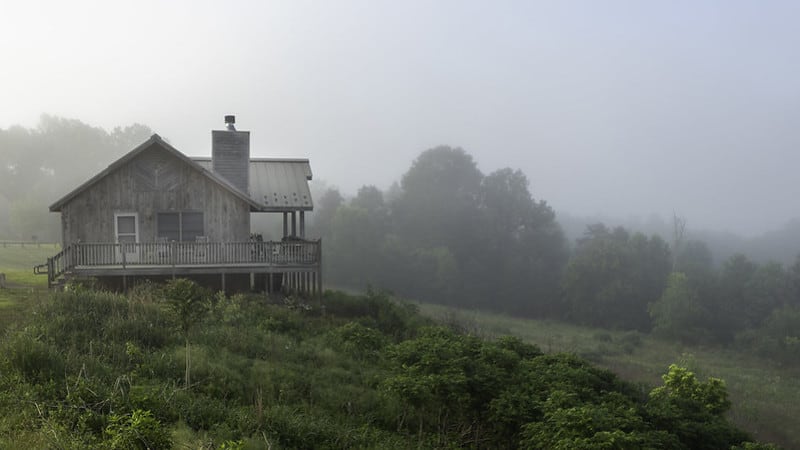 A pandemic during the winter packs a whammy of soul-sucking, enervating repercussions. Staying home to stay safe has meant isolating from social contacts, including family and friends, avoiding our favorite public hangouts like restaurants and malls, and putting travel plans on hold. And the winter cold has meant spending less time basking in nature therapy. Virginia State Parks have a cure: climate-controlled cabins in a beautiful setting, with full kitchens to enable a self-sufficient, natural pandemic getaway.
I recall nature escapes from my youth, back in the 1960s and '70s. In traveling with my mother's sisters and their families, we would take trips to Bambi Lake camp in northern Michigan. Winter trips would guarantee snow, snowmobile rides, ice skating, and innertube rides down a manmade hill to shoot us out over the frozen lake. In the evenings, we'd play board games and cards.
The cabin at Bambi Lake, owned by my aunt and uncle's church, was cozy and clean, but one summer vacation took us to more primitive accommodations on Michigan's Upper Peninsula. Entertainment included watching for bears at the county dump. I distinctly remember sharing the rustic cabin with mice – an amenity my mother was not happy about – and "bathing" in the cold water of a nearby lake. Nonetheless, it built memories and family bonds.
Many contemporary destinations – including Virginia State Parks – recognize that today's visitors don't want such primitive accommodations. Five state parks within two hours of Richmond (distances measured from the state capitol) have cabins that are waiting to refuel your soul, without testing your mettle. Virginia's state parks also offer Yurts, group lodges, bunkhouses, and camping for a natural pandemic getaway – or anytime – but that's a tale for another day.
Virginia State Park cabins for your natural pandemic getaway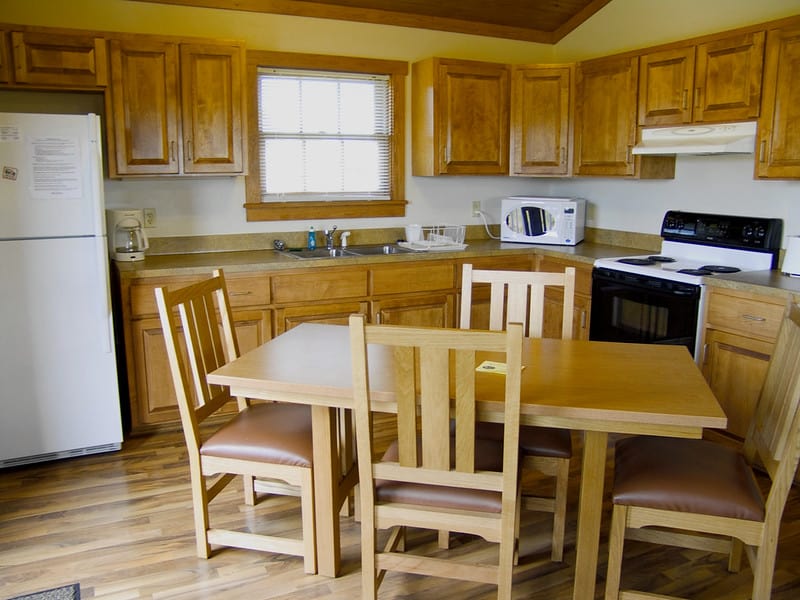 Picture yourself escaping to one of these cabins. Amenities vary, but you could be cozying up to a fireplace in a comfortable living room or beside an outdoor firepit. You could wrap up and perch in a rocking chair on your deck overlooking a placid lake. You could hike the park's miles of wooded trails, skirting lakes and streams, looking for wildlife tracks – and maybe even spot a few white-tailed deer, foxes, and raccoons. In fact, you could step outside on a clear evening and marvel at the star-studded skies.
And if you and your family have played your quarantining cards right, you can even make this a multigenerational memory.
Virginia State Park lodging prices are lower in the off-season, and length-of-stay requirements drop to two days. Many allow pets ($10/night/pet). Some cabins consider accessibility. Some have limited cell phone service and Wi-Fi and no TV – which has its benefits.
Most have kitchens with basic pots, pans, and utensils, so you only need to tote in food and a few other supplies. (Slow cooker meals are my favorites for cabin retreats!) And all have quiet hours and allow only overnight guests at the park after 10 p.m., assuring a peaceful stay. (Note that some also offer larger lodges, to accommodate families and groups. Check VSP fee page for an overview of all lodging options.)
1 hour, 7 minutes west in Cumberland County; 329 acres, lake size, 40 acres
The state park connects with 16,000-acre Cumberland State Forest, giving park visitors access to the 14-mile Cumberland Multi-use Trail as well as Bear Creek Lake State Park amenities. Visitors can go hiking, biking, and horseback riding. The 40-acre lake includes a boat launch, fishing pier, boat rentals, and a swimming beach (in season, of course).
Cabins here were built in 2007, so they're relatively new. Some are waterview. I spent a weekend here with friends in February 2019 and came away renewed and refreshed.
1 hour, 52 minutes west of Richmond in Buckingham County; 1,561 acres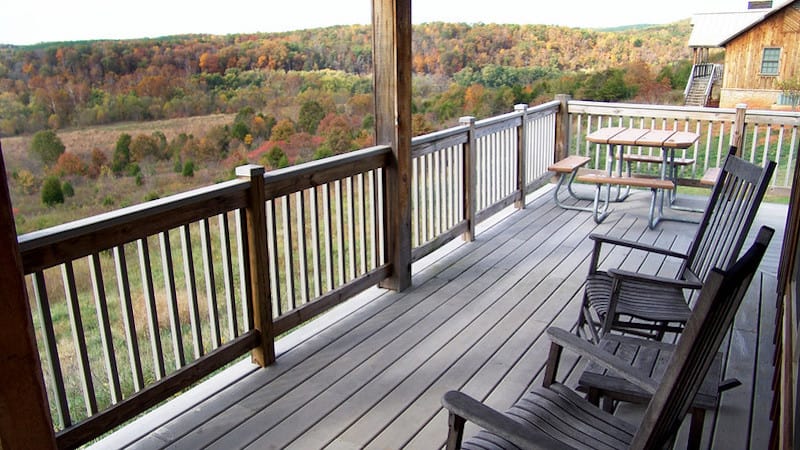 In the foothills of the Blue Ridge Mountains and along the James River, the park offers peaceful views of the mountains and rolling hills as well as of the meandering James. The park is also a great place to view the James River Batteau Festival in June, as the historic craft travel down the river. Visitors can hike and bike along the trails.
They can float or fish on the river or at Branch Pond (canoe, kayak, and tube rentals available). The park includes a universally accessible fishing pier and a quarter-mile-long wheelchair accessible trail around Green Hill Pond.
Perched on a hill, two- and three-bedroom frame cabins at James River State Park offer a feeling of spacious tranquility. While being surrounded by trees is like a hug from the forest, these cabin sites offer a slightly different experience of beautiful views stretching for miles. Two cabins are wheelchair accessible.
1 hour, 12 minutes southwest of Richmond in Prince Edward County; 548 acres – Prince Edward Lake is 36 acres, Goodwin Lake is 15 acres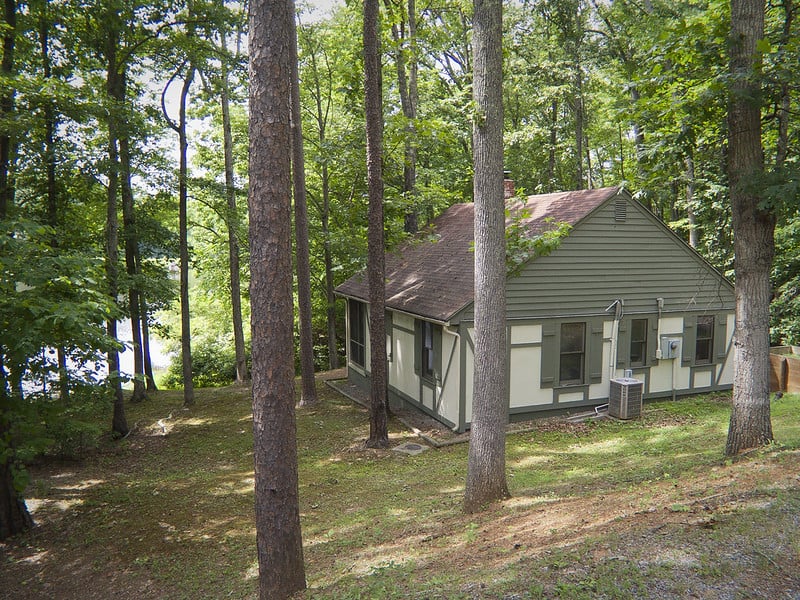 Twin Lakes has a distinctive history among Virginia's state parks. Two "twin lakes" recreation areas, Goodwin Lake and Prince Edward Lake, were built by African American Civilian Conservation Corps workers in the 1930s. Ironically, those workers couldn't use Virginia's state parks because of racial segregation policies. After a legal challenge, but still following the separate-but-equal concept, the Virginia governor in 1949 appropriated $195,000 to expand facilities at the existing Prince Edward County recreation area to turn it into a state park specifically for African Americans.
Improvements at the new Prince Edward State Park for Negroes included the construction of an enlarged swimming area, expanded parking lots, new roads, six cabins, a bathhouse, and a concession area. The park opened in June 1950 as Virginia's eighth state park and the only pre-Civil Rights Era state park for African Americans. The two parks were merged in 1976, forming Twin Lakes State Park, which was open to all.
Twin Lakes provides a diversity of cabins for your natural pandemic getaway. Some have wood-burning fireplaces, and one has a gas-log fireplace. One offers full ADA accessibility. Some have waterfront views. The 548-acre historic park offers many cultural and environmental activities year-round, too. Visitors can hike, fish, boat, and swim.
1 hour, 13 minutes southeast in Surry County; 1,947 acres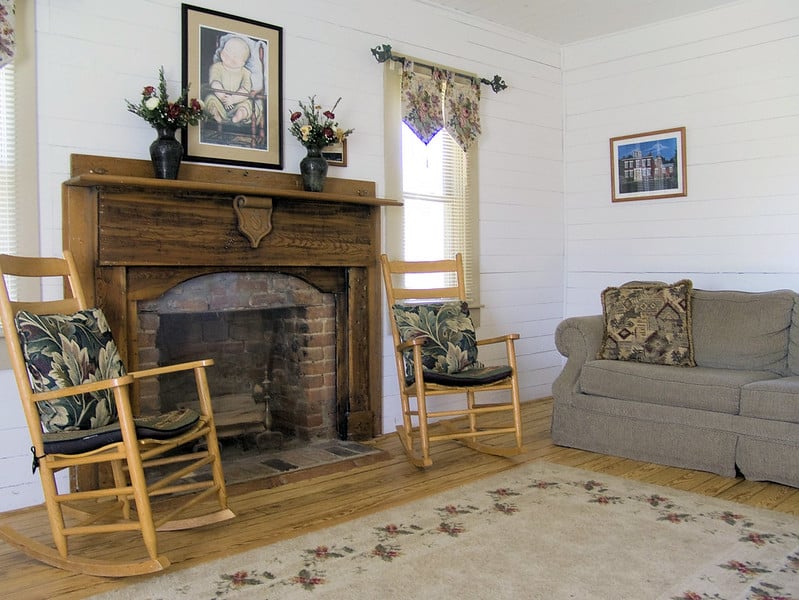 Chippokes Plantation State Park offers more history than most state parks. The Chippokes Plantation is one of the oldest continually farmed plantations in the country. Located on the James River, like other early Virginia plantations, it's been a working farm since 1619. Visitors can tour the antebellum Jones-Stewart Mansion and outbuildings, the formal gardens, and the Chippokes Farm and Forestry Museum.
Chippokes has typical park amenities, too. The Coastal Plain park has nearly a dozen miles of multi-use trails for biking, hiking, and horseback riding, fishing, and boating as well as an Olympic-sized swimming pool.
Like the park itself, the "cabins" here resound with history and personality. The five lodging options include a restored tenant farmer's house, an overseer's house, and a restored 1770 plantation home. The plantation home has four bedrooms, including a downstairs accessible bedroom. The other houses – one-, two-, and three-bedroom – were built between 1850 and 1947. One has been modified to be ADA accessible.
The 1770 Walnut Valley plantation was founded in 1636 and has produced cotton, corn, brandy, peanuts, and hogs over the years. The historic property was deeded to the state in 2004.
1 hour, 40 minutes southeast, in Mecklenburg County; 2,698 acres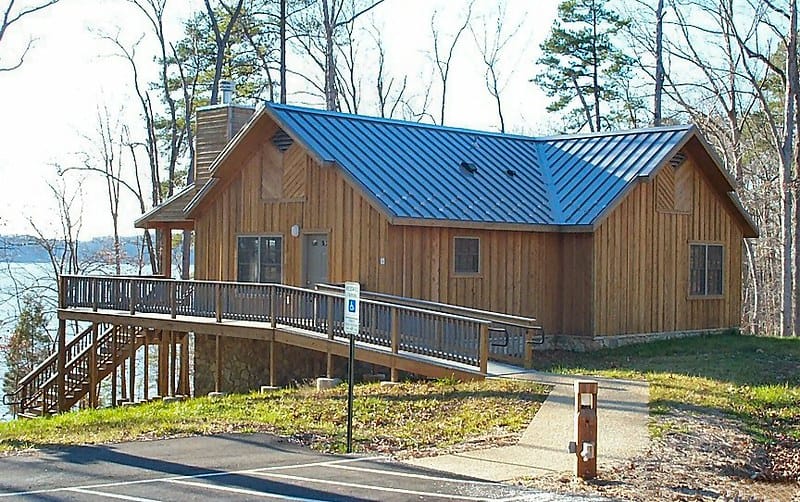 Water is the theme at Occoneechee State Park, located on the Virginia's largest lake. The John H. Kerr Reservoir (aka Buggs Island Lake) is 48,000 acres of fishing, boating, and aquatic recreation. The park hosts a marina with fuel dock and boat slips and a private concession for boat rentals and snacks.
The woods beside the lake have 20 miles of trails for hiking, biking, and horseback riding.
The park was named for Native Americans who lived in the area, and the visitors' center and museum introduce visitors to the Occoneechee people.
Cabins here allow guests to enjoy the comforts of home as well as the embrace of nature. Several offer views of the lake and two are universally accessible.
---
All photos from Virginia Department of Conservation and Recreation
---