A Nelson County Getaway
| December 28th, 2017
An easy way to recharge
---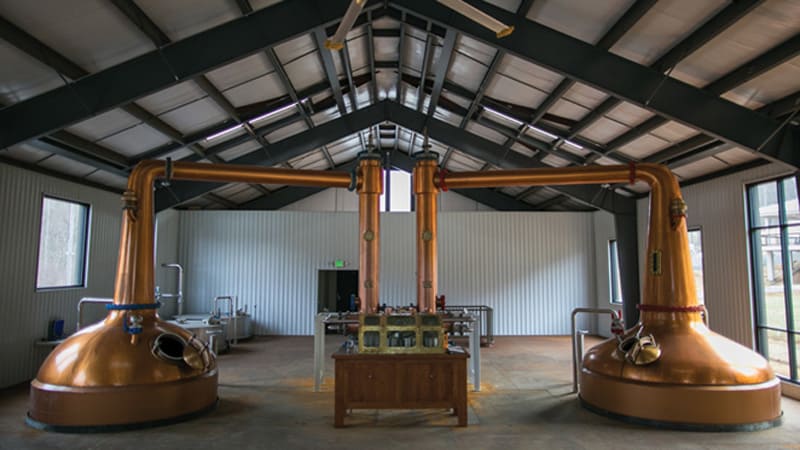 With a relaxing escape less than two hours away, Richmonders can find their respite without using up a week's vacation. That's what I did this fall, working with Nelson County tourism, and I came away refreshed.
HOME BASE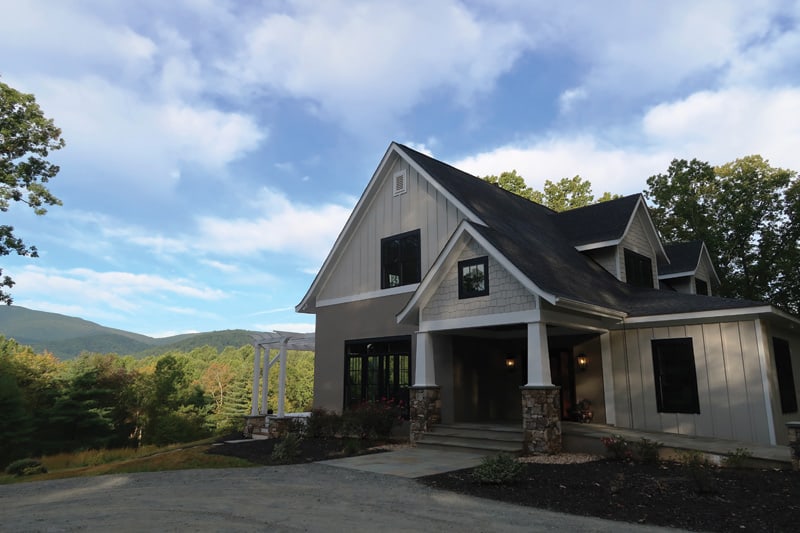 Staying in the Blue Ridge Mountains without basking in the sight of Virginia's rolling slopes is a bit like going to Walt Disney World and spending your time in the fitness center. Ad Astra B&B ensures that you catch the complete experience. The property offers a view of the valley and the uninterrupted woodlands on the mountains, a seasonally changing tapestry.
Rather than finding the ideal old house on the ideal piece of land, owner and proprietor Kristin Obertone decided to build her own, to design the perfect bed and breakfast right out of the gate. "I wanted the cozy feel and traditions of a B&B, but to provide the amenities modern travelers seek," she says.
The Ad Astra creation offers a modern, farm-like feel. All guest areas – deck, living and dining rooms and three suites – face the valley and ridges with generous windows to frame the view. Outside, guests can access the copper-infused hot tub, walking trails and fire pit; inside, a complimentary coffee nook, cozy fireplace and homemade breakfast.
Another well-planned perk: the view-framing windows face west, which spotlights sunsets in the evening while granting precious extra moments of sleep in the morning!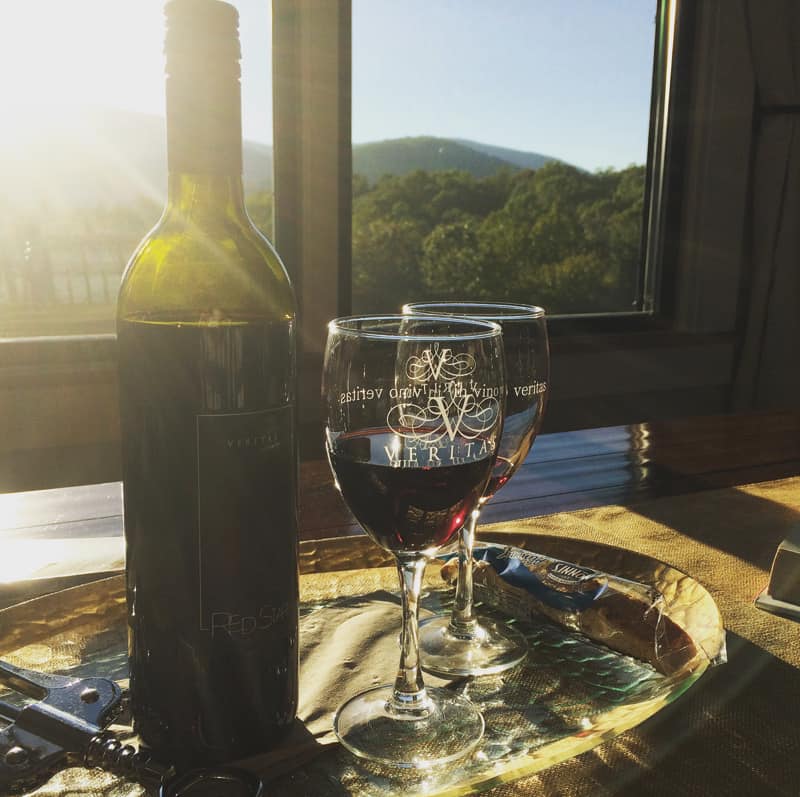 DIVINE DINNER
Though I'd previously visited the Veritas Vineyards tasting room, this marked my first experience with The Farmhouse. Besides being a B&B, The Farmhouse offers its four-course wine dinners to outside guests. The chef's dinner menu changes weekly, highlighting local seasonal ingredients from the Veritas garden, crafted by Chef Andy Shipman and Pastry Chef Emily Proutt.
A peaceful country view is available year-round at The Farmhouse, but we had a natural bonus: our trip happened to coincide with the full moon, which made a perfect partner for the late-season al fresco dining.
For both our salad and entrée courses, we were able to choose from a suggested white or a suggested red. Proutt's chocolate crème brûlée with graham cracker crumble and burnt mallow is one of the best desserts I've ever had, made even more perfect paired with the Veritas Othello 2014.
A LUXURY TAILORED WINE TOUR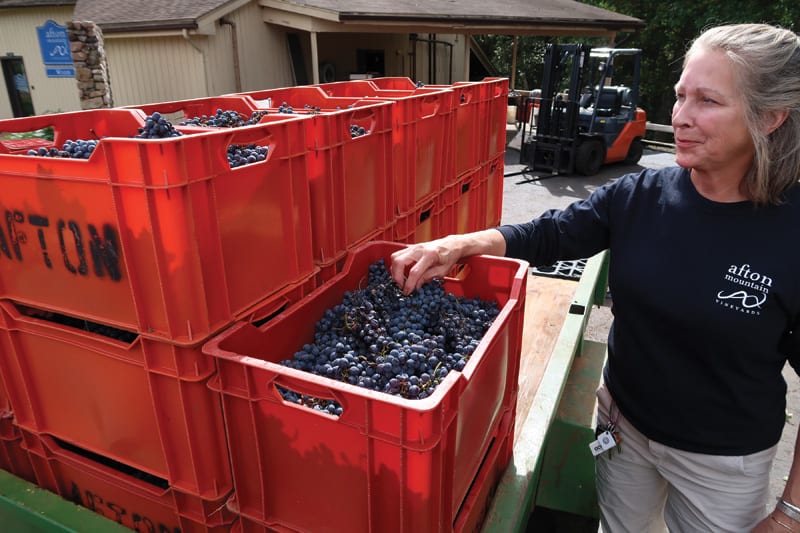 Imagine beginning your tour of the wineries, breweries and distilleries of Nelson County right at your B&B – Ad Astra – chauffeured in a classic Bentley luxury automobile. The rich-red car, named Ruby, is part of the Top Shelf Transportation fleet (including larger vehicles).
Rather than offer predesigned itineraries, Top Shelf tailors each tour. Bit Presley, who serves as designated driver, guide and engaging storyteller, comes equipped with a wealth of wine and history knowledge. He knows not just fermented grapes in general but the Virginia wine scene and local wine people specifically. Traveling to these wineries with Bit was like visiting an out-of-town friend who takes you around to his favorite hangouts.
Bit began our tour with an overview of the Monticello AVA, the Norton grape, the early grafting of American vines with European varietals and post-Prohibition wine revival, especially in Nelson. He told us – and the vintners we visited confirmed – that 2017 will be a very good year for Virginia wine, with a large harvest of great grapes.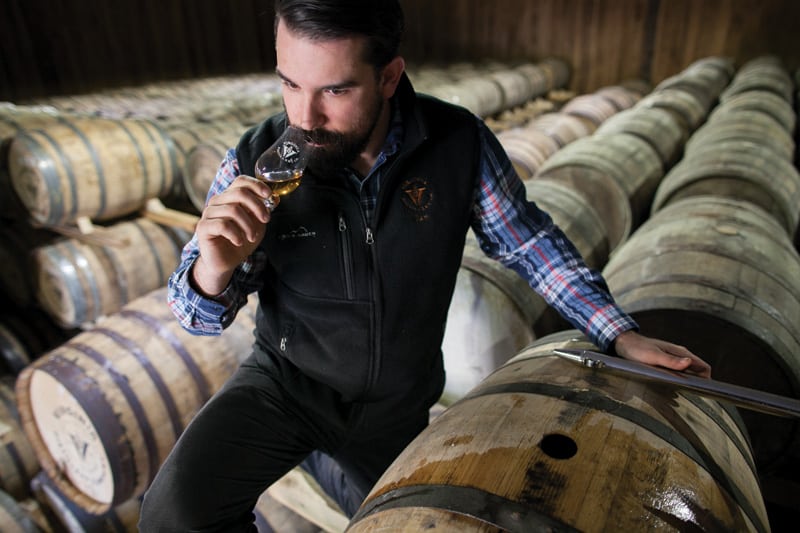 THE WINERIES
Bit and Ruby carried us along the rural Nelson County roads to three wineries.
Afton Mountain Vineyards is one of Virginia's oldest vineyards, with recently converted tasting room and cozy guest cottages. Sip wine and relax with an ethereal view of rural fields and wooded mountain ridges. As a small vineyard, Afton Mountain provides an intimate environment, not a venue for large groups.
Besides eight flagship wines, Flying Fox Vineyard has begun two new series. The experimental Sly Fox series "pushes the envelope" in viticulture and winemaking. The vermouth series blends a base wine with a grape brandy (distilled at nearby Woods Mill Distillery) and with select seasonal fruits and botanicals. The Summer Vermouth uses peaches, ginger, grapefruit peel, orrisroot and grains of paradise.
Cozy Lovingston Winery offers top wines at reasonable prices, with a tasting room deck that's like sitting outside on Aunt Lucy's back porch on the family farm. UVA fans will especially appreciate the Rotunda Red. The small production facility sits just below the tasting area, so you can peek over the rail to see the winery's gravity-flow system.
NELSON'S SUDS & SPIRITS
A day is too short and a liver too limited to make it to all of Nelson County's alcohol production facilities in one tour, but I managed to hit three more stops.
Besides making whiskey, Virginia Distillery crafts a top-notch visitor experience, with tours, mini-museum, tastings and cocktails in a beautiful new facility. Besides single malt whiskey (or "whisky," as they prefer), the distillery gets creative. The Commonwealth Collection finishes aging the whiskey in barrels from breweries and cideries around Virginia.
Unlike any other brewery in Virginia, Wood Ridge Farm comes from the inspiration and perspiration of Barry Wood Sr., who espouses a dirt-to-glass philosophy. Wood Ridge brews beers on site from ingredients grown and harvested on site, including barley, wheat, rye, oats and yeast. The rustic, lodge-like brewpub was built by Wood using trees from the property. With 15 taps and a down-home feel, it's a nice place to kick back and relax.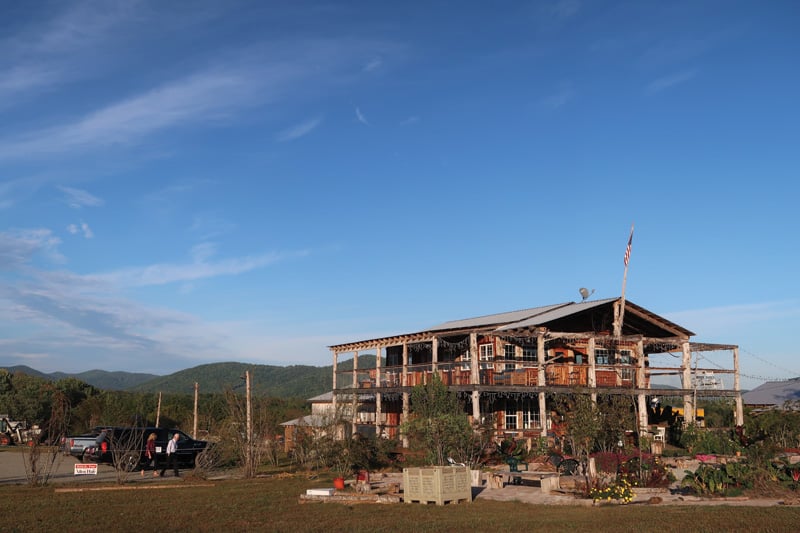 Our day ended with a visit to the familiar but still growing Devils Backbone Basecamp brewpub, for dinner and beers on the patio. The evening brought back memories of my first visit nearly nine years ago and of multiple festivals. I learned of tantalizing developments, too, including Devils Backbone Distilling: rum, gin and bourbon, coming in late 2018.
With hiking trails, a ski resort, restaurants and a variety of distilled and fermented production facilities, each visit to Nelson County can be different. But each visit promises enjoyment and relaxation as big as all outdoors.
---
TO DIG DEEPER
AdAstraBnB.com
TopShelfTransportation.com
VeritasFarmhouse.com
AftonMountainVineyards.com
FlyingFoxVineyard.com
LovingstonWinery.com
VaDistillery.com
WoodRidgeFarmBrewery.com
DBBrewingCompany.com