New Digs for the American Civil War Museum
| April 10th, 2019
In with the new, hang on to the old
---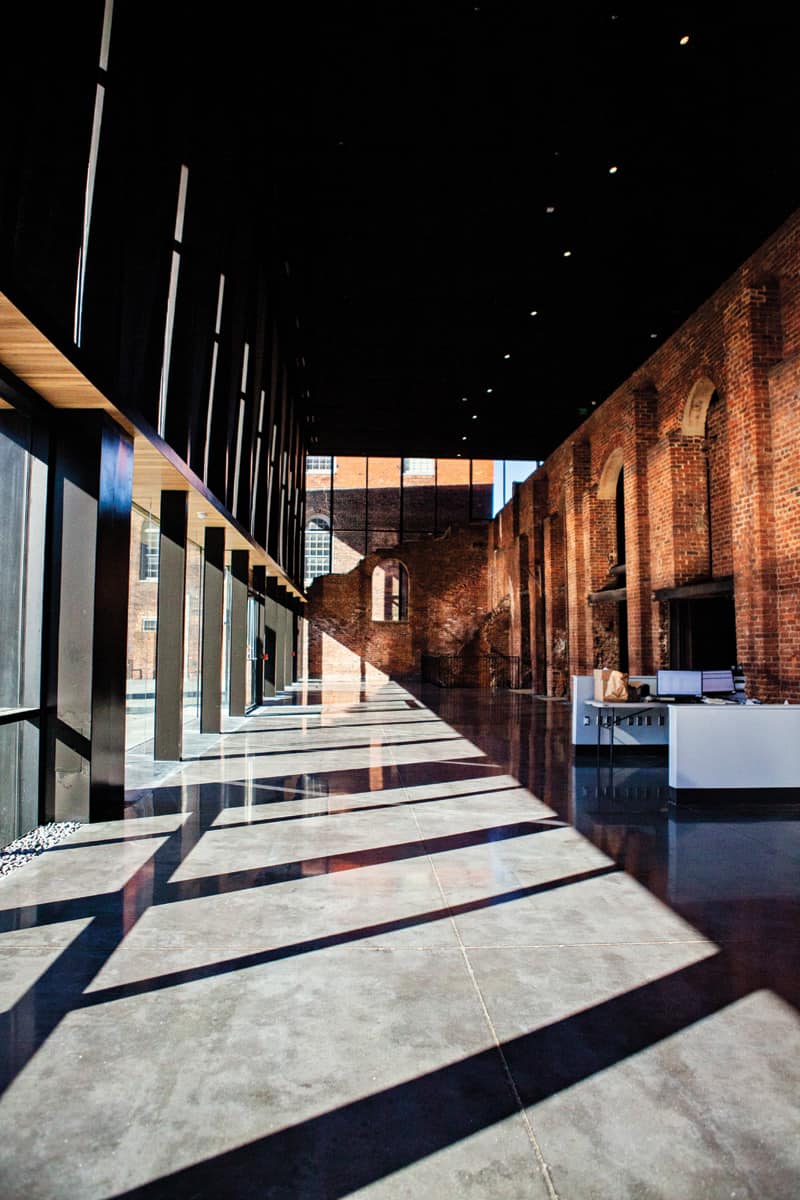 After nearly two years of construction, a new 28,500-square-foot building at the American Civil War Museum will open on May 4.
The ACWM operates in three locations: in Appomattox, where Gen. Robert E. Lee surrendered to Gen. Ulysses S. Grant; at the White House of the Confederacy in Richmond; and at Historic Tredegar, across from Richmond's Brown's Island. The new museum is part of the campus at Tredegar, which was founded as an iron works plant in 1836, supplied armor plating for ironclad warships and cannons used by the Confederate army and was a primary reason Richmond was selected as capital of the Confederacy.
To expand the museum without destroying brick-wall ruins from the original Tredegar foundry, ACWM decided to build around the ruins. Construction crews used three types of monitoring systems to avoid harming the old structures. Movement monitoring was achieved through "targets" on the ruin walls and adjacent buildings to track settling or other shifts. Vibration monitoring noted effects of construction equipment – if established vibration thresholds were exceeded, the project team could act immediately. Crews also identified the sizes of cracks in the ruins at the beginning of the project, then checked them periodically.
The museum has gained national recognition for its expanded coverage of Civil War history, exploring the war and its legacies from the points of view of Union and Confederate, enslaved and free African-Americans, soldiers and civilians.
That concept comes in part from two leaders with diverse backgrounds: Christy Coleman, CEO of the American Civil War Museum, and Waite Rawls III, ACWM foundation president. As Rawls explained to Jessica Gomez on Matter of Fact with Soledad O'Brien, "She's female; I'm not. I've got all these ancestors who fought in the Civil War; she doesn't. She's African-American; I'm not. Put the two of us together, and now you've got these multiple perspectives that bring the history to life for people without saying, 'You're right, you're wrong.'"
The new building houses storage and preservation areas, equipped with a dry sprinkler system and humidity control to protect the extensive collection of Civil War artifacts. It includes 6,000 square feet of permanent exhibit space, 2,300 square feet of temporary exhibit spaces and an experience theater, all using contemporary technology and philosophy to better tell the stories of the people involved in and affected by America's Civil War.
Boomer magazine spoke with Coleman and Rawls in August 2017 about early plans for the new space. "Ultimately, that's what all of this is about … helping our visitors understand why the war matters," said Coleman. "And it will matter to different people for different reasons. But the bottom line is they will have an understanding of these spaces and places and things that they may not have considered before or even knew about."