New Exhibit at The Valentine Conveys Stories of LGBT Families
| December 15th, 2016
Moving, impactful representation of the community in Richmond
---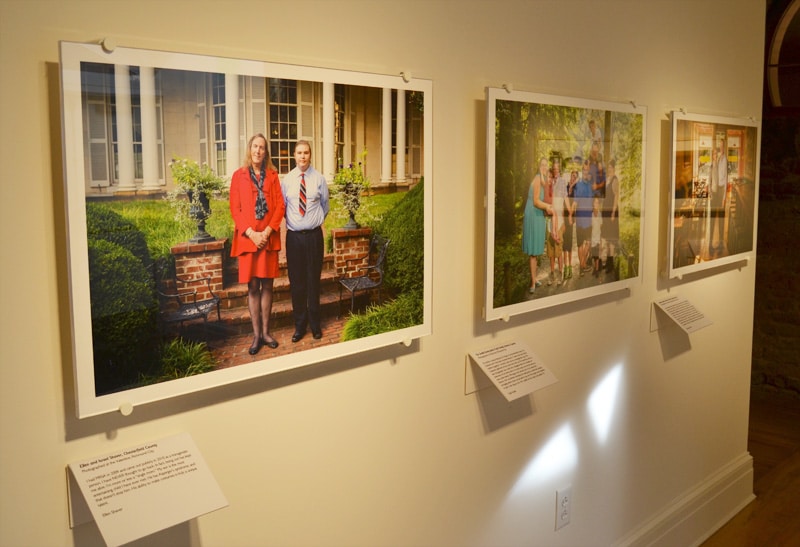 It's not often that an exhibit can give you the chills, in a good way.
As I walked through The Valentine's newest exhibit, "One Love: LGBT Families," I took in the stories of the diverse Richmond LGBT families shown through photographs and moving captions. Upon reading each story, every hair on my body shot up.
The exhibit, which is open now until Sept. 4, features photographer Michael Simon's 20 portraits of families posing at various places around the Richmond area.
Although each photo left a lasting impression on me, one of two wives and their daughter standing on the steps of the Capitol building really impacted me. Carol Schall and her wife Mary Townley are known around the state because they were the plaintiffs in the groundbreaking Bostic v. Rainey case  (or more commonly known as Bostic v. Schaefer) for marriage equality that made its way to the U.S. Supreme Court and ultimately made marriage legal for people of all sexual orientations. On that day in 2014, the couple not only could become married but so could many other LGBT couples including ones that are featured in this exhibit.
You see this simple family photograph stands for so much more than meets the eye. It represents the hope and future for many other families and because of them, others in the exhibit could also be legally recognized as married. This one photo ties the entire exhibit together. "Names like "mom" and "wife" make all the difference in the world. That is why were a part of this case. This what we won on Oct. 6, 2014: the simple profound right to call each other family," says Schall in a photo caption.
Simon said he learned a lot from working on this project, which was the result of a collaborative effort with OutRVA. From talking with some of the models, Simon learned about a couple who had to move to Washington D.C. just so their names could be on their child's birth certificate. He said hearing this story showed him how much one simple administrative task could impact a family so much.
Each story is important and Simon hopes these stories will inspire other people like they inspired him.
"Every one of these folks in these portraits are in our community. These are our neighbors. These are our families. These are the people we know," Simon said.
"Their stories are as important as everyone else's stories and I wanted to take the time to take a snapshot of these members of our community," he added.