Nosh in this Neck o' the Woods: Old Towne Petersburg
| June 1st, 2017
The historic district has made a comeback – you'll come back too!
---
A pleasing diversity of restaurants and breweries are scattered within a comfortable walking radius in Old Towne Petersburg, alongside antique and art galleries, boutiques and gift shops. Dine, browse, drink and shop among the historic buildings and tales.
DJ's Rajun Cajun and Steakhouse
Transport your palate to New Orleans from the very first bite: appetizers such as alligator, crawfish, jambalaya and hush puppies. The Abita beer, NOLA music and Mardi Gras colors carry the theme throughout the experience. Dinner entrées range from Po Boys to full steak, lamb, duck, blackened salmon and more. Louisiana touches include toppings of smoked tomato and bacon topping, crab and Brie, and Cajun seasoning. Nice weather means outdoor dining in a scenic courtyard.
309 N. Sycamore St. | DJsRajunCajun.com
Like a down-home diner, Dixie serves up traditional hearty Southern breakfast and lunch. Hot and cold sandwiches plus country sides, soups and hot plate specials – all are served with warm Southern friendliness (don't be surprised to be called "sweetie" or "honey"). Try to save room for those final sweets, such as peanut butter pie with nutty tidbits or the rich rice pudding. You'll want to sit a spell at Dixie, 'cause Mama didn't raise no fool!
250 N. Sycamore St. | Facebook @TheDixieRestaurant
Two-two-two restaurants in one, with a sedate main floor dining and a friendly, Cheers-like basement. Or perhaps Wabi-Sabi is four restaurants? Besides serving an extensive sushi menu, Ahi tuna and Asian entrées, Wabi-Sabi also serves American favorites such as hamburgers, mac 'n' cheese and lamb chops. But wait! The menu also includes fusion – a Wabi gyro and soft shell crab sandwich that's tempura fried. Bottom line: diverse selections, done well.
29 Bollingbrooke St. | EatWabiSabi.com
Breweries and Beer Joints with Food
Artsy tasting room with creativity seeping into the beers and the menu. Opening initially as a brewery only, AMMO has added a pub menu with California-style cuisine (for example, Tapworms, made with spicy chow mein noodles, Usinger's bratwurst, chickpea curry and garden-fresh salad). The beers feature similar creativity and diversity, such as the recent Waltman's Wit, Rosemary's Baby herbed saison, Crater Hop Bomb triple IPA and Genny's Cream Stout.
235 N. Market St. | AMMObrewing.com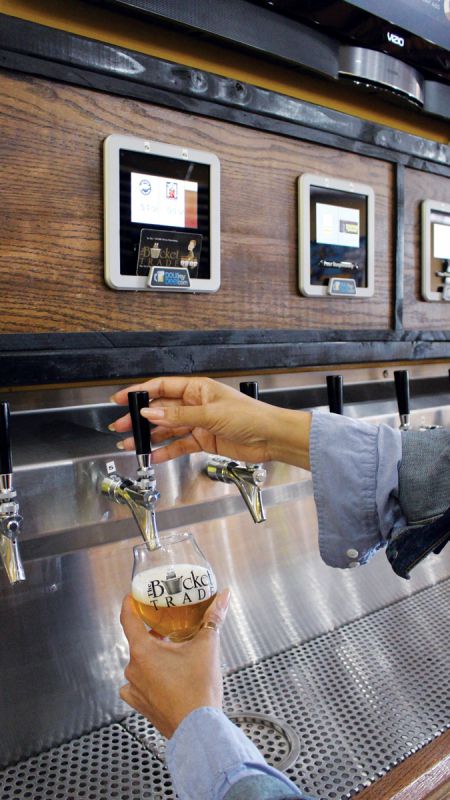 Trapezium Brewing
Flavor-forward beers paired with a variety of Neapolitan pizzas, flash baked at 800 degrees for only 70 seconds, with flavors that linger lustfully on your palate. The easy-drinking Lemon Honey Ginger, American Brown or White Ale work great for a summer afternoon in the Trapezium courtyard (order from the houseboat tap station!). Or get an extra punch of flavor with a well-executed IPA, from session to New England-style or double.
423 Third St. | Petersburg
Want to control your own pours? The Bucket Trade has you covered with 24 self-serve beer, wine and cider taps and a well-curated selection. Purchase a card and sip or chug away. To help wash it all down, Bucket Trade has introduced an ever-changing menu of foods prepared by Chef Xavier Meers, recently of Brux'l in Richmond, plus locally made Nightingale ice cream sandwiches.
306 N. Sycamore St. | TheBucketTrade.com
---
Editor's Note: the previously featured restaurant, Farmer's Market Restaurant and Bar, has been removed due to the business closure.