Olivia Newton-John Remembered by Hollywood
| August 15th, 2022
'We Are Forever Hopelessly Devoted to You'
---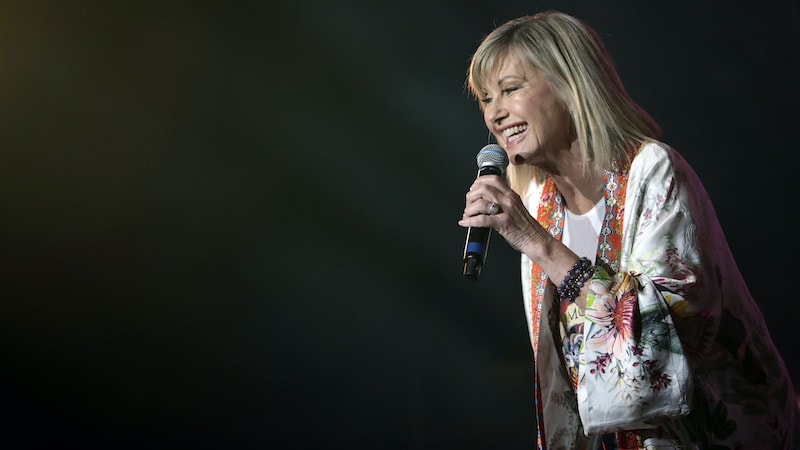 Hollywood celebrities shared their sadness and condolences on Twitter over the death of Olivia Newton-John. The singer and actor was born in England and moved with her family to Melbourne, Australia, when she was five. She achieved her first breaks in the entertainment industry in Melbourne.
Her musical and acting accolades include four Grammy Awards, numerous Country Music, American Music and People's Choice Awards, sales of over $100 million records, 10 number #1 hits, ranking #20 on Billboard's "Greatest of All Time Hot 100 Artists" (in 2015) and induction into the Australian Music Hall Of Fame.
She was also an activist, championing environmental causes, animal rights, and other important issues. Her humanitarian achievements include serving as the first Goodwill Ambassador to the United Nations Environment Programme and national spokesperson for the Children's Health Environmental Coalition.
Her animal rights activism extended to awareness of wildlife toxicology and the dangers of global warming. She hosted the Australian nature series Wild Life which raised awareness on how to prevent animal extinction. Grease's Olivia Newton-John claimed she became an activist due to how strongly she felt for her pets. In an interview, she said, "the loss of a pet can be as powerful as any member of your family. https://screenrant.com/olivia-newton-john-activism-career-artist/
Twitter post tributes to Olivia Newton-John
Compiled by Thania Garcia, Variety
Jane Lynch, Lea Salogna, Gabrielle Union, George Takei, and more have posted tributes to "Grease" star and singer Olivia Newton-John, who died on Aug. 8, 2022, at 73 years old. In addition to John Travolta, who shared a heartfelt post about his "Grease" co-star on Instagram, other actors, directors, and members of Hollywood took to social media to remember Newton-John's career.
On Monday, Newton-John's husband announced that she "passed away peacefully at her Ranch in Southern California … surrounded by family and friends," adding that she was "a symbol of triumphs and hope for over 30 years" after sharing her experiences with breast cancer.
Jane Lynch
Who sang "Physical" alongside Newton-John for her guest episode on "Glee" in 2010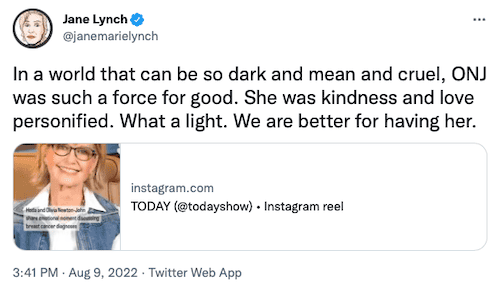 — Jane Lynch (@janemarielynch)
"Star Trek" actor George Takei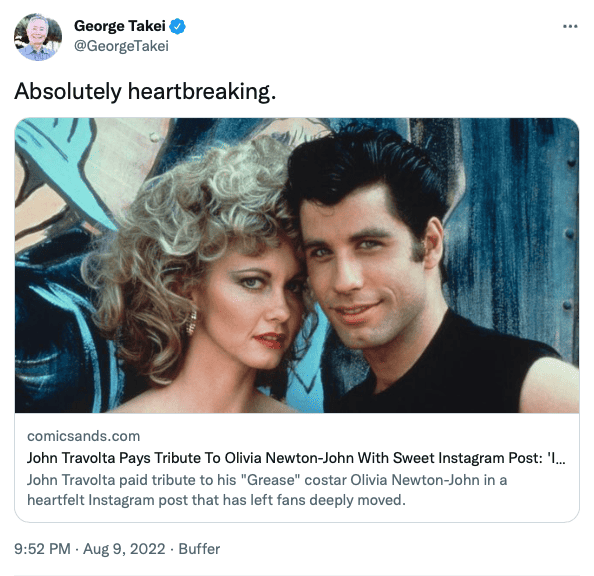 — George Takei (@GeorgeTakei) August 8, 2022
Lea Salonga
Who stars in HBO Max's "Pretty Little Liars" reboot "Original Sin," said:

— Lea Salonga (@MsLeaSalonga) August 8, 2022
Shared his condolences and revealed he lived in Newton-John's former house at one point.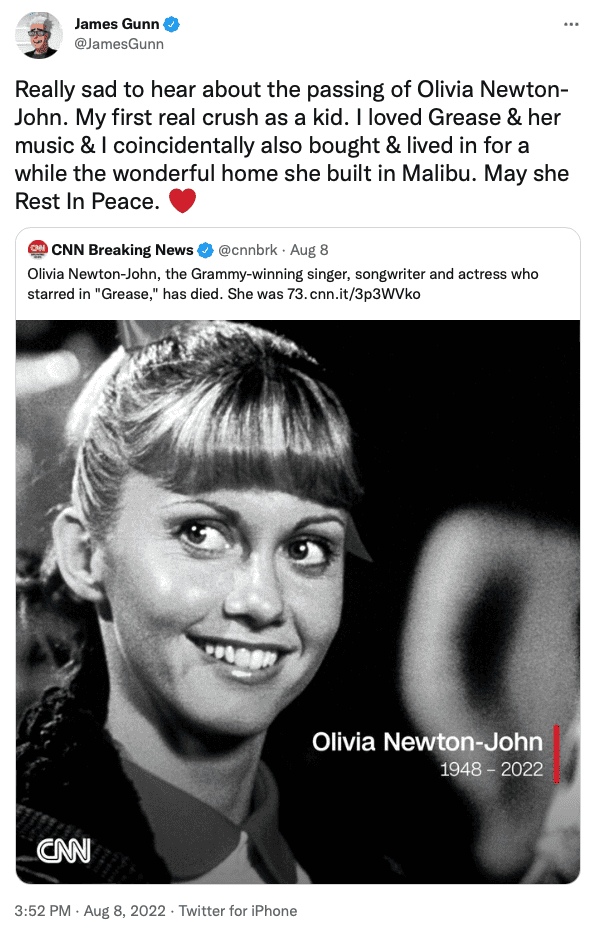 — James Gunn (@JamesGunn) August 8, 2022
More reactions to Olivia Newton-John's death
Daniel Dae Kim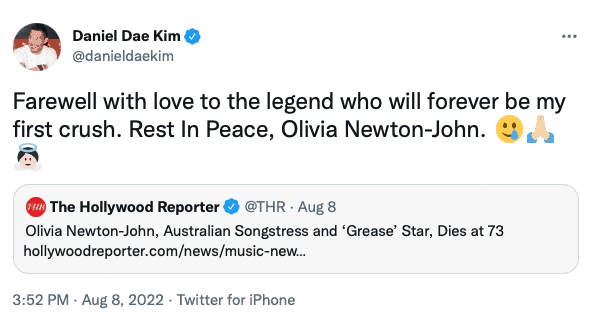 — Daniel Dae Kim (@danieldaekim) August 8, 2022
Gabrielle Union
— Gabrielle Union (@itsgabrielleu) August 8, 2022
Dane Cook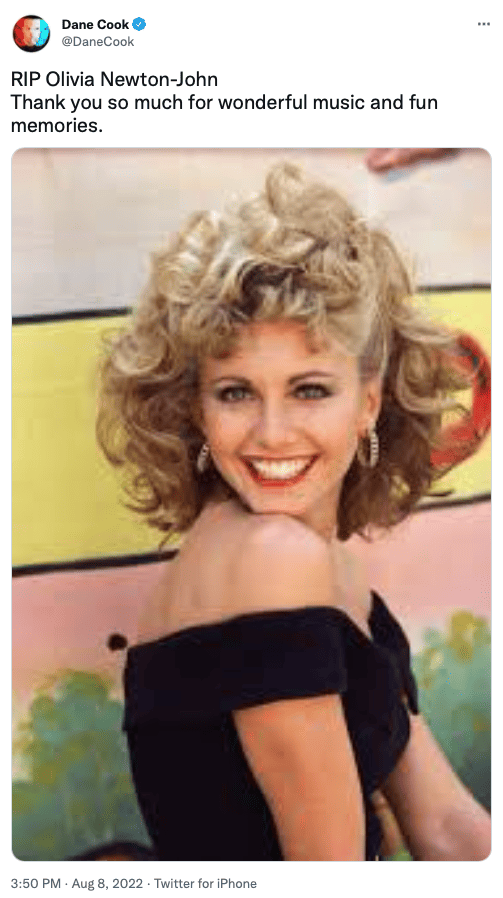 — Dane Cook (@DaneCook) August 8, 2022
Marlee Matlin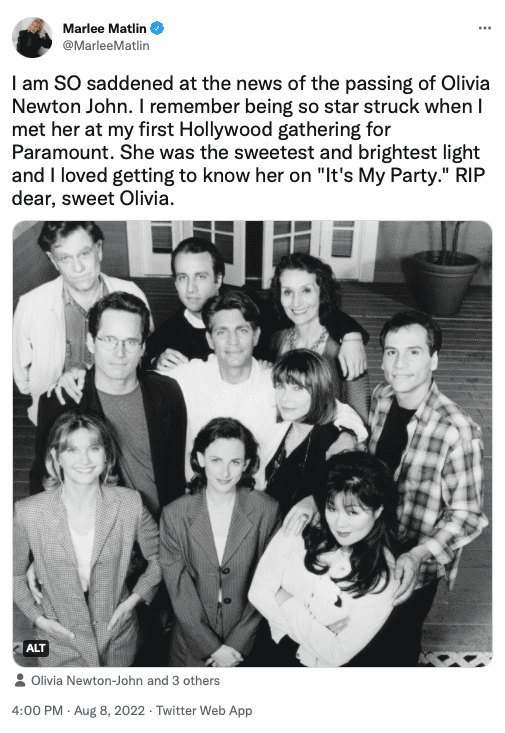 — Marlee Matlin (@MarleeMatlin) August 8, 2022
Mia Farrow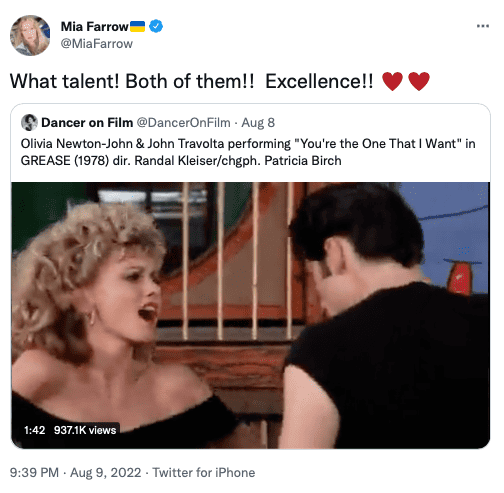 — Mia Farrow (@MiaFarrow) August 8, 2022
Robin Roberts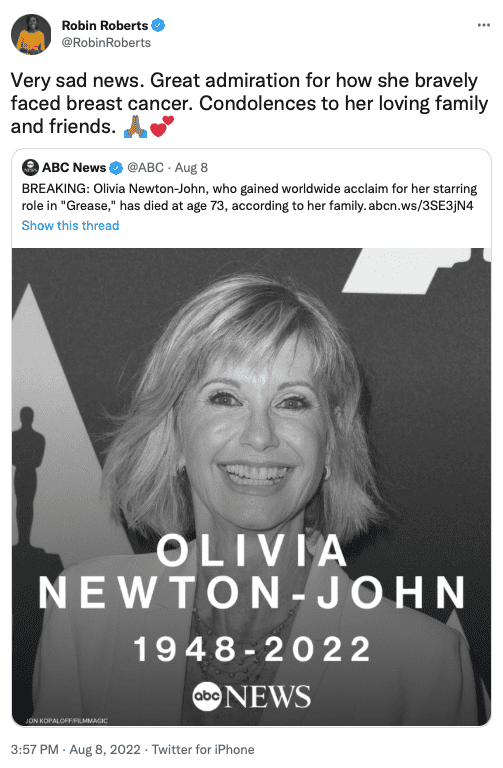 — Robin Roberts (@RobinRoberts) August 8, 2022
FEATURE PHOTO CAPTION: Olivia Newton-John performs during Fire Fight Australia at ANZ Stadium on Feb. 16, 2020, in Sydney. Newton-John died Monday, Aug. 8, 2022, at age 73. CREDIT: Cole Bennetts/Getty Images/TNS)
© 2022 Variety Media, LLC, a subsidiary of Penske Business Media; Distributed by Tribune Content Agency, LLC
---