"A Different Kind of Courage"
| August 23rd, 2022
An inspirational new book about one man's triumph over paralysis
---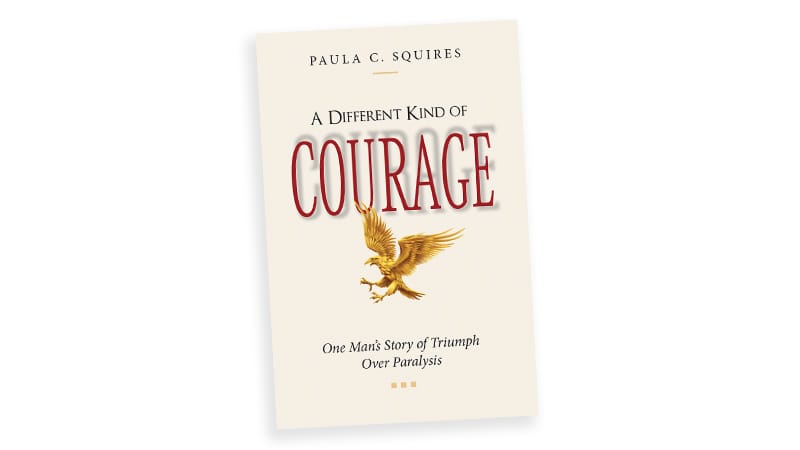 Journalist Paula C. Squires shares the backstory behind her new book, A Different Kind of Courage: One Man's Story of Triumph Over Paralysis.
---
One of the benefits of being a journalist is the interesting people you meet. During a 42-year career in Virginia, I interviewed everyone from governors, to cops and college presidents, CEOs of Fortune 500 companies and even the late Doris Buffett, sister of billionaire Warren Buffett, whose life goal was to give away all her money.
There were many compelling stories. Yet, the story that stuck with me most was about a young man named Donald Bridges Jr.
I met Don in 1988 while working as a reporter for the Richmond Times-Dispatch. He was paralyzed from the neck down and breathed with the assistance of a ventilator. He had just returned home to Chesterfield County after completing a physical rehabilitation program in Atlanta.
My assignment was to describe how a middle-class family was coping with the catastrophic injury of its only son. Don dislocated his neck while playing rugby. At 25, he was a quadriplegic, unable to walk, dress or feed himself.
Don was my first interview with a severely disabled person, and I was nervous. As I carefully posed questions, he quickly put me at ease, chatting about his daily routine and sharing hopes for the future. "There are still a lot of things I want to do" he said. "I'm going to try and do them."
And so he did. Today, at 60, Don is one of the longest living, ventilator-dependent quadriplegics in the country. He also is the subject of my book, A Different Kind of Courage: One Man's Story of Triumph Over Paralysis.
I don't want to give away the story here of how Don triumphed over a spinal cord injury and lived a productive life, but I will dish up a few tidbits. He finished a graduate degree in health administration in what was one of the first online education programs in the country.
He loves cats, strategic board games and an annual trip to his alma mater, Virginia Tech, to watch Hokie football.
Perhaps most importantly, Don embraced a new normal without bitterness and despair. As we have all learned during the pandemic, life can change in an instant. The question then becomes: how does one cope?
That's why I kept thinking about Don and why I wanted to tell his story. It seemed to me that he passed the ultimate test. After a devastating injury turned his world upside down, he found the will to come to terms with the hand that life had dealt him.
---
Become an intrepid traveler: traveling with paralysis and other disabilities
---
While Don's injury occurred during a sporting event, the leading cause of spinal cord injury in the U.S. is automobile accidents, (38.2 percent), followed by falls (32.3 percent) and acts of violence, primarily gunshot wounds (14.3 percent). Sports/recreation activities represent another cause (7.8 percent), medical/surgical reasons (4.1 percent) and other (3.3 percent), according to the National Spinal Cord Injury Statistical Center at the University of Alabama in Birmingham.
The U.S. sees nearly 18,000 new cases a year, with the majority of new cases (78 percent) happening to males. Throw in the number of people paralyzed due to strokes and medical illnesses such as multiple sclerosis and the number of people living with paralysis grows to more than 5 million, or about 1 in 50, according to the Christopher & Dana Reeve Foundation.
Don's journey provides insights into skills people are valuing more these days: resilience and perseverance. This is a man who relies on 24-7 home health care to live independently. Finding and paying for such care is one of his greatest challenges.
Seeing Don navigate his life inspires people. As one friend said in the book: "I have never heard Don say, 'Poor me,' ever … That's what has made a huge difference in my life and in my family's life. If Don can be happy in his environment, then I can choose to be happy in mine. Don is the friend who has changed my life, not because he is rich and powerful, but because he has persevered in the worst of circumstances, rising above paralysis to continue to make a contribution to his friends and community."
Don's story also is a tribute to the power of community – in this case the Chesterfield community. Many of the people involved in helping Don live independently in the beginning in 1988 are still helping today. Neighbors, caregivers, his doctor, family and church friends have formed a supportive net around Don to see that he gets what is needed.
A group from the James River Rugby club – the club Don played for when he was injured – the James River Old Boys (men who played during the 1970s and '80s) has donated more money to Don's nonprofit trust fund, $192,700, than any other entity. This is the fund that goes toward some of his home nursing costs.
Another local angle is the presence of two centers that treat the spinal cord injured: Sheltering Arms Institute, which opened in Goochland County in 2020, and Central Virginia VA Health Care System in Richmond (formerly known as Hunter Holmes McGuire Hospital), one of the largest of the Veterans Administration's 25 spinal cord injury treatment centers. Both facilities graciously granted me tours where I learned about some of the most cutting-edge treatments in use today for the spinal cord injured.
Breakthroughs in science, research and technology have turned this once staid field of neuroscience on its head. While doctors are yet to find a cure, new therapies are improving the quality of life for paralyzed people.
What I learned after writing about Don is that there is nothing paralyzed about his mind, heart or soul. If you want to learn more, the book is available locally at Dementi Milestone Publishing (www.dementimilestonepublishing.com) The nationwide launch is Sept. 6, where you will be able to find it at Amazon, Barnes and Nobles and other retailers.
---
Paula C. Squires is an award-winning journalist. Based in Virginia, she has reported for the Virginian-Pilot and the Richmond Times-Dispatch, where she also served as the consumer affairs columnist. As former managing editor of Virginia Business magazine, Squires traveled the state interviewing top business leaders and covering major events, such as the selection of Northern Virginia for a second Amazon headquarters. Her stories have won state and national awards, and her work has appeared in regional magazines and the Associated Press. Squires is the author of a history of the Virginia Realtors, one of Virginia's largest trade organizations. A graduate of Radford University, she lives in Midlothian, Va.