One-Pan Coconut Chicken Curry
| May 24th, 2023
A Seriously Simple recipe to satisfy your cravings for Indian tastes
---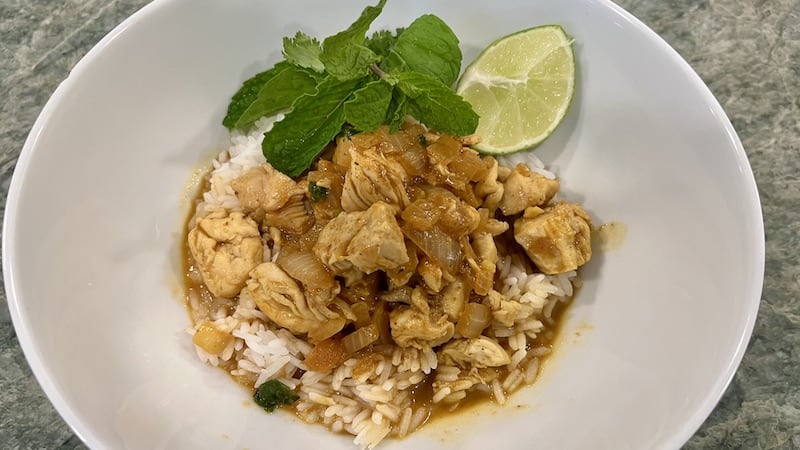 When you have a taste for Indian cooking without having the experience or pantry, never fear! This one-pan Coconut Chicken Curry will satisfy those cravings in a Seriously Simple way.
---
As a French trained chef, Indian cooking had been out of my comfort zone. Recently, my friend Laurie Burrows Grad sent me her favorite quick chicken curry recipe for me to try.
First, I wanted to make the curry powder from scratch, as my esteemed colleague, the late Raghavan Iyer, recommended in his latest book, "On the Curry Trail." If you are interested in curry and how it is used around the world, check out his amazing book.
I quickly realized that his many-ingredients curry powder recipe wasn't ideal for my Seriously Simple recipes, so I settled for a good quality curry powder, which you can find on Amazon. [Editor's note: Penzeys spice company offers a range of curry spices as well as its classic Penzeys Curry blend.]
While this may not be authentic, it has the hallmarks I am looking for in a curry recipe: spicy, aromatic and soul satisfying. This is a recommended dish for a dinner party since it is made all in one pan and served in one bowl. Seriously Simple? Yes!
To make this, I always have all the ingredients measured out. Chicken tenders are easy to work with; be sure to remove the white tendons that can make the tenders rubbery. To grate the ginger, peel it with a peeler or use a spoon to remove skin. Use a microplane or hand grater to grate the peeled ginger root. Full-fat coconut milk is a must or else the result will be watery.
Serve this with raita or plain Greek yogurt, toasted coconut flakes, and mango chutney. You can make your own raita by adding some finely chopped cucumber, chopped mint and cilantro to plain yogurt. Look for a full-flavored mango chutney for best flavor. Carefully toast coconut to make sure it doesn't burn.
Serve each guest an individual bowl of rice topped with chicken curry and garnish. Set out small bowls of condiments for each guest to add their favorite curry additions. Serve immediately.
One Pan Chicken Curry
Serves 4
Ingredients:
2 pounds boneless, skinless chicken breast, cut into 1-inch pieces
Salt and freshly ground black pepper
4 tablespoons canola oil
1 medium onion, chopped
2 cloves garlic, minced
1 1/2 teaspoons freshly grated ginger
2 tablespoons curry powder
1 teaspoons ground cumin
2 tablespoons tomato paste
1 (13-ounce) can coconut milk (full-fat)
3/4 cup chicken broth
Juice of 1/2 lime
To serve:
Lime wedges
Mint leaves, torn
Cilantro leaves, torn
Cooked jasmine or basmati rice
Condiments: toasted coconut, plain Greek yogurt, mango chutney
Directions:
Toss the chicken pieces in a bowl evenly with salt and pepper. In a high-sided skillet over medium-high, heat 2 tablespoons oil. When oil is hot, add chicken pieces and sauté on all sides, using tongs, until lightly browned, about 4 minutes. Remove the chicken to a side bowl.
Add remaining tablespoons of oil and sauté onion, over medium-high heat, until tender and translucent, about 9 to 10 minutes, stirring occasionally. Add salt and pepper to taste.
Add garlic, ginger, curry powder and cumin; cook until fragrant, 1 minute more. Add tomato paste and cook until darkened slightly, 1 to 2 minutes more.
Add coconut milk and broth; bring to a simmer. Add chicken and cook, stirring occasionally, for 3 to 4 minutes. Stir in lime juice and garnish with mint and cilantro. Serve hot with rice and condiments.
---
Also try: Curried Chicken Soup with Coconut and Kale
---
Diane Rossen Worthington is an authority on new American cooking. She is the author of 18 cookbooks, including "Seriously Simple: Easy Recipes for Creative Cooks" and "Seriously Simple Parties," and a James Beard Award-winning radio show host. You can contact her at www.seriouslysimple.com.
© 2023 Diane Rossen Worthington. Distributed by Tribune Content Agency, LLC.
More cookbook recommendations from Diane Rossen Worthington, including 'Jew-ish: Reinvented Recipes from a Modern Mensch'
As an Amazon Associate, Boomer Magazine earns from qualifying purchases of linked books and other products.