Online Shopping for Groceries, Restaurant Meals & More
December 21st, 2016
Making life easier
---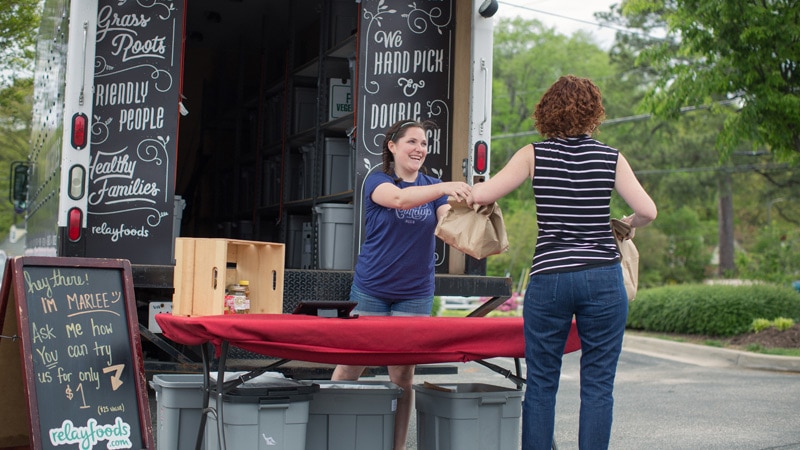 Today's new options for stocking the pantry and fridge offer incredible convenience. BOOMER examines five such options available locally. The grocery services all use online ordering. Some provide pickup locations; some offer delivery. Product availability, prices, fees and other options vary.
UPDATED JUNE 6, 2019. Not all services have been vetted by BOOMER staff.
The Big Kitchen: The convenience of fast food meets the freshness of fine dining. Order chef-prepared meals online, such as salmon, barbecue, pizza, pasta and Tex Mex (ready to heat or re-heat as needed, for added fresh goodness as home), pay, and pickup at The Big Kitchen drive-through garage in Richmond's Scott's Addition. TheBigKitchen.com
Wegmans Curbside Pickup: Richmond-area Wegmans stores not offer the option of ordering groceries online and picking them up curbside. The service operates through Instacart. Customers go to instacart.wegmans.com or log on to the Instacart app, select a pickup time and pay. Customers will be notified when their order is ready. At the store, customers pull into the designated pickup lane, notify the store of their arrival and an employee will load the groceries into their car. Instacart.Wegmans.com
Other Instacart services: Instacart also delivers from Publix, The Fresh Market, Kroger and other Richmond-area stores, with curbside pickup available at some locations. Instacart.com, at the Stores tab.
Kroger ClickList: Brick-and-mortar store offering curbside pickup. Customers order online, then pick up and pay the next day (or any day following) at their chosen Kroger, never leaving the comfort of the car. The Kroger ClickList web pages show recent purchases based on Kroger card usage (as well as recent purchases on sale) for ease of reordering favorites. Great to avoid impulse buys and kids' "buy me this" pleas. Kroger.com
Jet: Online store offering one- and two-day delivery. Wide selection of national brands and products, nonperishable grocery items and other consumer goods. No membership or commitment required. Jet.com
Seasonal Roots: Subscription-based service delivering local seasonal produce, meat, dairy, baked goods and artisan foods every Thursday to homes and offices. Customers must be there for delivery or leave a cooler for temperature-sensitive products. Each default weekly delivery is a box of pre-chosen products – customers may skip a week or substitute and add products for the next delivery during a weekend window of time. SeasonalRoots.com
Amazon Prime Pantry: Online store offering same-day delivery on some items, one- or two-day delivery on most. Fair selection of national brands and products. Online ordering system is complicated and not especially user friendly. Amazon.com
Amazon Restaurants: Amazon Prime members can now get meals delivered (within a limited area in the Richmond region). Participating restaurants include local favorites such as Pasture and Sugar Shack as well as a variety of others, serving up pizza, Mexican, Indian, barbecue, breakfast and more. Order online at Amazon.com/restaurants or use the Amazon or Prime Now mobile apps.
GoPuff: Quick and easy delivery of anything – from groceries to household products to beer and wine – directly to your door. Only $1.95 per delivery, and no surge pricing. GoPuff.com
PostMates: Network of on-demand drivers delivers anything from restaurant food to toiletries to groceries. All deliveries cost a flat rate of either $4 or $6. PostMates.com
Minibar Delivery: Like Uber for alcohol. Product availability limited. $8 delivery fee, free for orders over $100. MinibarDelivery.com