Orecchiette with Super Greens, Yogurt, and Feta
| February 1st, 2023
This pasta dish is a tried-and-true vegetarian recipe
---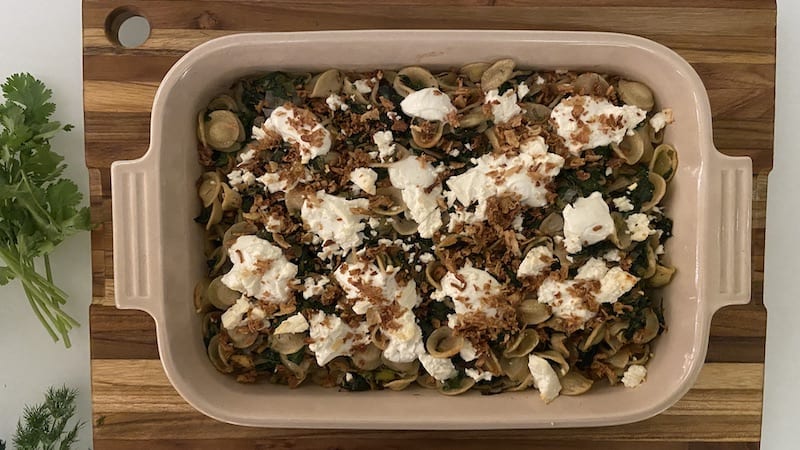 Loaded with power greens, leeks, onions, and herbs, seasoned with delicious spices, topped with pine nuts or crispy fried onion, and served with pasta – put this healthy, delicious Orecchiette with Super Greens, Yogurt, and Feta from JeanMarie Brownson on your table this week!
---
My friend in the U.K. and I regularly exchange tried-and-true vegetarian recipes. This week she sent me an orzo and cauliflower bake she plans to make for her family. I sent her this pasta and super greens recipe inspired by the purchase of a giant bag of power greens.
Turns out, skipping the meat course is no sacrifice at all – certainly not in terms of flavor or the budget. I will warn that vegetarian mains might require a bit more kitchen time, than say, tossing a steak on the grill. In the end, however, swapping in a few meatless meals a week is better for the planet and the consumer.
Just about any tender green works in the following recipe. I use half of a 1 1/2-pound bag of "power greens" that includes baby chard, baby spinach, and baby kale. Tuscan kale, also known as cavolo nero, Swiss chard, and spinach (or a combination of them) also taste good here. Of course, you can use collard or mustard greens, but increase the cooking time in step five to render them pleasingly tender before stirring in the herbs and pasta.
When cooking with greens, rinse them well and pat dry. Then, roughly chop before giving them a good spin in the salad spinner to throw off most of the liquid that clings. You'll need a large skillet or Dutch oven to hold the greens as they cook down into a smallish mound.
Orecchiette, that ear-shaped pasta so popular in Puglia, Italy, delivers an attractive appearance along with a pleasingly toothsome texture. Other shapes work well, too, such as fusilli, farfalle, wagon wheels, or small penne or shells.
Vegan eaters can simply skip the feta and yogurt or swap in dairy-free crumbled "cheese" and plain unsweetened coconut milk yogurt. Don't be shy with the fresh cilantro and dill – the finished dish tastes fresh and bright – even in January.
Orecchiette with Super Greens, Yogurt, and Feta
Makes 4 to 6 servings
Ingredients:
12 cups (12 ounces) super greens, baby kale or spinach, well rinsed, spun dry, roughly chopped
1 small leek, halved lengthwise, well rinsed, thinly sliced (or 1 bunch green onions, trimmed, thinly sliced), about 2 cups
1 medium-size sweet onion, finely chopped, about 1 cup
1 small green chili, seeded, finely chopped
1/2 cup each, chopped: fresh cilantro, fresh dill
8 ounces orecchiette, fusilli, wagon wheels, farfalle or small penne
1/4 cup olive oil
1/2 teaspoon each: salt, ground cumin
1/4 teaspoon each, ground: coriander, cinnamon, black pepper
1/2 cup plain yogurt mixed with 1 clove crushed garlic or 1/4 teaspoon garlic powder
4 ounces feta cheese, crumbled
Crispy fried onions or toasted pine nuts, optional, for garnish
Chopped fresh herbs, for garnish
Directions:
Prepare the greens, leek, onion, chile, cilantro and dill.
Heat oven to 400 degrees on convection or 425 on conventional setting. Lightly oil a 3-quart baking dish.
Put a large kettle of water on to boil. Salt it well and boil again. Add pasta and boil until al dente (slightly firm in the center when bitten), 8 to 12 minutes depending on pasta. Reserve a cup of the cooking water, then drain the pasta well.
Meanwhile, heat oil in large 12-inch nonstick skillet or Dutch oven over medium heat. Add leek, onion and chili. Cook and stir until softened, about 10 minutes.
Stir in salt and spices, then stir in the chopped greens. Cook and stir until wilted, but still bright green, 3 to 4 minutes. Remove from heat. Stir in herbs. Stir in drained pasta and mix well. Add a few tablespoons of the reserved cooking liquid if needed to loosen things up a bit.
Transfer mixture to prepared dish. Dot the top with the yogurt mixture and sprinkle with feta. Bake until piping hot and cheese starts to get soft, about 15 minutes. Sprinkle with fried onions and more herbs. Serve hot or at room temperature.
---
JeanMarie Brownson is a James Beard Award-winning author and the recipient of the IACP Cookbook Award for her latest cookbook, "Dinner at Home." JeanMarie, a chef and authority on home cooking, Mexican cooking and specialty food, is one of the founding partners of Frontera Foods. She co-authored three cookbooks with chef Rick Bayless, including "Mexico: One Plate at a Time." JeanMarie has enjoyed developing recipes and writing about food, travel, and dining for more than four decades.
© 2023 JeanMarie Brownson. Distributed by Tribune Content Agency, LLC.
Also from JeanMarie Brownson, this recipe for a satisfying meatless burger. Really!