Celebrate National Beer Day with a Brew and a Burger
| April 4th, 2022
And not just any burger – a meatless burger
---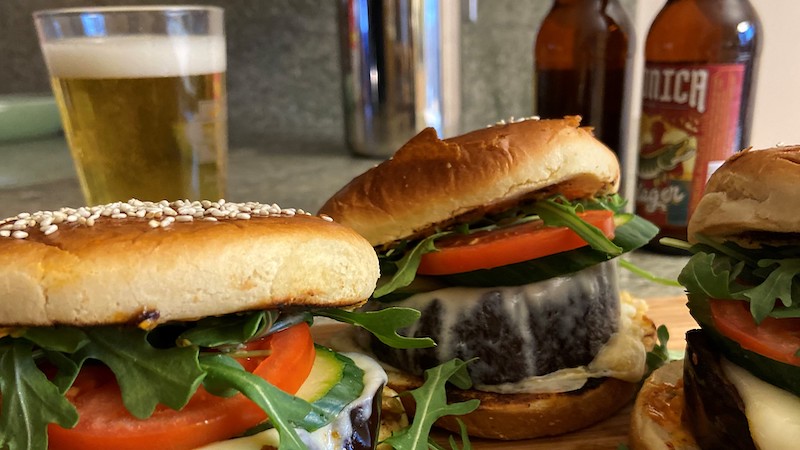 I am always game for a burger and a beer. This year, I'm serving meatless burgers with a selection of local, craft beers to celebrate the unofficial National Beer Day on April 7. This is the day, in 1933, when President Roosevelt's bill legalizing beer and wine for American citizens (after 13 years of Prohibition) went into effect.
Today, the variety of beers available amazes. Same for burgers – everything from prime beef to cauliflower steaks to meatless patties. I almost always prefer a roasted vegetable for a meatless burger meal rather than highly processed, premade protein patties. The trick to a successful meatless burger is to vary the textures so the bite satisfies. Thick slices of roasted eggplant topped with a sweet, salty smoky glaze elevates flavor to the next level. Add a slice of creamy fresh or melting cheese to add texture to the finished burger. Mayonnaise, laced with some of the glaze, tastes great spread over toasted, slightly sweet brioche or sesame burger buns. A slice of red ripe tomato adds juiciness and crisp cucumber contributes a distinctive crunch.
This Sweet and Smoky Glaze recipe that follows tastes good on just about anything destined for the grill; I like to add it to grilled vegetables to give them tons of umami and personality. Feel free to substitute bottled chili crisp (crushed chilies packed in oil) to save time, just know that things can get spicy!
---
10 reasons to care about craft beer
---
Veggie Cheese Meatless Burgers with Sweet & Smoky Glaze
Makes 4 servings
Note: Look for eggplant that will yield round slices about the same size diameter as the burger buns. You can substitute 4 large Portobello mushroom caps (12 ounces total) for the eggplant; reduce roasting time by about half.
Ingredients:
1/3 cup Sweet & Smoky Glaze, see recipe, OR store-bought Spicy Chili Crisp
1/3 cup mayonnaise
3 to 4 tablespoons finely chopped sun-dried tomatoes
Veggie Burgers:
1 large eggplant, about 1 pound
Vegetable oil
4 to 8 1/4-inch thick slices queso fresco or brick or havarti cheese
4 soft hamburger buns, such as whole grain brioche or sesame, split, toasted
Thinly sliced seedless cucumbers or dill pickles
Thinly sliced red ripe tomatoes
Arugula sprigs or romaine leaves
Directions
Heat oven to 450 degrees. Arrange racks so you can cook in the top third of the oven.
Mix 1 tablespoon of the Sweet & Smoky Glaze or Chili Crisp with the mayonnaise in small bowl. Stir in sun-dried tomatoes.
Cut eggplant into rounds about 1 to 1 1/4-inch thick; you need 4 round slices (reserve any remaining eggplant for other use). Place slices on an oiled baking sheet. Brush or spray both sides generously with oil.
Roast eggplant, turning slices over once, until golden brown and tender, 15 to 20 minutes. Brush one side of eggplant with Glaze or Chili Crisp. Cook 2 to 3 minutes more; top with cheese slices and more Glaze. Bake just long enough to soften cheese, 1 to 2 minutes.
Spread the tomato mayonnaise over the bottoms and tops of the toasted buns. Layer 1 eggplant slice over the bottom buns. Top with cucumber or dill pickle slices, tomato and arugula sprigs. Place bun on top.
Serve the meatless burgers paired with craft beer of choice.
Sweet and Smoky Glaze:
Mix 3 tablespoons olive oil, 2 tablespoons ketchup, 1 tablespoon each: soy sauce, agave syrup, red wine vinegar and 2 cloves crushed garlic in a small dish. Stir in 1 teaspoon smoked paprika, 1/2 teaspoon crushed red pepper flakes and salt. Add freshly ground black pepper to taste. Makes about 1/2 cup. Refrigerate covered up to one week.
JeanMarie Brownson is a James Beard Award-winning author and the recipient of the IACP Cookbook Award for her latest cookbook, "Dinner at Home." JeanMarie, a chef and authority on home cooking, Mexican cooking and specialty food, is one of the founding partners of Frontera Foods. She co-authored three cookbooks with chef Rick Bayless, including "Mexico: One Plate at a Time." JeanMarie has enjoyed developing recipes and writing about food, travel and dining for more than four decades.
© 2022 JeanMarie Brownson. Distributed by Tribune Content Agency, LLC.
Hungry for more? Read the Boomer review of "The Complete Vegetarian Cookbook"