Way More Than Just Tofu!
April 18th, 2018
The Complete Vegetarian Cookbook, from America's Test Kitchen
---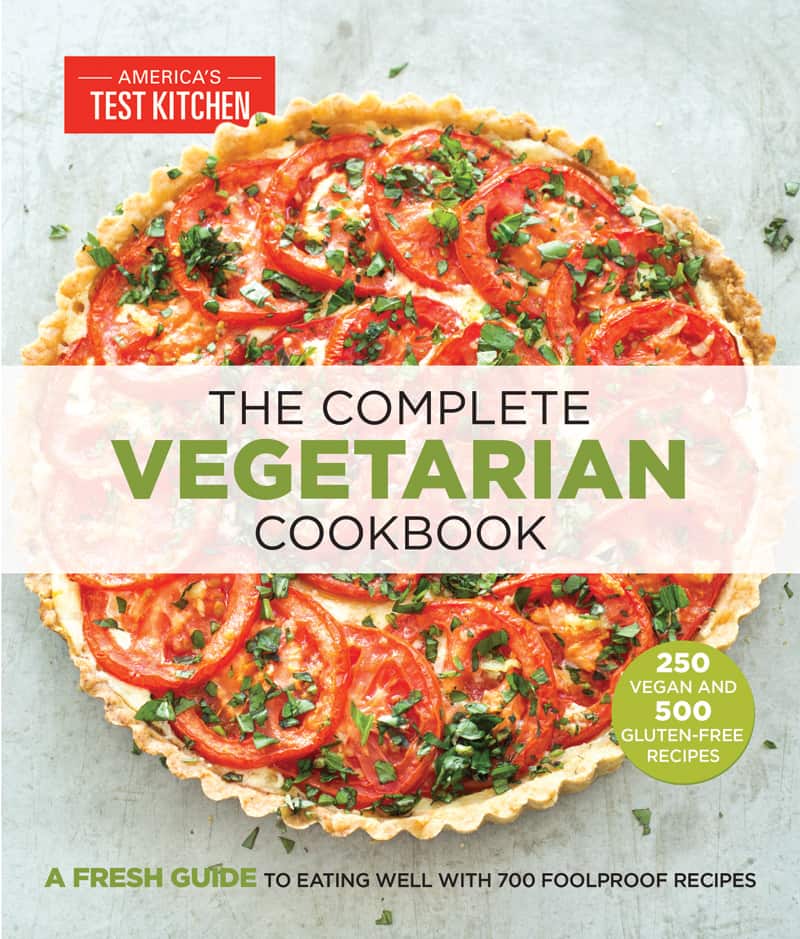 Reviewed by Annie Tobey
If you're as serious about cooking as you are about eating healthy, you'll want to learn how to make tasty vegetarian meals. And no, it's not all about trying to trick your palate with meat substitutes like veggie burgers or tofu!
Those thorough chefs over at America's Test Kitchen, combining scientific method with creativity, have compiled more than 700 kitchen-tested recipes to make eating your vegetables a pleasure.
"There's a big desire in the world right now to eat more plant-based foods," even if only a few days each week, says Stephanie Pixley, one of the editors of The Complete Vegetarian Cookbook. "Creating a complete vegetarian cookbook is a great way to introduce people to the great varieties of vegetarian dishes that exist in the world … We tried to incorporate a lot of interesting new techniques that maybe hail from different parts of the world, or introduced interesting spices, toppings or things that maybe people wouldn't think about but that actually make vegetables much more exciting."
In choosing the recipes, the Test Kitchen chefs considered dishes that would satisfy even meat-eaters.
"We often turned to dried mushrooms, like dried porcinis or dried shiitake mushrooms, which we'll rehydrate and sauté as an aromatic," Pixley says. "We often turn to tomato paste … which adds a lot of depth of flavor in something that otherwise is very bland. And even something as simple as using caramelized onions instead of just sweating onions, because as the caramelized onions cook, they develop deep flavors. They add some of that Maillard reaction that happens with meat, so it gives some of that deep, meaty flavor that some people are looking for."
To create a vegetarian meal that fully satiates the appetite, Pixley advises, "Part of it is balance. If you're looking to have a great main dish, then you probably shouldn't just focus on scalloped potatoes. Make sure the full flavor of the dish is well balanced and has a lot of interest to it. We have this great recipe for a squash kibbeh, a Middle Eastern-style dish. It's got squash, so it's sweet; we add bulgur, which gives it bulk; and it has feta cheese and pine nuts on top, so it has a really nice depth of flavor. It's got some meatiness from nuts; and it's also satisfying from all the bulgur, so that someone who's used to eating a meat-based diet doesn't walk away hungry."
Another "meaty" veggie dish is the mushroom Bolognese. "Bolognese is like the pasta version of meat-lovers pizza," says Pixley. "Making over dishes like that is a great way to introduce people who love those deep flavors, the umami notes, to get more vegetables in their diet." The recipe achieves this with two types of mushrooms (dried porcini and fresh cremini); two umami-rich ingredients (soy sauce and tomato paste); red wine; and heavy cream.
THE BASICS AND BEYOND
True to style, the Test Kitchen chefs begin The Complete Vegetarian Cookbook with a meaty opener: basic ingredients ("for giving dishes rich, savory flavor without the meat"); essential kitchen equipment; useful techniques; and an overview of dozens of vegetables, with advice on choosing, storing and preparation.
Recipes include hearty main dishes, soups and stews, pasta, rice and grains, beans and soy, salads, side dishes, sandwiches, flatbreads, egg dishes, snacks and more. Recipes include comfort favorites like lasagna and shepherd's pie, international dishes like pad Thai, moussaka and vindaloo and simple dishes that celebrate a single vegetable – think zucchini ribbons with parmesan, slow-roasted tomatoes and quick collard greens. Each chapter, each entry and the final index include icons noting fast prep (less than 45 minutes), vegan and gluten-free recipes. Invaluable how-to pictures, sidebars and tips are scattered throughout the book.
But most important, The Complete Vegetarian Cookbook is chock full of tasty recipes that will leave you saying, "Meat? What's that?"
Want to see for yourself? Give these recipes a try!