Recipe: Sweet Potato and Swiss Chard Gratin
April 18th, 2018
---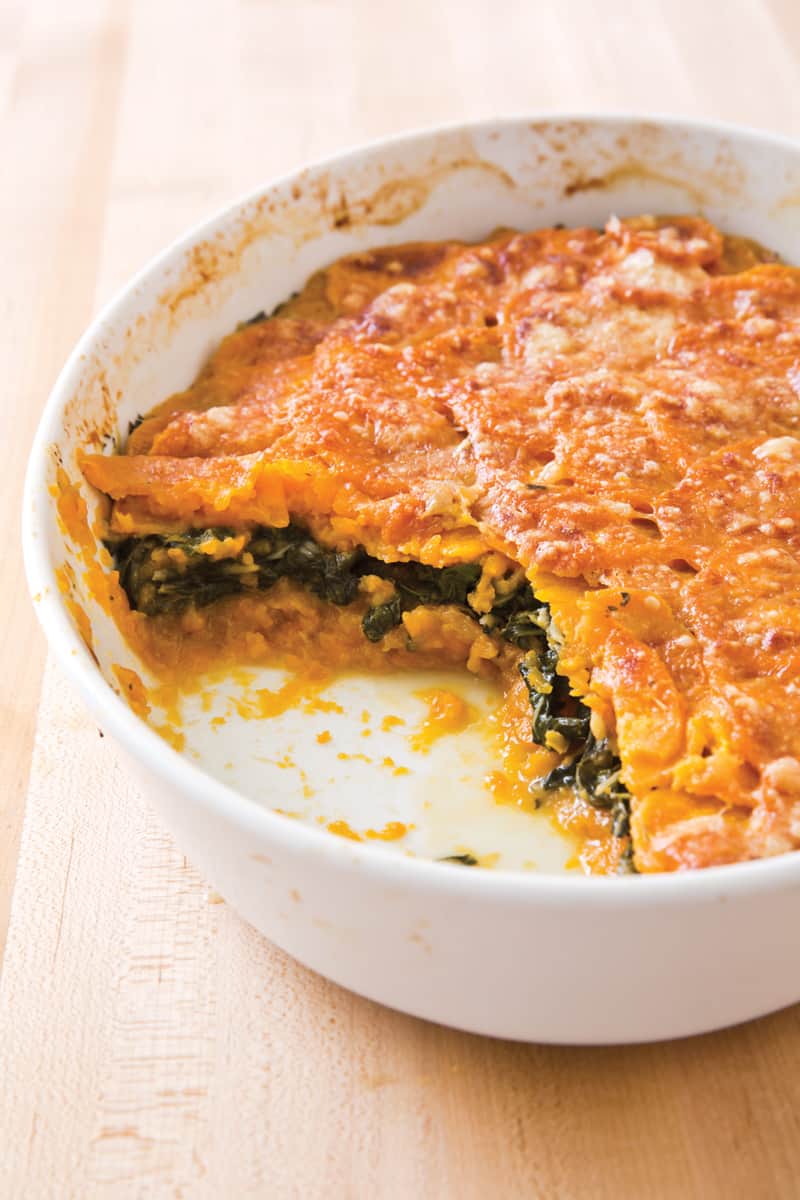 Serves 4 to 6 (Gluten Free)
Why This Recipe Works:
To move sweet potatoes squarely to the center of the dinner plate, we created a decidedly savory and elegant sweet potato gratin. Sweet potatoes got their name for a reason, so to mitigate some of their sweetness we turned to earthy, bitter Swiss chard, which we sautéed with shallot, garlic, thyme, and butter. We shingled half the sliced potatoes along the bottom of the gratin dish, topped them with the chard, then layered on the remaining potatoes. Pouring a combination of water, wine, and cream over the vegetables encouraged the potatoes to cook evenly and imparted a welcome richness. Covering the gratin dish for the first half of baking gave the potatoes enough time to cook through, then we uncovered the dish to ensure the excess liquid could evaporate and the cheesy topping could brown. Thinly sliced potatoes are key to an evenly cooked gratin—use a mandoline, a V-slicer, or the slicing disk on a food processor.
---
Sweet Potatoes: Unexpectedly Healthy
---
2 tablespoons unsalted butter
2 shallots, minced
Salt and pepper
2 pounds Swiss chard, stemmed and cut into ½-inch-wide strips
3 garlic cloves, minced
2 teaspoons minced fresh thyme
⅔ cup heavy cream
⅔ cup water
⅔ cup dry white wine
3 pounds sweet potatoes, peeled and sliced ⅛ inch thick
2 ounces Parmesan cheese, grated (1 cup)
---
Adjust oven rack to middle position and heat oven to 350 degrees. Melt butter in Dutch oven over medium-high heat. Add shallots and 1 teaspoon salt and cook until shallots are softened, about 2 minutes. Stir in chard and cook until wilted, about 2 minutes. Stir in garlic, thyme, and ¾ teaspoon pepper and cook until fragrant, about 30 seconds; transfer to bowl.
Add cream, water, wine, and 1 teaspoon salt to now-empty pot and bring to simmer over medium-high heat. Remove pot from heat and cover to keep warm.
Shingle half of potatoes evenly into 3-quart gratin dish (or 13 by 9-inch baking dish). Spread wilted chard mixture evenly over potatoes, then shingle remaining potatoes over top. Pour cream mixture evenly over top.
Cover dish with aluminum foil and bake for 45 minutes. Uncover, sprinkle with Parmesan, and continue to bake until gratin is golden brown and nearly all liquid has evaporated, about 45 minutes. Let cool for 10 minutes before serving.
Recipe courtesy of our friends from America's Test Kitchen, and their book The Complete Vegetarian Cookbook.