Recipe: Crispy Spiced Chickpeas
April 18th, 2018
---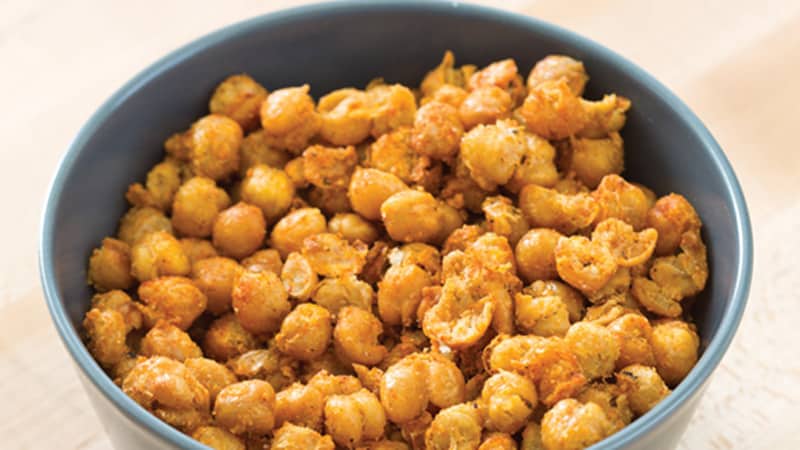 Serves 6 (Fast, Vegan, Gluten Free)
Why This Recipe Works:
Chickpeas aren't just for salads and curries anymore. Tossed in oil and roasted, these beans become ultracrisp and deeply nutty in flavor—the perfect cocktail snack. Most recipes call for roasting chickpeas in the oven, but we found they never became crisp enough. Switching to the stovetop and frying the chickpeas in olive oil gave us the big crunch factor we were seeking. A quick toss in a sweet and savory mixture of sugar and smoked paprika made our chickpeas incredibly addictive. Make sure to dry the chickpeas thoroughly with paper towels before placing them in the oil. In order to get crisp chickpeas, it is important to keep the heat high enough to ensure the oil is simmering the entire time. After about 12 minutes, test for doneness by removing a few chickpeas and placing them on a paper towel to cool slightly before tasting. If they are not quite crisp yet, continue to cook 2 to 3 minutes longer, checking occasionally for doneness.
1 teaspoon smoked paprika
1 teaspoon sugar
½ teaspoon salt
¼ teaspoon pepper
1 cup extra-virgin olive oil
2 (15-ounce) cans chickpeas, rinsed and patted dry
---
Combine paprika, sugar, salt, and pepper in large bowl. Heat oil in Dutch oven over high heat until just smoking. Add chickpeas to oil and cook, stirring occasionally, until deep golden brown and crisp, 12 to 15 minutes. Using slotted spoon, transfer chickpeas to paper towel-lined baking sheet to drain briefly, then toss with spices. Serve. (Chickpeas can be stored at room temperature for up to 24 hours.)
Recipe courtesy of our friends from America's Test Kitchen, and their book The Complete Vegetarian Cookbook.