Outdoor Connections in Laurel Highlands, Pennsylvania
| July 11th, 2022
A mountain destination for playing and staying
---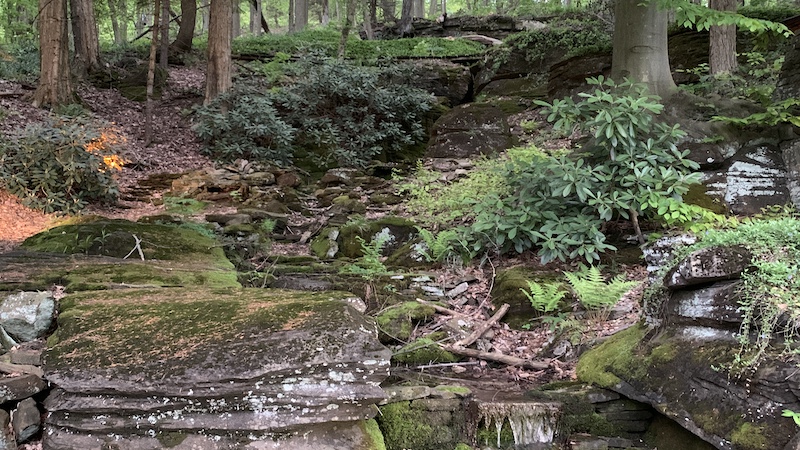 The drive to the Laurel Highlands in Pennsylvania provides an apt prelude to a nature-soaked visit of the region. The GPS from my home in Richmond, Virginia, took us through scenic backroads, dotted with houses and painted with forests, fields, and soul-restoring views. The two-lane thoroughfares through this part of the Allegheny Mountains set an easy-going pace for an escape to the hills.
The Laurel Highlands region is rich in natural resources. The Youghiogheny, Casselman, Stonycreek, and Conemaugh rivers cut through the area. The 70-mile-long Laurel Ridge, a high plateau region with deep hollows, covers more than 200,000 acres, rich in amphibian, avian, and plant biodiversity. Multiple parks afford opportunities to soak in the natural beauty. Historic small communities throughout the region offer convenient creature comforts alongside the nature escapes.
With a few notable exceptions, my visit focused on venues that welcomed my Australian shepherd, Newt. Our travel companion, Tommie, made sure Newt was cared for when I visited a few people-focused places.
Stay and Play at Seven Springs
Though I began my "deceleration" along the scenic route into Laurel Highlands, it continued as we settled into a chalet at Seven Springs Mountain Resort, then gained momentum with a restorative massage at the resort's Trillium Spa.
Jazz Night dinner at Helen's, the resort's fine dining restaurant, furthered my relaxation. Live jazz music was accompanied a sumptuous repast of watermelon caprese salad, lemon-grilled shrimp, summer couscous salad, and the Tour of California red wine flight.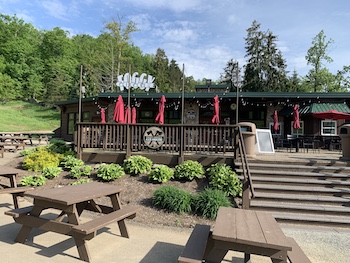 The Seven Springs Mountain Resort's history stretches back to the 1930s, when German-born Adolph Dupre purchased a few acres of land. He and his wife, Helen, lived there in a small cabin with their three children – that cabin is now a part of the resort's fine-dining restaurant, aptly named Helen's.
Back to Adolph and Helen Dupre … the couple quickly saw the potential of the land beyond maple syrup and farming. They built cabins and a lodge and began to welcome skiers. After all, the land's geography provides plenty of precipitation and cold temperatures. The Dupre family pioneered the development of rope tows and, later, snowmaking and chairlifts. Over the decades, the resort continued to grow.
In addition to its 285 skiable acres and 750 vertical feet, Seven Springs resort now offers abundant lodging (recently renovated, and including several dog-friendly options), 77,000-square feet of conference space, multiple dining options (my hearty breakfast at Slopeside easily fueled me for a full day of outdoor fun), and year-round activities.
The property's natural beauty and seasonal recreation are accessible 24/7/365. The resort offers individual year-round options as well as festivals and events.
Outdoor adventurers can choose from chairlift rides; paddleboats; Alpine Slide; climbing; hiking, biking and running trails; horseback riding; swimming pools; and more.
Indoors, guests of all ages can find plenty of entertainment: mini golf, bowl, axe throwing, video and arcade games, and swimming.
Weekly concerts and seasonal festivals, such as Fireworks & Food Trucks, Autumn Fest, and a wine festival, offer even more reasons to visit.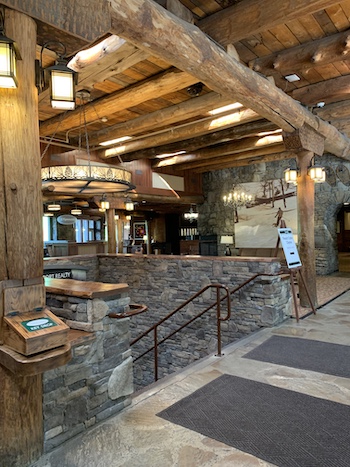 The resort's connection to the natural environment peeks through in the décor, too. My favorites were the picturesque light fixtures and the locally sourced stone and timber features, scattered throughout the lodge and conference areas. Outdoors, listen for the ongoing chorus of birds in the day and frogs and insects at night.
In early 2022, Seven Springs Mountain Resort was acquired by Vail Resorts, assuring continued quality while maintaining the resort's Laurel Highlands character.
Parks and trails in Laurel Highlands
The region is filled with parks and trails, starting, for me, at Seven Springs. The resort maintains 13 hiking, running, and mountain biking trails, from beginner to advanced. The 1.9-mile Nature Trail starts near the chalet where I was staying and loops around a lake, offering a handful of interpretive markers. I also took a run along Watercress Trail and along a few miles of the Laurel Highlands Hiking Trail – a 70-mile trail from Ohiopyle State Park to the Conemaugh Gorge near Johnstown that cuts through the resort.
A portion of the 150-mile Great Allegheny Passage cuts through the region. The GAP trail is part of a biking/hiking trail system that extends from Washington, D.C. to Pittsburgh. The trail passes through six trail towns within the Laurel Highlands, each with their own unique history and charm. A bike trip from start to finish is on my one-of-these-day bucket list.
Another worthwhile outdoor stop includes Ohiopyle State Park. The park boasts a 100-foot natural waterslide, just off the road so easy to access. These happened to make it onto the Thrillist top 12 natural waterslides across America.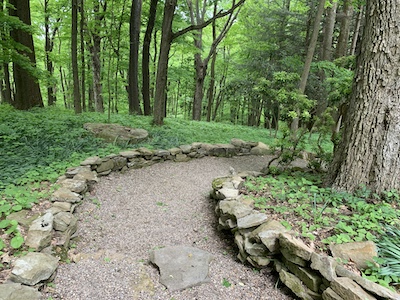 If you visit Fallingwater and Kentuck Knob – two phenomenal Frank Lloyd Wright homes here in the region – you can stroll the grounds as well as tour the houses. Both have beautiful outdoor spaces to complement Wright's focus on organic architecture.
---
The organic architecture at two Frank Lloyd Wright houses in Laurel Highlands
---
Although I spent less than four days here, my days were jam-packed with sites and tastes – without distracting from the sense of relaxation and fun. Look for more trip reports, including Fallingwater and Kentuck Knob, food and breweries, and the National Flight 93 Monument.