Peanut Zucchini Noodle Salad with Chicken
| August 16th, 2023
Oodles of 'zoodles' make this salad healthy and delicious
---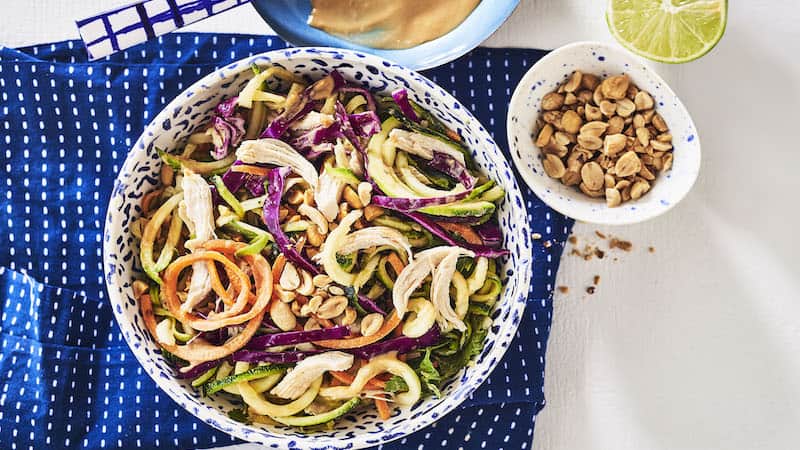 You'll end up with more peanut sauce than you need in this zucchini noodle recipe, and that's a good thing! It makes a great dip or stir-fry sauce.
Peanut Zucchini Noodle Salad with Chicken
Serves 4
Active Time: 30 minutes
Total Time: 30 minutes
Ingredients:
3/4 cup creamy natural peanut butter
3/4 cup hot water
1/4 cup lime juice
2 tablespoons light brown sugar
2 tablespoons reduced-sodium tamari or soy sauce
1 1/2 tablespoons fish sauce
1 teaspoon hot sauce, such as Sriracha
1 teaspoon grated garlic
4 cups spiralized zucchini noodles (1 large)
3 cups spiralized red cabbage (about 1/2 small head)
1 cup spiralized carrot (1 large)
1/2 cup chopped fresh cilantro
2 cups shredded rotisserie chicken (8 ounces)
1/4 cup chopped unsalted roasted peanuts
Directions:
Combine peanut butter, water, lime juice, brown sugar, tamari (or soy sauce), fish sauce, hot sauce and garlic in a blender. Pulse until smooth.
Combine zucchini noodles, cabbage, carrot and cilantro in a large bowl. Add 1 cup of the dressing (reserve the rest for another use) and toss to coat. Top the salad with chicken and peanuts. Serve immediately.
To make ahead: Refrigerate sauce (Step 1) for up to three days.
Recipe nutrition per serving: 347 Calories, Total Fat: 19 g, Saturated Fat: 3 g, Cholesterol: 49 mg, Carbohydrates: 19 g, Fiber: 5 g, Total Sugars: 9 g, Added Sugars: 3 g, Protein: 26 g, Sodium: 745 mg, Potassium: 643 mg, Iron: 2 mg, Folate: 50 mcg, Calcium: 62 mg, Vitamin A: 3890 IU, Vitamin C: 47 mg.
---
Healthy and delicious: Grilled Chicken Parmesan over Spiral Zucchini Noodles with Whole Wheat Spaghetti
---
EatingWell is a magazine and website devoted to healthy eating as a way of life. Online at www.eatingwell.com.
©2023 Dotdash Meredith. All rights reserved. Used with permission. Distributed by Tribune Content Agency, LLC.