Pepper Jack Quesadillas for Leftover Turkey
| November 15th, 2023
An easy, delicious change of pace after holiday meals
---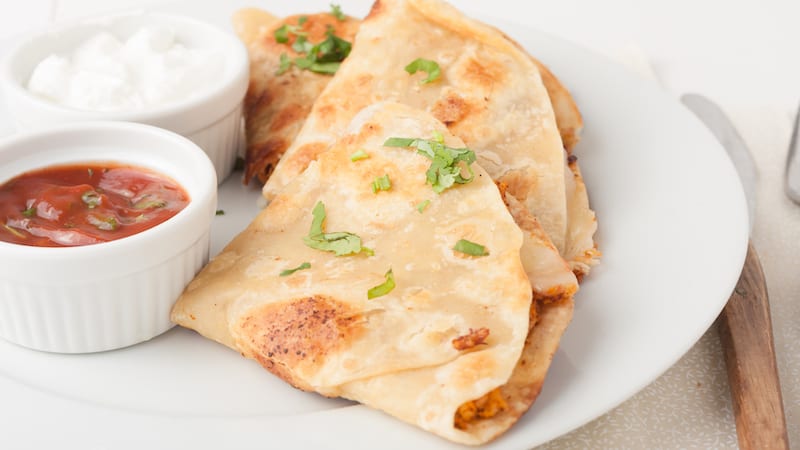 These Mexican-style melted cheese and turkey sandwiches are just the thing to prepare post-Thanksgiving. After all the cooking you've done, you can have the next day's meal cooked in a few minutes. Just make sure you have fresh salsa, shredded pepper jack cheese and tortillas in your fridge. I usually want to pivot away from a heavy meal the next day, and these crispy cheesy Pepper Jack Quesadillas make a light meal and are Seriously Simple to put together.
Quesadillas – made with corn, flour tortillas, or a flour/corn combination – can be simple, with a plain melted cheese center (which kids love), or more complicated creations. Olive oil spray on a nonstick pan or griddle keeps the outside crispy without being overly greasy. If you don't have the spray, add a tablespoon of vegetable or light-flavored olive oil to the pan and make sure it is very hot before cooking the tortillas. I use a wide flat spatula to turn them.
You could embellish these with caramelized onions, different chopped chilies, or sliced avocados to design your own combination. Since it's after Thanksgiving, you also could add a thin layer of stuffing or vegetables to the turkey-cheese filling and garnish it with cranberry sauce spiked with some chopped jalapeños and scallion instead of tomato salsa.
To finish, a dollop of sour cream brings all the flavors together. These can be served cut into triangles as a first course or as a main course for brunch or lunch. To drink, chilled Mexican beer or frosty margaritas would make a fine accompaniment.
Turkey and Pepper Jack Cheese Quesadillas
Serves 4
Ingredients:
Non-stick spray
4 large flour, corn or corn-flour tortillas
2 cups shredded cooked turkey
1/4 cup fresh store-bought tomato salsa
2 cups shredded pepper jack cheese
For garnish:
1/2 cup store-bought fresh tomato salsa
1/2 cup sour cream
Cilantro leaves
Directions:
Lightly spray a large non-stick skillet or griddle with non-stick spray and place on medium-high heat. Place a tortilla in the skillet and sprinkle with 1/2 cup of shredded turkey, a tablespoon of salsa and top evenly with 1/2 cup shredded cheese: fold over the tortilla in half pressing down with a spatula.
Cook the quesadilla until lightly brown, about 2 minutes, then turn over and cook the other side until lightly brown and the cheese has melted, about a minute longer.
Repeat the steps to cook the remaining quesadillas. Arrange on individual plates, garnish with cilantro leaves. Serve immediately accompanied by salsa and sour cream.
---
Diane Rossen Worthington is an authority on new American cooking. She is the author of 18 cookbooks, including "Seriously Simple: Easy Recipes for Creative Cooks" and "Seriously Simple Parties," and a James Beard Award-winning radio show host. You can contact her at www.seriouslysimple.com.
© 2023 Diane Rossen Worthington. Distributed by Tribune Content Agency, LLC.
More Seriously Simple and delicious recipes from Diane Rossen Worthington
As an Amazon Associate, Boomer Magazine earns from qualifying purchases of linked books and other products.