Perk Up an Easy Yogurt Loaf Cake with Fruit
| July 27th, 2022
Cherries and apricots or other fruits make this cake summery, light and, well, fruity
---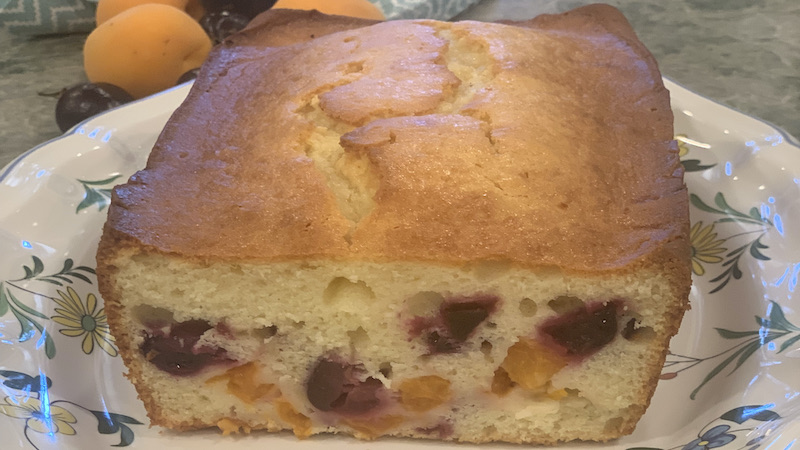 Diane Rossen Worthington of Seriously Simple shares her simple recipe for a yogurt loaf made with cherries and apricots – or other summery fruits. Enjoy it at breakfast, as a snack, or for dessert!
---
I'd never tried using yogurt in a cake, so I thought I'd give it a try. It works similarly to sour cream or buttermilk and adds a moist texture to the cake. I fooled around with the original recipe I had saved years ago and came up with this summery, light and fruity yogurt cake. Here I have used bright red cherries and light orange apricots, but you can add your own fruit signature to this cake. Peaches, nectarines, plums, or berries would work equally well here.
The simple cake benefits from the slightly sour, yet creamy yogurt, and the vanilla is essential for its flavor. The addition of the summer fruits interlaced in the vanilla-scented batter adds just the right amount of sweetness and juiciness to the yogurt loaf cake.
Whenever you are adding fruit to a cake batter, be sure to dust the fruit with all-purpose flour. This will ensure that the fruit won't fall to the bottom of the cake and it will be evenly distributed. I tested this three times, and I can say it is a delicious breakfast bread alongside your coffee or tea. It is equally yummy at teatime or as an ending to your summer dinner.
Cherry Apricot Yogurt Loaf
Serves 8 to 10
Ingredients:
1 1/2 cups plus 2 tablespoons all-purpose flour
2 teaspoons baking powder
Pinch of salt
3 large eggs
1 cup sugar minus 2 tablespoons
1/2 cup full-fat Greek yogurt
2 teaspoons pure vanilla extract
1/2 cup grapeseed or other unflavored oil
2 apricots, pitted and cut into 1/2-inch dice
6 ripe cherries, pitted and cut into 1/2-inch dice
Directions:
Preheat the oven to 350 F. Spray a 9-by-5-inch nonstick loaf pan with baking spray all over. Combine 1 1/2 cups flour, the baking powder and salt in a bowl or on a piece of foil or parchment paper. Stir the dry ingredients around to evenly mix. Reserve.
Whisk the eggs in a medium mixing bowl with the sugar with an electric mixer until light yellow. Add the yogurt and the vanilla and beat another minute. Add the reserved dry ingredients and beat another minute or until just blended. Slowly add the oil and mix to blend well.
Combine the apricots and cherries and 2 tablespoons flour together in a bowl and mix to make sure the fruit is evenly coated with the flour. Transfer about half the batter into the pan. Scatter the flour-dusted fruit evenly over the batter. Pour the remaining batter on top of the fruit layer to cover. You can use a rubber spatula to move the fruit around.
Bake for 45 to 55 minutes or until a wooden skewer inserted into the middle of the cake comes out clean. Place on a wire rack to cool. When cool, invert onto a rectangular plate or platter. Slice into serving pieces.
---
A fruit-filled summer dessert that delights the eyes and taste buds: The Berry Trifle
---
Diane Rossen Worthington is an authority on new American cooking. She is the author of 18 cookbooks, including "Seriously Simple: Easy Recipes for Creative Cooks" and "Seriously Simple Parties," and a James Beard Award-winning radio show host. You can contact her at www.seriouslysimple.com.
© 2022 Diane Rossen Worthington. Distributed by Tribune Content Agency, LLC.