Pitmaster Craig Hartman of the Gordonsville BBQ Exchange
| September 17th, 2019
Don't worry, eat barbecue
---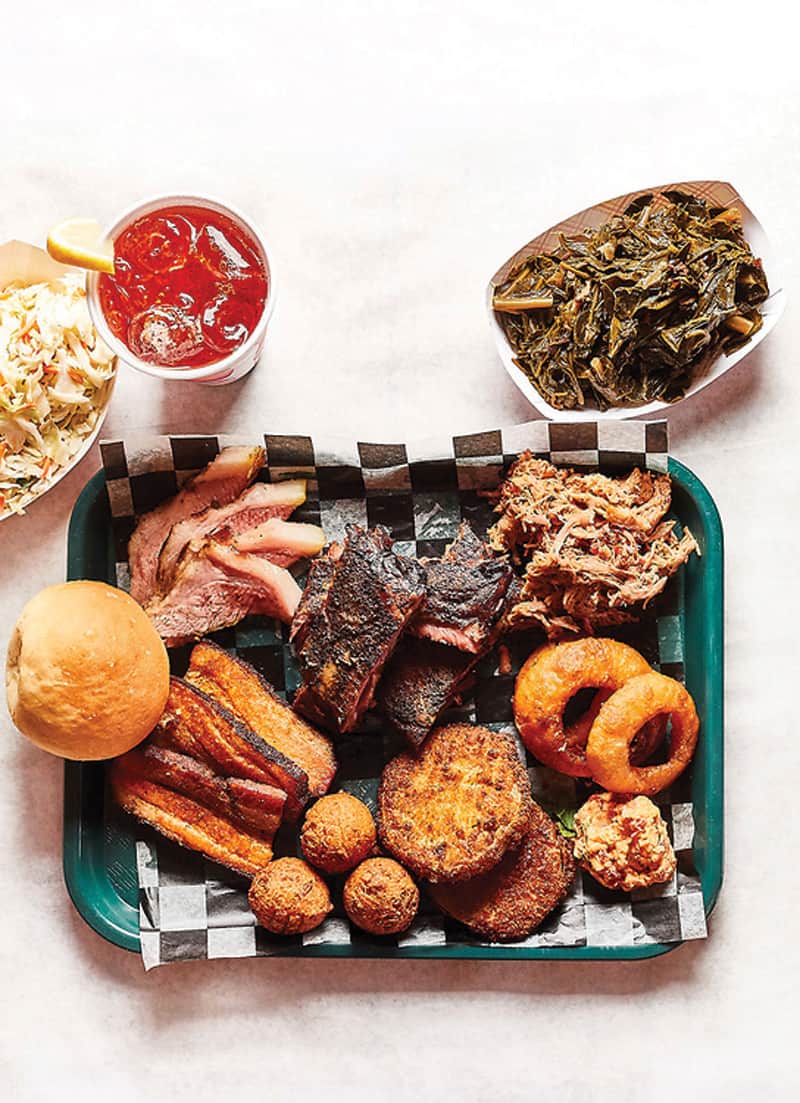 Flames lick at searing meat and the air is thick with a heady, rich aroma accented with fragrant smoke. Fat drips from the pig, and the fire sizzles and pops, flaring up like firecrackers on the Fourth of July. The snappy, upbeat notes of Bob Marley's "Don't Worry, Be Happy" rise above it all.
It's appropriate that this is Craig Hartman's number one playlist song while doing what he loves best: crafting barbecue. In fact, for Hartman, chef/owner of Gordonsville's Barbecue Exchange, it could be his own personal anthem.
"I will never retire as I love, love, love what I do," says the 61-year-old. "Being an entrepreneur and chef is a nice place to be. I am happy."
That love is deep-rooted.
"I started in the hospitality business by default as my grandmother had an inn in Ocean City, Maryland, and I have literally done nothing else my whole life," says Hartman.
"It set a fire in my heart for true Southern hospitality, a dream that I followed since. My grandmother and my mother were fantastic entertainers and cooks, and it's to that inspiration that we are where we are today."
Where they are today – and the "they" is Hartman and his wife of 43 years, Donna – is celebrating a decade of operating The Barbecue Exchange.
"Donna and I had been dreaming of opening a true Virginia artisan, wood-fired barbecue for many, many years," he says.
WHETTING YOUR APPETITE
"At The Barbecue Exchange, the barbecue is cooked over green hickory. We also make literally every food item from rolls to sauces to sides, except for ketchup."
As platters and sandwiches, there's pulled pork, of course, but also pulled chicken. The bill of fare also includes beef brisket, ribs and sausage links. For vegans, Hartman offers Fu-Q, which is smoked tofu.
There are a few specialty sandwiches, too: here is where you need to grab a napkin, because you will be drooling. Consider the Purgatory: pork brisket with pimento cheese, fried green tomatoes, mustard pickles and a sauce crafted with a blend of mustards and smoky bacon.
"Our business has an Old World feel to it, and it is a super happy place to go, especially for a lot of baby boomers who find it brings back good memories of their childhood," Hartman says.
In addition to The Barbecue Exchange, the couple also operate The Exchange Café at James Madison's Montpelier and Exchange Events and Catering, which serves at special events across Central Virginia.
Take note: the chef says that The Exchange Café has some of the best Virginia ham biscuits around.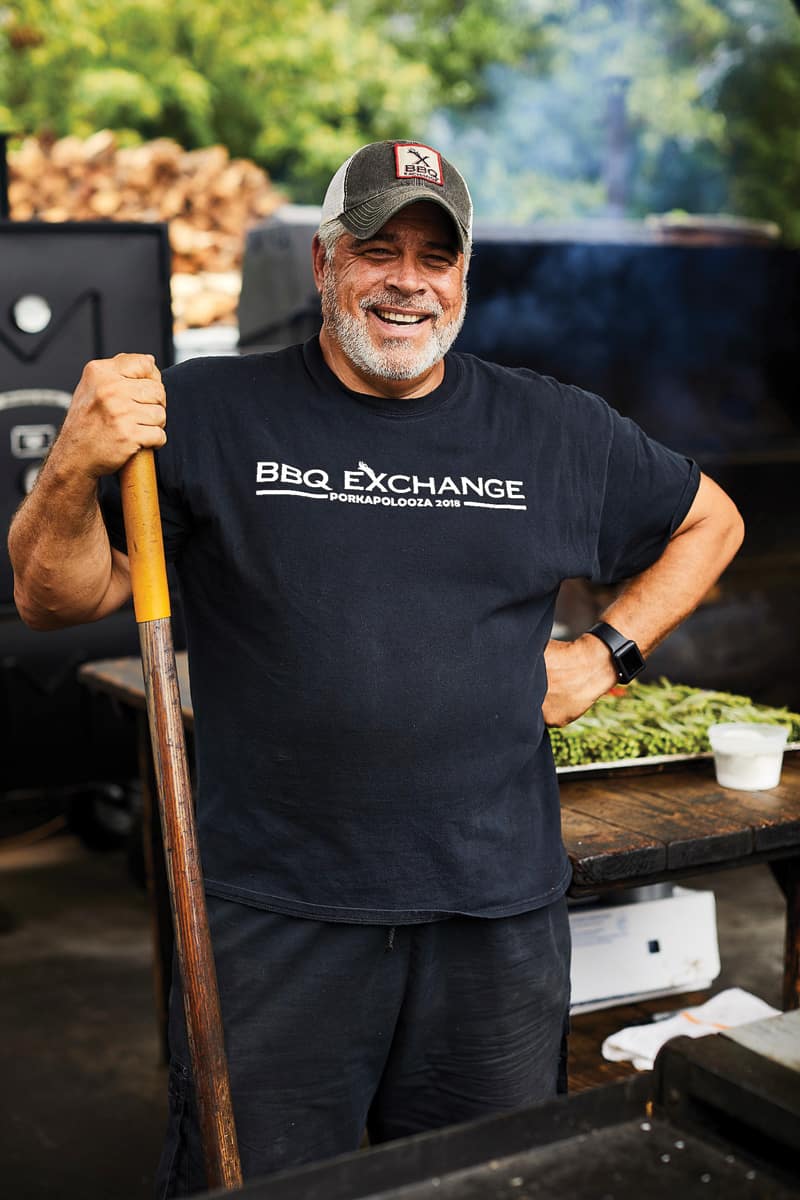 BEHIND THE COUNTER
"I don't really have a typical day at work; it's fluid, and it changes on a daily basis," Hartman says. "I do many things, and my job is really like a coach of a professional football team. I meet with the management team on a daily basis and provide direction, vision and motivation.
"I meet with the frontline staff every day and give them corrections and vision and set them in motion. Donna and I work together, every day. And we do all the administrative work that backs up three businesses."
The chef says his team is the key.
"Our business is employee-forward, as we believe that it is the employee that makes or breaks a business. We try to convey our vision and our mission in a way that resonates with the employee, and then we expect them to carry that forward."
And while it all seems exhausting for anyone at any age, Hartman sees being a boomer as an advantage to tackle all the tasks head on.
"We are hip enough to embrace the new trends, but old enough to have classical, disciplined training that no longer exists."
Still, we all know the old adage about all work and no play. The chef has a remedy for that come five o'clock.
"The swimming pool and a Negroni."
The Barbecue Exchange
102 Martinsburg Ave., Gordonsville
540-832-0227
Patrick Evans-Hylton is a classically trained chef and award-winning food writer. He has covered tasty trends since 1995 in broadcast, electronic and print media. He is publisher of VirginiaEatsAndDrinks.com
---
AUTHENTIC JAMAICAN JERK MARINATED SHRIMP AND SHIITAKE SKEWERS
With Ginger-Tamarind BBQ Sauce
16 shiitake mushrooms, trimmed
24 jumbo shrimp (about 1½ pounds)
8 (10-inch) wooden skewers
1 cup Jerk Marinade, recipe follows
2 teaspoons kosher salt
Vegetable oil
Ginger-Tamarind BBQ Sauce, for serving, recipe follows
Clean mushrooms. Place mushrooms in a small bowl and mix with ¼ cup marinade. Marinate at least 1 hour (and up to 4) in a sealable bag.
If desired, shell shrimp. In a large heavy-duty sealable plastic bag, combine shrimp with ¾ cup marinade and seal bag, pressing out excess air. Marinate shrimp, chilled, for at least 30 minutes and up to 1 hour. Soak skewers in warm water 30 minutes. Prepare grill.
Drain shrimp, discarding marinade. In a sieve set over a bowl, drain mushrooms and reserved mushroom marinade for basting. Thread 3 shrimp and 2 mushrooms, alternating shrimp with mushrooms and keeping the mushrooms flat, onto skewers. Kebabs may be assembled 1 hour ahead and chilled, covered.
Grill kebabs on a lightly oiled rack set 5 to 6 inches over glowing coals, basting with reserved marinade and turning them occasionally, until just cooked through, about 3 minutes on each side. (Alternatively, broil kebabs under a preheated broiler 2 to 3 inches from heat about 2½ minutes on each side). Drizzle kebabs with remaining ¼ cup marinade.
Jerk Marinade:
½ cup chopped fresh thyme leaves
1 cup chopped green onions
½ cup chopped parsley leaves
½ cup minced onion
2 tablespoons brown sugar
2 crushed bay leaves
2 teaspoons ground allspice
1 teaspoons ground nutmeg
½ teaspoon ground cinnamon
½ teaspoon coriander seeds
2 Scotch bonnet chiles, seeded
1½ tablespoons minced garlic
1 tablespoon minced fresh ginger
1 teaspoon salt
1 teaspoon freshly ground black pepper
¼ cup plus 2 tablespoons vegetable oil
¼ cup soy sauce
3 tablespoons lime juice
2 tablespoons vinegar
Jerk Method: In the bowl of a food processor, combine the thyme, green onions, parsley, onion, brown sugar, bay leaves, allspice, nutmeg, cinnamon, coriander seeds, chiles, garlic, ginger, salt, pepper and vegetable oil and process to a smooth paste. Transfer to a nonreactive bowl and stir in the soy sauce, lime juice and vinegar.
Refrigerate in a glass container with a lid until ready to use. Any unused marinade will keep for up to 1 month.
Yield: about 1½ cups marinade
Ginger-Tamarind BBQ Sauce:
6 tablespoons ketchup
1 tablespoon Worcestershire sauce
¼ cup pineapple juice
1 tablespoon butter
2 tablespoons fresh lime juice
2 tablespoons vinegar
¼ cup firmly packed brown sugar
2 tablespoons minced fresh ginger
1 tablespoon Tamarind pulp
1 teaspoon salt
1 teaspoon dry mustard
1 teaspoon minced garlic
½ Scotch bonnet chile, seeded and minced
Combine all ingredients in a small saucepan and cook over medium heat until reduced enough to coat the back of a spoon, about 10 minutes. Serve the sauce either warm or at room temperature, drizzled over the jerk pork tenderloins.
Yield: about 1 cup