Puritan Cleaners
| June 26th, 2019
Common threads through decades of business
---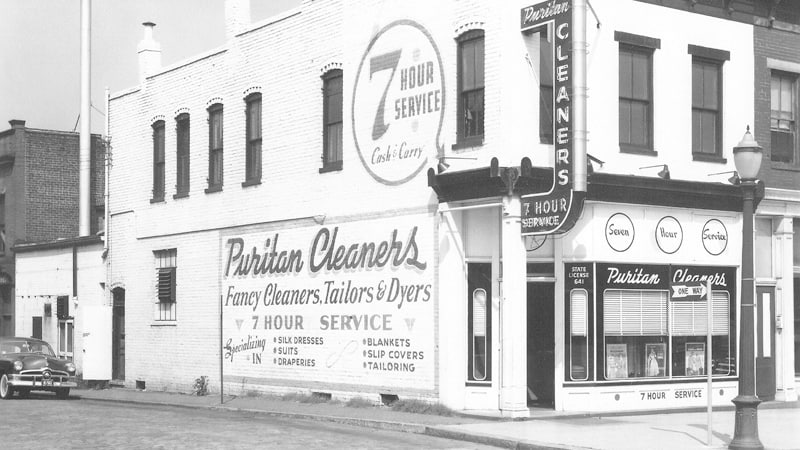 When Puritan Cleaners & Launderers opened in 1944, many families didn't have cars, so dry cleaning was delivered, just like your milk, butter and eggs. When Ed Glover bought Puritan in 1969, there were three locations. Today, that number has grown to 13, servicing 50,000 customers, and Puritan continues to pick up and deliver to approximately 5,000 customers every week for free.
That level of customer service has played a big part in the business's success, says Gary Glover, Ed's son and the third generation to run the family business (grandfather Joe Fuschini founded Progressive Cleaners in Arlington in 1937). In addition to the convenience of delivery, Puritan locations have friendly staff and use technology to more efficiently interact with customers, with most locations offering seven-day-a-week service. Puritan is now larger than the next 25 RVA competitors combined.
Glover also credits his dad for putting Puritan on the map: "When we bought Puritan in the '60s, the company was struggling a little bit with the competition. My dad came in and saw an opportunity. He was a great productive, labor-type guy. That's what dry cleaning is all about – keeping costs down and managing your workforce."
The dry cleaner is also known for having a heart for the community, most notably the 32-year-old Coats for Kids campaign. Every holiday season, the company cleans and repairs approximately 20,000 coats delivered by the Salvation Army throughout Central Virginia. Puritan also cleans American flags for free and gives back in many other ways around town.
While Glover says that "the art of dry cleaning and laundry hasn't changed much over the years," societal changes have impacted the industry, like the prohibition of smoking in public places, remote jobs, casual dress codes and fewer wedding dresses being preserved.
However, based on the approximately 25,000 dress shirts and 30,000 pounds of dry cleaning that move through its production plants every week, Puritan has pressed on just fine!
---
Terri L. Jones is a local freelance writer and frequent contributor to Seniors Guide and to BOOMER.