Raise a glass to "Cheers, Virginia!"
| August 7th, 2022
Temporary exhibition at the Virginia Museum of History & Culture
---
Raise a glass to "Cheers, Virginia!" an exhibition at the Virginia Museum of History & Culture from Aug. 6, 2022 to Feb. 9, 2023.
Knowledge of a subject enhances appreciation, from sports to performing arts to food and drink. Experienced tennis players better enjoy watching a match, classical musicians take in the intricacies of a symphony orchestra, and brewers appreciate the styles of beer that are more challenging to brew.
But you don't have to be a professional to better appreciate a topic. The "Cheers, Virginia!" exhibition at the Virginia Museum of History & Culture offers the chance to learn more about the creation of alcohol, including beer, spirits, mead, cider, and wine, as well as its influence in the Commonwealth.
Highlights of the exhibit include:
Artifacts from early Virginia to today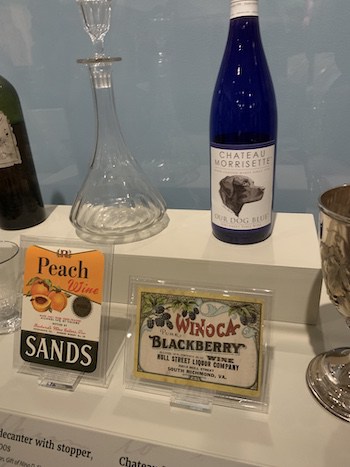 Including contemporary objects you may have at home!
A liquor chest given by the Marquis de Lafayette to William Cabell, Jr. as a token of his service during the Revolutionary War
Wine glasses belonging to Patrick Henry
The Champion mint julep cup presented to John Dabney by the City of Richmond in 1860
A Prohibition-era prescription for alcohol
A 1950s Winoca Blackberry Wine label from the Hull Street Liquor Company
A Mount Vernon whiskey bottle
Cirrus Vodka bottle
Contemporary tap handles
Recent bottles and cans – perhaps even some you recognize!
Highlights in Virginia history
Virginia's claim as the birthplace of American spirits, beginning with the Reverend George Thorpe in 1620
Richmond's Dr. Daniel Norton, who first developed the "Norton" grape in the early 1830s
John June Lewis Sr. of Woburn Winery in Clarksville, believed to be the first Black-owned winery in the U.S.
Robert Portner, a German immigrant who settled in Alexandria and patented the first artificial cooling device to keep beer cold
Black Is Beautiful cans reflecting the national social justice initiative

An easy-to-understand look at how the different alcoholic beverages are made
Ingredient samples
Infographics
Equipment
Photographs of some of Virginia's successful alcohol producers
Whom do you recognize?
Tony Ammendolia of Final Gravity Brewing
Ken Rayher of Bingo Beer Company
Janell Zurschmeide, co-owner of Dirt Farm Brewing who worked on the Virginia Farm Brewery Bill (SB430)
Thomas Leggett, bartender at The Jasper
Many more!
Learn, to appreciate. And raise a glass to all who make our state tastier. Cheers, Virginia … Cheers, Virginians!
"Cheers, Virginia!"
Virginia Museum of History & Culture, Richmond
---