Recipe: Anytime Fluffy Blueberry Pancakes
June 2nd, 2021
Brought to you by America's Test Kitchen!
---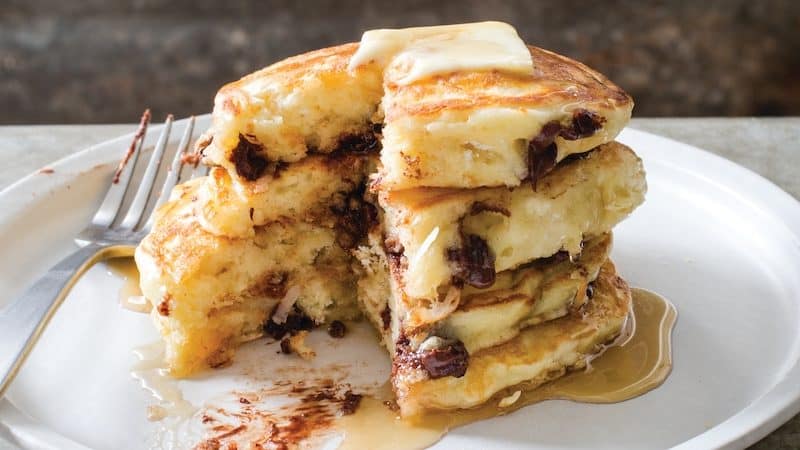 Pancakes are a blank canvas, so bring out your inner artist. You can work your magic at the table with maple syrup, honey, confectioners' sugar, fresh fruit and/or softened butter. Or you can cook your artistry right into the pancakes by adding chocolate chips, chopped nuts, shredded coconut, sliced bananas or raspberries instead of the blueberries. Use 1 tablespoon of add-ins per pancake. Have fun with these blueberry pancakes and try your own combinations!
Fluffy Blueberry Pancakes
Serves 2 to 4 (Makes 8 pancakes)
1 cup all-purpose flour
2 tablespoons sugar
2 teaspoons baking powder
1/4 teaspoon baking soda
1/2 teaspoon salt
3/4 cup milk
1 large egg
2 tablespoons vegetable oil
1/4 teaspoon vanilla extract
Vegetable oil spray
1/2 cup blueberries
1. In a medium bowl, whisk together flour, sugar, baking powder, baking soda and salt. In a small bowl, whisk milk, egg, oil and vanilla until well combined.
2. Add the milk mixture to the flour mixture and stir gently with a rubber spatula until just combined (batter should remain lumpy). Let the batter sit for 10 minutes before cooking.
3. Spray a 12-inch nonstick skillet with vegetable oil spray and heat over medium heat until hot, about 1 minute.
4. Using a 1/4-cup dry measuring cup, portion batter into the pan in three places. Sprinkle each pancake with 1 tablespoon of blueberries. Cook until the bubbles on the surface begin to pop, 2 to 3 minutes.
5. Use a spatula to flip the pancakes and cook until golden brown, 1 to 2 minutes. Transfer the pancakes to a plate. Repeat with the remaining batter in two more batches. Turn off the heat. Serve.
---
Check out more BOOMER recipes here!
---
For 25 years, confident cooks in the know have relied on America's Test Kitchen for rigorously tested recipes developed by professional test cooks and vetted by 60,000 at-home recipe testers. See more online at www.americastestkitchen.com/TCA.
(C)2021 America's Test Kitchen. Distributed by Tribune Content Agency, LLC.