Recipe: Apple Cider-Glazed Pork Chops
| October 6th, 2021
A great weeknight dinner for the season
---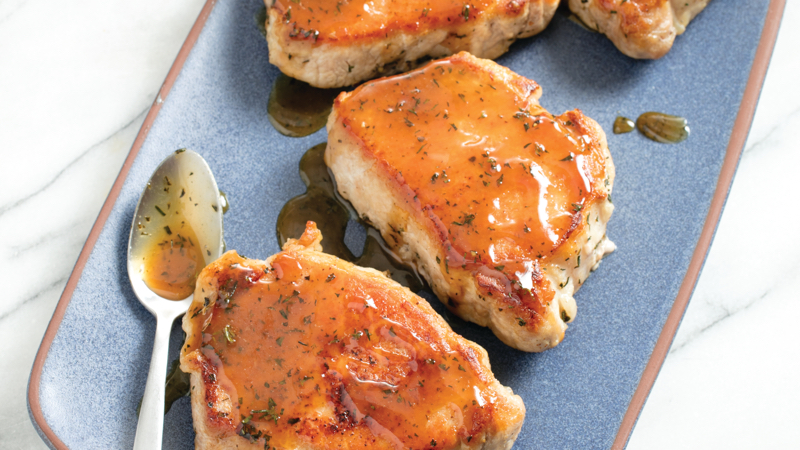 Whether you're looking for a comforting dish for the fall or a quick meal for a weeknight dinner after a long day of work and school, these apple cider-glazed pork chops are perfect for the whole family. Our recipe tester, 10-year-old Zoe, wants kids to know that "it looks fancy, but it's something you can do yourself (with a little help)."
Apple Cider-Glazed Pork Chops
Serves 4
1/2 cup apple cider
2 tablespoons maple syrup
2 teaspoons Dijon mustard
1 teaspoon minced fresh thyme or 1/4 teaspoon dried
4 boneless pork chops, 3/4 to 1 inch thick
1/2 teaspoon salt
1/8 teaspoon pepper
1 tablespoon vegetable oil
1. In a liquid measuring cup, whisk together apple cider, maple syrup, mustard and thyme. Set aside.
2. Make 2 cuts through the fat on the edges of each pork chop, about 2 inches apart. (Cut through the fat only, not the meat.) Pat chops dry with paper towels and sprinkle both sides evenly with salt and pepper. Wash your hands.
3. In a 12-inch skillet, heat oil over medium heat for 1 minute (oil should be hot but not smoking). Tilt and swirl skillet to coat evenly with oil.
4. Place chops in the skillet. Cook, without moving the chops, until well browned on first side, about 5 minutes.
5. Flip chops. Reduce heat to medium-low. Pour apple cider mixture into skillet. Cook until chops register 145 degrees on an instant-read thermometer, about 5 minutes. Transfer chops to a serving platter. Cover platter with aluminum foil.
6. Increase heat to medium and cook apple cider mixture in skillet, stirring often with a rubber spatula, until thick and syrupy, 2 to 3 minutes (sauce will be very bubbly when it thickens). Turn off heat. Spoon glaze over chops and serve.
---
For 25 years, home cooks have relied on America's Test Kitchen for rigorously tested recipes developed by professional test cooks and vetted by 60,000 at-home recipe testers. The family of brands – which includes Cook's Illustrated, Cook's Country, and America's Test Kitchen Kids – offers reliable recipes for cooks of all ages and skill levels. See more online at www.americastestkitchen.com/TCA.
(C)2021 America's Test Kitchen. Distributed by Tribune Content Agency, LLC.