Recipe: Firecracker Hot Dogs
| June 30th, 2021
Perfect for your holiday menu!
---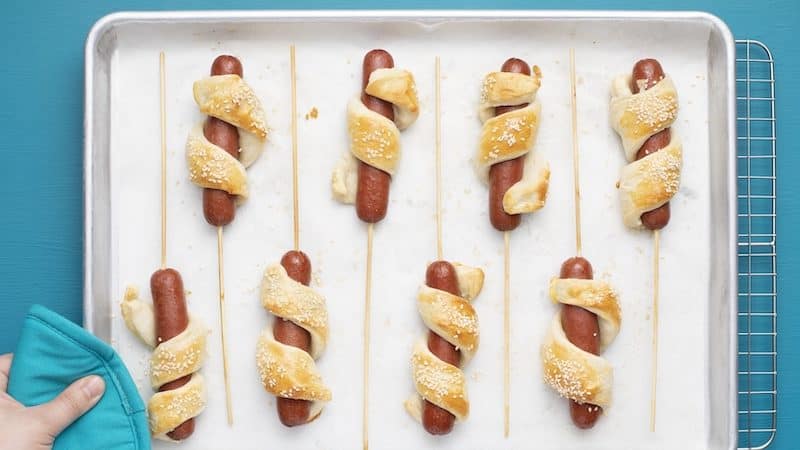 The Fourth of July, also called Independence Day, is an American holiday celebrating the signing of the Declaration of Independence – which happened (no surprise!) on July 4, 1776. The Declaration of Independence stated that the American colonies were no longer under British rule; they were now independent states.
Today we celebrate Independence Day with fireworks, parades and barbecues, where we serve classic "American" foods such as hot dogs, burgers and potato salad. Instead of simply grilling your dogs and slapping them on a bun this year, grab the kids and try firecracker hot dogs – which can result in a big bite that one of our young recipe testers couldn't have loved more, saying, "It's like a piggy in a blanket, but Hulk-size!"
Firecracker Hot Dogs
Serves 8
Ingredients:
Vegetable oil spray
8 hot dogs
1 can biscuit dough
1 large egg, lightly beaten
1 tablespoon sesame seeds
Equipment:
Fork
Small bowl
Measuring spoons
Rimmed baking sheet
Parchment paper
8 wooden skewers
Ruler
Chef's knife (or bench scraper)
Pastry brush
1. Adjust the oven rack to the middle position and heat the oven to 375 degrees. Line a baking sheet with parchment paper. Spray parchment lightly with vegetable oil spray.
2. Carefully push 1 skewer lengthwise (the long way) through center of each hot dog.
3. Use your hands to pat and stretch 1 biscuit dough round into an oval, about 8 inches long. Cut the oval in half lengthwise. Repeat stretching and cutting with 3 additional biscuit dough rounds.
4. Starting from the top, wrap 1 dough strip around each hot dog in a spiral, leaving gaps in the spiral as you wrap. Place on the parchment-lined baking sheet, tucking the ends of the dough strips underneath the hot dogs.
5. Use a pastry brush to brush the tops of the dough strips with egg. Sprinkle sesame seeds over top.
6. Bake until biscuit strips are golden brown, about 15 minutes. Let hot dogs cool on the baking sheet for 10 minutes.
Recipe note
You can make your hot dogs extra-special by making a topper for your skewers!
Pat out extra biscuit dough into 4-inch circle. Use 1 1/2- to 2-inch star cookie cutter (use similar-size cookie cutter of another shape, if desired) to cut out dough shapes.
At end of Step 2, carefully push skewers all the way through hot dogs, leaving 1 1/2 to 2 inches of skewer sticking out at top of each hot dog.
At end of Step 4, carefully stick 1 dough shape on end of each skewer. Continue with recipe as directed.
---
Check out more BOOMER recipes here!
---
For 25 years, home cooks have relied on America's Test Kitchen for rigorously tested recipes developed by professional test cooks and vetted by 60,000 at-home recipe testers. The family of brands – which includes Cook's Illustrated, Cook's Country, and America's Test Kitchen Kids – offers reliable recipes for cooks of all ages and skill levels. See more online at www.americastestkitchen.com/TCA.
(C)2021 America's Test Kitchen. Distributed by Tribune Content Agency, LLC.