Recipe: Green Pea Soup!
| March 12th, 2020
Eat like a Founding Father this spring
---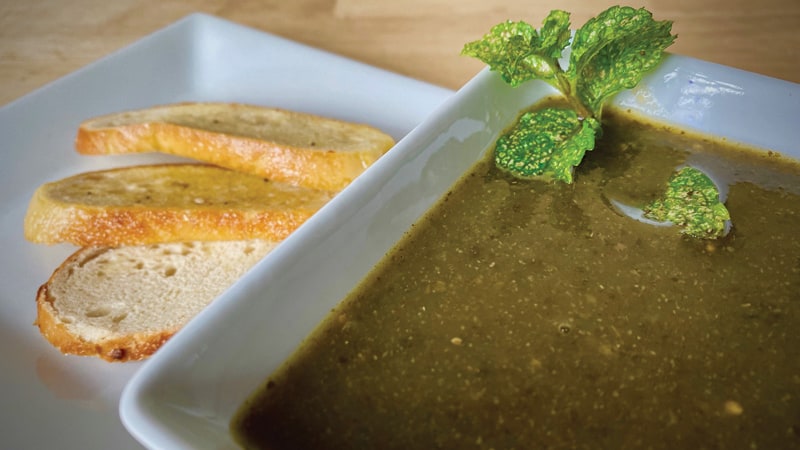 It's spring across the Old Dominion, time to shake off the chill and turn our heads up to the blue, sunny skies.
Surely as the gray clouds are departing, so are the brown leaves that have littered the ground for months; signs of life are rising from gardens, giving us an early bounty. It is the greening of Virginia. Even if you don't garden yourself, farmers markets are opening for the season.
Though Thomas Jefferson is known for many things – president and foodie among them – many folks may not realize his love of gardening. In fact, Jefferson kept a leather-bound, 66-page diary, his "Garden Book," to record drawings, letters and other musings related to his gardens at Monticello, outside Charlottesville, and at Poplar Forest, outside Lynchburg.
At Monticello, Jefferson grew more than 300 varieties of some 90 different plants, from ordinary to extraordinary. At the nearby South Orchard, 130 varieties of fruit trees dotted the landscape.
GREEN PEA SOUP
By all accounts, the pea was Jefferson's favorite vegetable, and he grew 19 varieties at Monticello. Each spring, he held a competition with area gentlemen farmers to see who could produce the first pea of the season, with a dinner to follow featuring the legume. This would have made a great dish at that meal.
Fresh peas taste best, though peas that have been quickly frozen while still fresh are a good substitute.
2 tablespoons olive oil
1 medium yellow onion, chopped
2 cloves garlic, chopped
1 teaspoon chopped thyme
1 teaspoon chopped mint
5 pounds fresh peas, shelled (about 6 cups)
4 cups vegetable stock
½ cup water
Coarse salt
Fresh ground pepper
Mint sprigs
Heat olive oil in a medium stockpot over medium heat and add onion. Cook, stirring occasionally, until tender and translucent, about 4-6 minutes. Add garlic, thyme and mint and cook, stirring constantly, until fragrant, about 8-10 seconds.
Add peas, stock and water; increase heat to high and stir until just under a boil. Reduce heat and allow mixture to simmer until peas are tender, about 1 minute. Remove from heat.
Using an emulsion blender, purée the soup, or purée the soup in batches in a blender. Adjust seasoning with salt and pepper. Garnish with mint sprigs.
Makes 4 bowls of pea soup.
Serve with salt and pepper bagel chips; if you'd like my recipe, email PatrickEvansHylton@gmail.com with Bagel Chips as the subject.
ROASTED ASPARAGUS WITH PESTO BUTTER
Asparagus is one of spring's first gifts, and the green, earthy flavors of the vegetable mellow out when roasted simply in the oven. It can be enjoyed a number of ways; my compound butter using classic pesto ingredients perfectly accents the nutty, smoky flavor.
Jefferson had a square in his garden set aside specifically for asparagus.
The compound butter can also be used separately in a number of ways, including topping a savory bread pudding, adding a medallion or two on grilled meats like steak or pork loin, placing over other roasted vegetables like carrots or red potatoes, or spreading on fresh-baked rolls.
Asparagus ingredients
1 pound asparagus, trimmed
2 tablespoons extra-virgin olive oil
½ teaspoon salt
½ teaspoon freshly ground black pepper
Thin slices of Virginia ham, optional 
Pesto butter ingredients
½ cup (1 stick) unsalted butter, softened
¼ cup basil, minced
¼ cup grated parmesan cheese
2 tablespoons pine nuts, toasted and finely chopped
1 garlic clove, minced
½ teaspoon salt
½ teaspoon freshly ground black pepper
1/8 teaspoon red pepper flakes
Prepare the butter. Combine the butter, basil, parmesan, pine nuts, garlic, salt, black pepper and pepper flakes in a small bowl. Roll the mixture into a log with waxed paper and refrigerate at least 1 hour or up to 10 days before using. It can also be frozen.
Prepare the asparagus. Preheat the oven to 450 F. In a medium bowl, toss the asparagus in the olive oil, coating each spear. Lay the asparagus in a single layer on a baking sheet and sprinkle with the salt and black pepper. Roast 8 to 10 minutes, turning once, until slightly browned and tender; a fork should easily pierce the spears.
Serve the asparagus warm atop pasta with a medallion of the pesto butter on top, or by itself as a side dish with the butter. Optionally, fold thin slices of Virginia ham on a plate before adding asparagus and topping with butter.
Makes 2 to 4 servings.
The roasted asparagus is also good on top of a homemade French bread pizza; if you'd like my recipe, email PatrickEvansHylton@gmail.com with French Bread Pizza as the subject. 
MINT-BASIL CHIMICHURRI
Chimichurri is a type of South American sauce that has a bright, piquant flavor from vinegar and fresh herbs. It is used as an ingredient in cooking, as a marinade for grilled meats and seafoods, and as a condiment on a variety of items, including meats, seafood and vegetables.
Use the fresh mint and other herbs coming up in your garden and coming out in your local farmers markets to make a batch or two; you can freeze it for up to 6 months or so. Place it in a sealable glass container and add chicken breasts, flank steak, pork chops or shrimp and refrigerate for a few hours before grilling.
Use it as a condiment for grilled meats, and spoon it over roasted vegetables, too, like asparagus or root vegetables such as carrots.
2 cups fresh mint
1 cup fresh basil
1 cup fresh Italian parsley
2 garlic cloves
½ cup extra-virgin olive oil
1⁄3 cup distilled white vinegar
½ teaspoon salt
½ teaspoon freshly ground black pepper
¼ teaspoon red pepper flakes 
Pulse the mint, basil, parsley and garlic in the bowl of a food processor fitted with the steel blade attachment. Drizzle in the vinegar, then the olive oil with the motor running and continue processing until the herbs are finely chopped. Add the salt, black pepper and pepper flakes, and pulse until combined.
I also like the chimichurri drizzled on a pea-filled rice pilaf; if you'd like my recipe, email PatrickEvansHylton@gmail.com with Pea Rice Pilaf as the subject.
---
7 fruits and vegetables to help celebrate spring
---
Patrick Evans-Hylton is a classically trained chef, award-winning food writer and food historian. He has covered tasty trends since 1995 in broadcast, electronic and print media. Patrick is publisher of VirginiaEatsAndDrinks.com.