Recipe: North African-Style Grilled Salmon
June 4th, 2018
---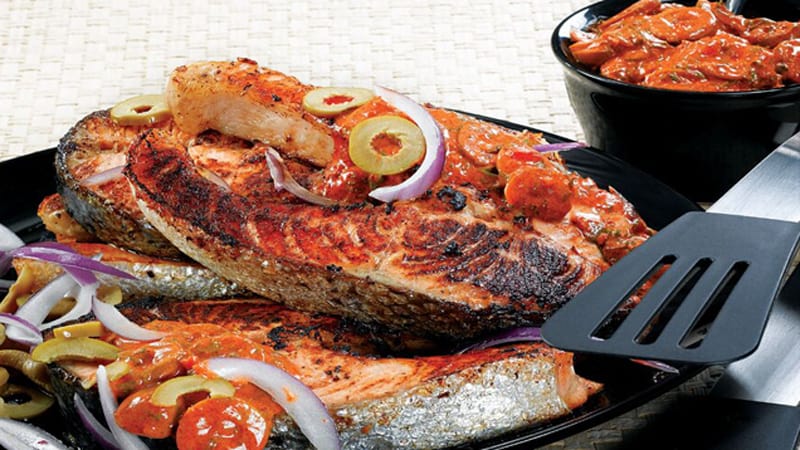 The sun is out and the grill is just begging to be dusted off and smothered in meat. That's its job, after all.
So we thought this would be the perfect time to provide you all with this grilled salmon recipe from the Char-Broil Great Book of Grilling. Guaranteed to keep your dinner guests satisfied and your grill fulfilled.
Prep time: 30 min | Serves: 4
4 salmon steaks or fillets (4 to 6 ounces each), fresh, thawed, or frozen
1 4-ounce jar green olives, drained and sliced
3/4 cup low-fat plain yogurt
1/2 cup chopped parsley
1/4 cup chopped cilantro
3 tablespoons lemon juice
2 tablespoons olive oil
1 tablespoon minced garlic
2 teaspoons paprika
1 teaspoon ground cumin
1 teaspoon turmeric
1/2 teaspoon salt
1/4 teaspoon red pepper flakes
1 1/2 tablespoons olive or canola oil 1 teaspoon lemon-pepper seasoning
2 tablespoons slivered red onion
---
Reserve 2 tablespoons of the olives. Blend remaining olives, y ogurt, parsley, cilantro, lemon juice, olive oil, garlic, paprika, cumin, turmeric, salt, and pepper flakes; set aside. Rinse any ice glaze from frozen salmon under cold water, and pat dry with a paper towel. Preheat grill to medium-high. Coat a heavy skillet with oil, and place on grill to preheat. Brush both sides of salmon with oil. Place salmon in heated skillet, and cook, uncovered, about 3 to
4 minutes, until browned. Turn salmon over, and sprinkle with lemon pepper. Cover pan tightly, and reduce heat to medium. Cook an additional 6 to 8 minutes for frozen salmon; 3 to 4 minutes for fresh or thawed fish. To serve, spoon sauce over each salmon portion, and sprinkle with reserved olives and slivered.