Recipe: Pao de Queijo (Cheese Bread)
| September 22nd, 2021
These cheesy rolls, originally from Brazil, are easy to make in your own kitchen
---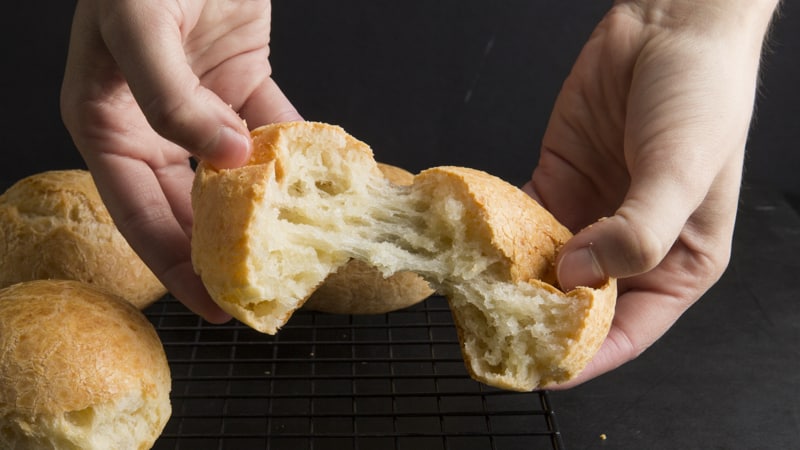 Pao de queijo (cheese bread) are small rolls with crunchy exteriors and uniquely chewy, stretchy centers. Instead of using flour like most baked goods, they use a surprise ingredient: tapioca starch. Tapioca starch (also called tapioca flour) is made from cassava root (a plant native to South America) that has been ground up into a powder. When combined with liquid, tapioca starch makes a gooey paste that can trap air and make baked goods rise in the oven. Bonus: it's naturally gluten-free!
Pao de Queijo (Cheese Bread)
Makes 12 rolls
Vegetable oil spray
One cup (8 ounces) whole milk
1 cup shredded extra sharp cheddar cheese (4 ounces)
1 cup grated Pecorino Romano cheese (2 ounces)
1/3 cup extra virgin olive oil
2 large eggs
1 teaspoon salt
2 cups (8 ounces) tapioca starch
1. Adjust oven rack to the middle position and heat oven to 375 degrees. Spray a 12-cup muffin tin with vegetable oil spray.
2. Add milk, cheddar cheese, Pecorino cheese, oil, eggs, and salt to a blender. Add tapioca starch. (Make sure to add the tapioca starch last, or the mixture will turn to glue in the blender.) Process on high speed for 30 seconds.
3. Scrape down the sides of blender jar. Replace the lid and process on high speed until smooth, about 30 seconds. Pour batter evenly into greased muffin tin cups, filling each cup about three-quarters full.
4. Place the muffin tin in the oven and bake until rolls are golden and puffed, 25 to 30 minutes.
5. Place the muffin tin on a cooling rack and let the rolls cool in the muffin tin for 5 minutes. Run a butter knife around the edges of the rolls to loosen them from the muffin tin. Remove the rolls from the muffin tin and transfer directly to the cooling rack. Serve warm.
---
For 25 years, home cooks have relied on America's Test Kitchen for rigorously tested recipes developed by professional test cooks and vetted by 60,000 at-home recipe testers. The family of brands – which includes Cook's Illustrated, Cook's Country, and America's Test Kitchen Kids – offers reliable recipes for cooks of all ages and skill levels. See more online at www.americastestkitchen.com/TCA.
(C)2021 America's Test Kitchen. Distributed by Tribune Content Agency, LLC.