Recipe: Perfectly Satisfying Peanut Soup
| February 4th, 2020
History, memories, and pleasure
---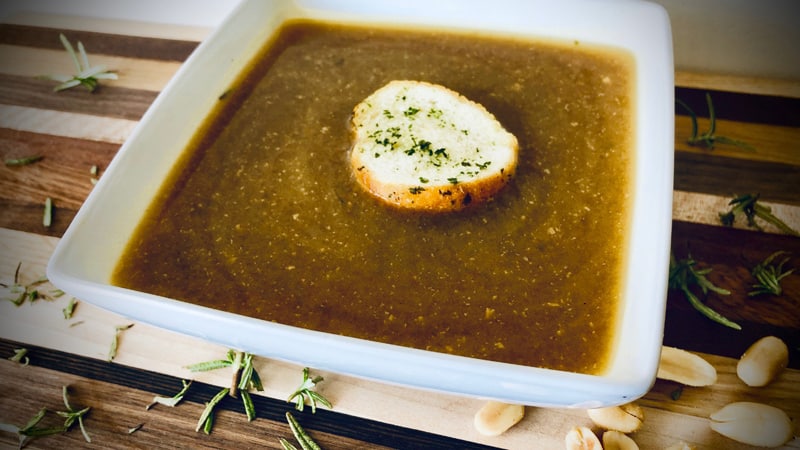 For many Virginians, the heady aroma wafting from a piping hot bowl of peanut soup takes them back to the first time they enjoyed the rich, creamy potage.
Some may have had the legendary offering first at the iconic Hotel Roanoke in the Star City. It has been served in the genteel Regency Room since their famous version was developed in 1940 by Chef Fred Brown. Perhaps some had it first at King's Arms Tavern in Colonial Williamsburg, where it has been served for decades to visitors, including presidents and other dignitaries.
Peanut soup can be enjoyed year-round, but, because of its heartiness, it really is a cold weather dish. The soup is perfect for this time of year, when the temperatures drop like a hot potato across the commonwealth.
And although the name alone stirs up images of Founding Fathers sitting down in some austere tavern, pinky finger extended while holding a pewter spoon and downing tureen after tureen of the stuff, peanut soup has been on the mainstream table for only a few generations. That's enough to make you flip your powdered wig.
It seems that for the first 200 years or so of Virginia's history, many viewed peanuts as food for livestock, the poor and slaves. With some exceptions, you wouldn't find the legumes on many tables in the 18th century unless you fell into one of those categories. In fact, peanuts didn't become mainstream until the Civil War, when soldiers found them to be protein-packed and easily portable.
But slaves knew their importance early on. From Africa, they brought with them the peanut, which had originally been brought from South America through the Portuguese and Spanish. They ate them in many ways, including ground into a paste and then crafted into a soup.
Now, however, peanuts in all their incarnations, including peanut soup, are a delicious legacy to Virginia. Hey, even Mr. Peanut is a Virginia native. It doesn't get much more OG than that.
DIY PEANUT SOUP
My version of peanut soup starts out with homemade peanut butter made from the gourmet Virginia-type peanut, a large kernel nut with a rich flavor. Don't worry, you don't need to be Martha Stewart (or Martha Washington) to do this. The soup is filled with savory chicken stock and velvety cream and seasoned simply for a satisfying homage to one of the Old Dominion's favorite culinary calling cards.
I enjoy serving this with tea room biscuits stuffed with Virginia country ham. If you'd like my recipe for tea room biscuits, email Patrick@VirginiaEatsAndDrinks.com with "Tea Room Biscuits" as the subject.
Peanut Butter Ingredients
4 cups roasted, unsalted Virginia-type peanuts
3 tablespoons peanut oil
Salt, optional
Peanut Soup Ingredients
2 celery stalks, trimmed and finely chopped
1 medium sweet onion, such as Vidalia, finely chopped
4 tablespoons unsalted butter
3 tablespoons all-purpose flour
2 quarts chicken broth
2 cups smooth peanut butter
1¾ cups light cream
½ teaspoon freshly ground white pepper
Virginia-type peanuts, finely chopped, for garnish
Rosemary crouton, for garnish
Make the peanut butter: Place the peanuts in the bowl of a food processor fitted with the steel blade attachment and drizzle the peanut oil over the top.
Pulse to break up the peanuts, then blend until very smooth. If the mix is very dry, drizzle in more oil by the teaspoonful. Add the salt, if desired.
Make the soup: Cook the celery and onion in a large saucepan over medium heat until sweating. Add the butter and continue cooking the celery and onions until translucent, about 5 minutes; do not brown the butter.
Add the flour and stir until blended. Add the chicken broth and bring to a boil. Return to medium heat, stirring occasionally, and allow the soup to reduce slightly, about 15 minutes.
Pour the soup through a sieve into a large bowl, pressing hard against the solids with the back of a spoon. Discard the solids and return the liquid to the saucepan and heat on medium-low.
Add the peanut butter and cream, and stir until blended. Add the white pepper. Heat for 5 minutes, stirring constantly.
Divide the soup among eight bowls. Garnish with the chopped peanuts and thyme sprigs and serve immediately.
Yield: 8 servings
---
If you'd like my recipe for rosemary croutons, email Patrick@VirginiaEatsAndDrinks.com with "Rosemary Croutons" as the subject.
---
Patrick Evans-Hylton is a classically trained chef, award-winning food writer and food historian. He has covered tasty trends since 1995 in broadcast, electronic and print media. Patrick is publisher of VirginiaEatsAndDrinks.com.