Recipe: July's Crunchy Potato Salad
July 2nd, 2018
Be the side dish star at any 4th of July picnic this summer
---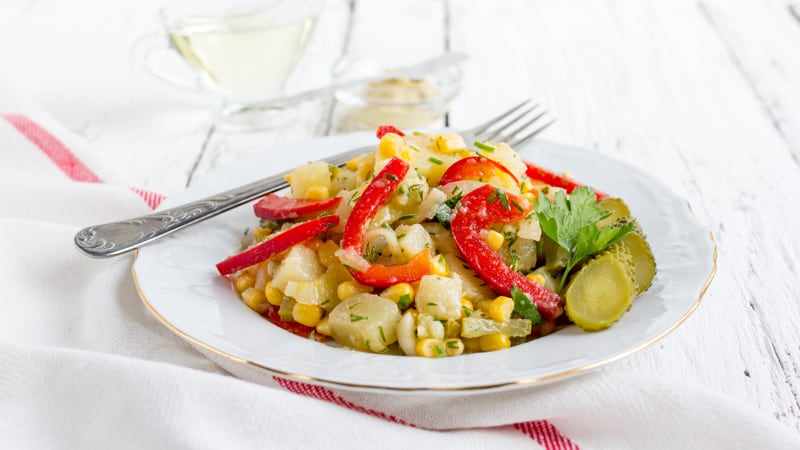 The 4th of July is the holiday celebrating America, independence, and our love for barbecues. Whether you're hosting a cookout yourself, trying to decide what to bring to a potluck, or just need something to nibble on while watching TV fireworks from your couch, this recipe should do the trick.
July's potato salad recipe isn't just any potato salad recipe. We've thrown in some flair (vegetables) to give it that extra zip (crunch) and pizzazz (color) that all other potato salads are yearning for.
Prep time: 30 min | Cook time: 20 min
12 large red potatoes, peeled and cut into 1/4-inch slices
1 bunch celery, finely chopped
1 bunch green onion, thinly sliced
3 carrots, peeled and diced
2 green bell peppers, seeded and diced
1 (3.25 ounce) can sliced black olives
6 hard-cooked eggs, peeled and mashed
2 1/2 cups mayonnaise
3 tablespoons Dijon mustard
1/4 cup chopped pickles
1 pinch salad seasoning mix
1 pinch dill seasoning mix, or to taste
salt and ground black pepper to taste
2 tablespoons pickle juice, or to taste
---
Place potatoes into a large pot and cover with salted water; bring to a boil. Reduce heat to medium-low and simmer until tender, about 20 minutes. Drain, cool, and cut potatoes into bite-size pieces.
Combine celery, green onion, carrots, bell peppers, and olives, in a large bowl. Stir mashed eggs, mayonnaise, mustard, pickles, salad seasoning mix, and dill seasoning in another bowl; season with salt and pepper. Stir egg mixture and potatoes into vegetable mixture. Add pickle juice and mix until creamy.
---
Recipe from AllRecipes.com.