Recipe: Strawberry Cream Paletas
| July 7th, 2021
Summer fun starts in the kitchen making creamy paletas
---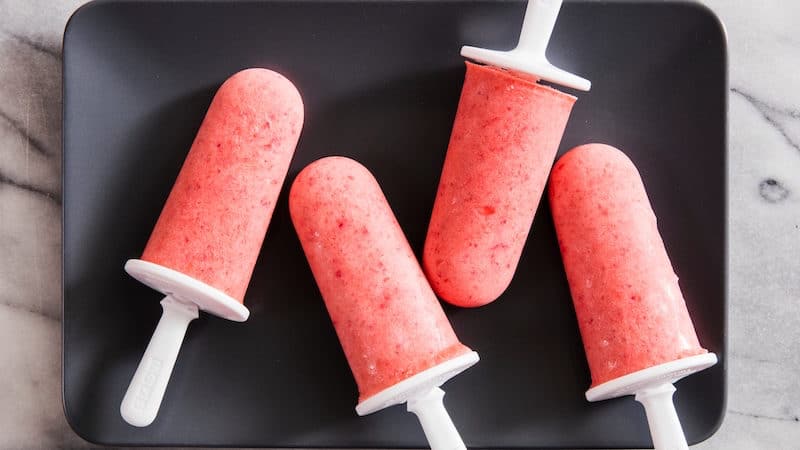 A summer treat that's fun for kids and adults alike, strawberry cream paletas are easy to make and simply delicious. And while fresh fruit tastes best, you can use 1 pound of frozen strawberries, thawed and drained on paper towels, in this recipe.
Strawberry Cream Paletas
Makes 6 paletas
3 1/2 cups strawberries, hulled
1/2 cup heavy cream
1/4 cup honey
1 teaspoon lemon juice, squeezed from 1/2 lemon
1/8 teaspoon salt
1. Place half of the strawberries, 1/2 cup heavy cream, 1/4 cup honey, 1 teaspoon lemon juice and 1/8 teaspoon salt in a food processor. Process mixture for 20 seconds.
2. Stop the food processor, remove the lid and scrape down sides of bowl with a rubber spatula. Lock the lid back into place and process until smooth, about 10 seconds.
3. Add the remaining strawberries to the food processor. Pulse until strawberries are coarsely chopped, about 5 pulses.
4. Pour strawberry mixture into a large liquid measuring cup using a rubber spatula to help scrape out the mixture. Divide the strawberry mixture evenly among the ice pop molds.
5. Insert 1 stick in the center of each mold and seal with the cover. Freeze until firm, at least 6 hours or up to five days.
6. Hold the mold under warm running water for 30 seconds to thaw slightly. Slide the paleta out of the mold and serve.
---
For 25 years, home cooks have relied on America's Test Kitchen for rigorously tested recipes developed by professional test cooks and vetted by 60,000 at-home recipe testers. The family of brands – which includes Cook's Illustrated, Cook's Country, and America's Test Kitchen Kids – offers reliable recipes for cooks of all ages and skill levels. See more online at www.americastestkitchen.com/TCA.
(C)2021 America's Test Kitchen. Distributed by Tribune Content Agency, LLC.