Recipe: Wheat Germ Pancakes with Blueberries and Thyme
June 22nd, 2018
Sorry, Bisquick
---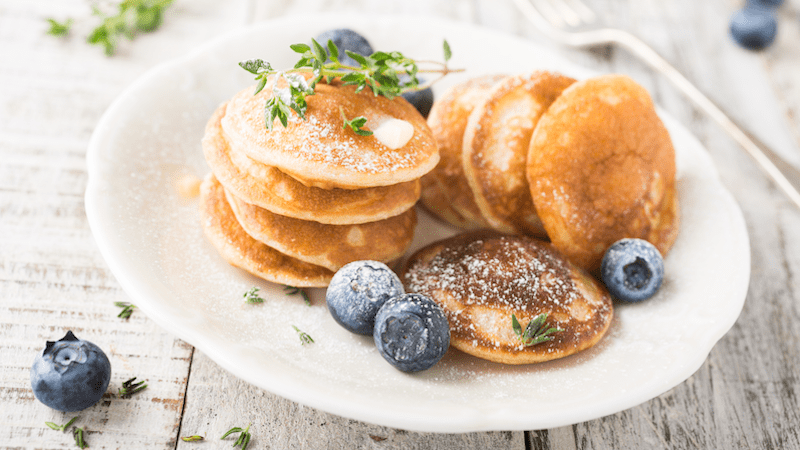 With this blueberry thyme pancake recipe from Shenandoah Growers, your Saturday morning pancakes have just earned that promotion they've been waiting for. We like Shenandoah Growers because they believe that nutrition and flavor don't have to be separate entities.
And we couldn't possibly agree more. We think these pancakes speak for themselves.
See if you agree.
Recipe:
1 cup all-purpose flour
1/4 cup whole wheat flour
1/4 cup wheat germ
1 tablespoon sugar
1 teaspoon kosher salt
1.5 teaspoons baking soda
6 tablespoons butter, melted
2 cups buttermilk
2 eggs
2 tablespoons minced thyme
blueberries
---
Preheat a griddle or non-stick skillet over medium-high heat.
In a large bowl, whisk together all-purpose flour, whole wheat flour, wheat germ, sugar, salt, and baking soda.
In a separate medium sized bowl, whisk together melted butter, buttermilk, eggs, and thyme.
Add the wet ingredients to the dry and stir until just combined.
Scoop scant quarter cups of batter on to the griddle. Sprinkle blueberries on top of pancakes as they cook.
Flip pancakes when they start to bubble in the middle.
Serve with salted butter, maple syrup, and more blueberries.
---
Another very special thanks to Shenandoah Growers. We want to hug you and eat you all at the same time.