Red Salt
| October 16th, 2017
An audacious pairing of cuisines in Short Pump
---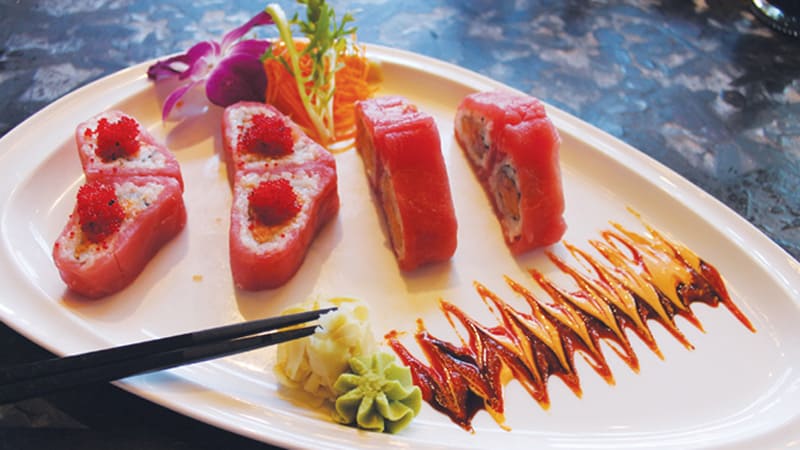 Some couplings pair together effortlessly: red wine and dark chocolate. Basil and mozzarella. Peanut butter and jelly. Marijuana and Doritos.
Recently, EAT Restaurant Partners (the people we can thank for local dining spots such as Wild Ginger, Wong Gonzalez and Fat Dragon) have pushed the boundaries in the world of food pairings, launching their newest restaurant, Red Salt, which combines an Asian delicacy with an American staple.
Red Salt opened in Short Pump on July 31 as the first sushi bar and steakhouse in Richmond. Not a Japanese steakhouse and not a fusion of cultures, Red Salt functions simply as a complementary pairing between two popular cuisines.
"The idea was to knock the dust off the American steakhouse concept," Chris Staples, director of hospitality and marketing, says. "And nestle sushi within the heart of it."
Two distinctly different chefs round up the best cuts of meat for steaks and burgers (thanks, Chef Mike Lindsey) and the highest-quality ingredients for sushi (arigatō, Chef Hai Truoung). Guests can enjoy popular dishes such as Truffle Ménage à Trois, three pieces of rich sashimi drizzled with truffle oil (no soy sauce required). Or the Tomahawk Steak Prime Ribeye, 48 ounces (yes, 48) of tender, hand-cut beef. Or the Surf & Turf Cheeseburger, made of black angus beef and topped with lobster, asparagus and truffle béarnaise.
Staples explains that, although Red Salt is modeled as a refined steakhouse, they aim to cultivate an approachable atmosphere. He says that guests can experience a complete fine-dining steakhouse night out or a quick drink and light meal. And prices range to accommodate accordingly. They're even open for lunch with a separate, less formal menu. "We want to be the 'everyday' place," says Staples.
Their drink list reflects that goal as well, with a selection of craft beers, a range of wines and an assortment of fresh cocktails.
The name "Red Salt" was inspired by pink Himalayan salt, a healthier alternative to table salt that's rumored to cleanse the air and increase energy. And plus … it looks pretty. Among the rest of Red Salt's chic design, you'll find a backlit wall of solid pink Himalayan salt situated right above the sushi bar. It's said to give off a calming, purifying effect that complements the rest of the restaurant's harmonious, feng shui décor.
Although that may just result from the appetizingly fresh sushi.
---
12221 W. Broad St., Henrico
RedSaltRVA.com