A Wellness Gem Sparkles in the Virginia Mountains
| October 27th, 2021
Eupepsia Wellness Resort offers a variety of health-giving services
---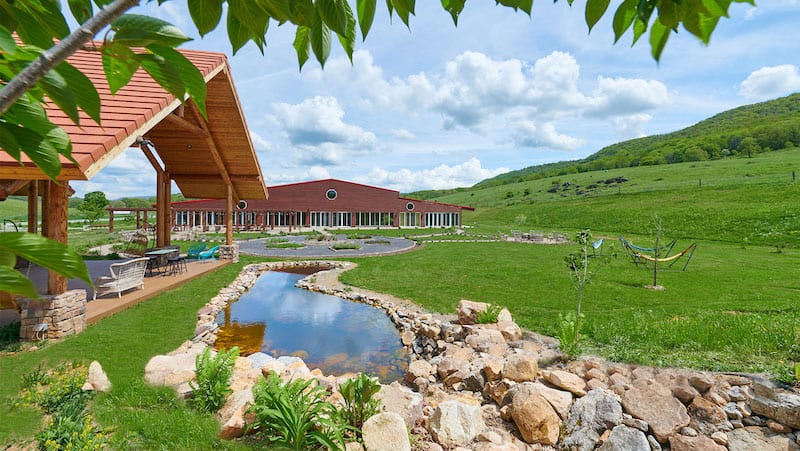 As if time spent in nature wasn't therapy enough, a wellness-focused sanctuary in the Blue Ridge Mountains spreads the icing on the nature cake. Eupepsia, a relaxation and wellness resort in Virginia, offers comprehensive programs for a natural getaway. Then it adds a dose of detox, de-stress, fitness, weight management, healing, renewal, or custom wellness – whichever you need.
A stage set for nature therapy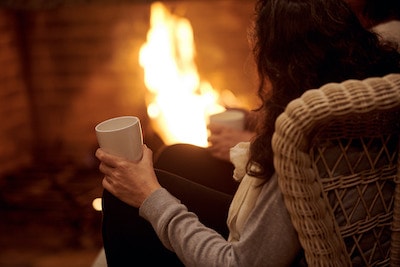 Eupepsia Wellness Resort in Bland County stretches over 256 acres of fields, rolling hills, and woodland. More than just a spa, more than just an inn, and more than just a restaurant, the boutique resort provides an immersive approach to wellness. The holistic programs integrate lifestyle medicine, workshops, health therapies and other activities, and coaching sessions. Programs focus on lifestyle changes to allow guests to transfer learning to life.
Resort facilities extend the natural theme with stone patios and walkways, accents, and landscaping. Wood construction harmonizes with the surroundings. Inside, natural wood, earth and sky tones, and greenery pull the outdoors in, supported by windows showcasing the expansive fields and woodlands beyond. Guest rooms are simply elegant and comfortable.
Below the surface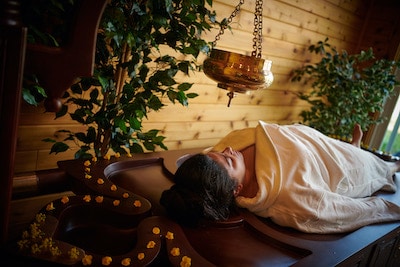 Programs at the relaxation and wellness resort in Virginia's mountains center around advanced wellbeing activities and therapies, yoga, sleep, nutritious eating, and more. Specialists customize retreats to each guest's bio-individuality, health condition, and goals – including family retreats in the summertime.
Health retreats combine traditional Ayurveda-based therapies with modern screenings and treatments. Meals are chef-prepared, farm-to-table, and plant-based, using fresh, natural ingredients from the resort's organic greenhouses, cow and goat farms, hen houses, wheat fields, and a bee apiary. Foods are even tailored to different body types.
Meditative yoga sessions may be held in the Grand Hall or in open-air studios. Halo and hydro therapies take place in indoor and outdoor spas. Advanced therapies include flotation therapy, hydrotherapy, hot stone therapy, magneto-therapy, and ultherapy.
Functional training sessions and sports activities happen in the fitness gym and the multipurpose indoor sports courts, with activities such as hiking, mountain biking, rowing, and canoeing in the great outdoors. The property boasts seven hiking trails, with a connection to the Appalachian Trail.
"Eupepsia means 'good digestion' in ancient Greek, which sits at the heart of any healthy and purposeful life," explains Lamia Jaroudi of Eupepsia. "Good digestion starts with the first bite, but it doesn't stop there. We eat with our five senses and consequently, good digestion needs to happen at all these levels: emotional, mental, and physical. … Our mission is to help our guests achieve that at Eupepsia through the tailor-made wellness retreats and health programs we offer them."
The three-year-old resort in Bland County, Southwest Virginia, has already achieved multiple awards. Most recently, the center was voted the #1 wellness resort in the nation in the USA Today's Readers' Choice awards.
"I believe the secret of our success is to genuinely see the beauty of each guest we host and make them feel at home and cared for. When we serve them, we are not only professionals serving clients; we are hosts serving family and we enjoy every part of it. And it is in seeing their highest potential that we bring healing at a very deep level that will impact their life forever," said co-founder Shivani Schneider Mrad.
If you're looking to rejuvenate your mind, body, or spirit, the relaxation and wellness resort in the Virginia mountains, Eupepsia has you covered – naturally.