Richmond Jazz Musician Bill McGee
| February 2nd, 2017
The beat goes on post-retirement for one of Richmond's most accomplished players
---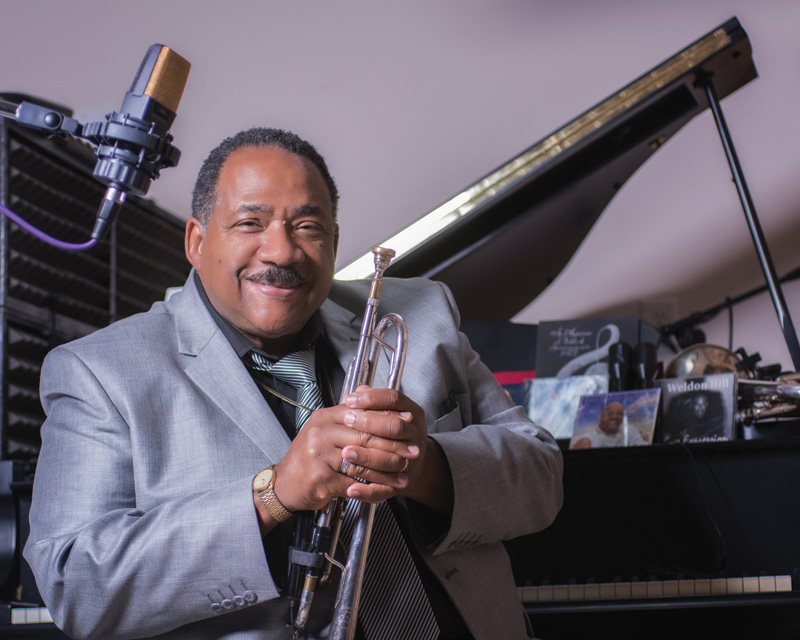 The only thing Bill McGee loves just about as much as playing music is telling a good, long story about the memories he has from making it. So much so that when we catch up to talk about his lifelong music career, he apologizes in advance. "I'm a talker," he says with a chuckle.
The 65-year-old retired educator and grandfather of nine is a pioneer musician/producer who has worked with everyone from R&B superstar D'Angelo and SupaFriendz to Missy Elliot. He cracked the Billboard Top 20 in 2016 with his smooth jazz track "Cantaloupe and Watermelon," was a first-round Grammy nominee and is currently prepping his fifth full-length album for release, tentatively entitled "Big Daddy," a name given to him by his grandchildren. "Every day now has something to do with music … or figuring out if I have to go pick up my grandkids," he says. Did we mention he beat the heck out of cancer? Yep, this guy is a powerhouse.
RICHMOND ROOTS, ATLANTA CRESCENDO
McGee's musical journey began at a young age listening to Johnny Mathis, Dinah Washington, Nat King Cole in the family home. While he was born in Richmond, he spent the latter part of his childhood in Atlanta, and that's where he got the bug to play jazz and caught on to cats like Miles Davis and John Coltrane. His mother, a college teacher, did everything she could to discourage him from playing drums, his first choice. So, she found a student who loaned him a cornet. "She was a student named Marylin. You don't forget people who do nice things for you," he says. While grateful, McGee really wanted to get his hands on a trumpet, calling it "more macho." His first was a gift from his father, who had come down from Chicago for a visit. "Seventh grade, I got to go shopping for my own brand new instrument. I was the man," he adds.
The trumpet is all about ego, explains the jazz master. "To hit those higher notes, you've gotta really have some determination. It's a physical challenge and also comes with a lot of expectations to be loud and carry a performance," he says. When he embraced brass, the admittedly shy kid came out of his shell and stuck with an instrument that would open more doors than he could possibly imagine. He went on to attend the historic Booker T. Washington High School, the alma mater of greats like Dr. Martin Luther King Jr., Lena Horne and Gladys Knight, and credits his first band instructor, Dr. Bobby Jordan, with instilling the fundamentals of music in him.
As a former public school educator, he finds the lack of funding for school music programs troubling. "Every study shows people who participate in music have higher levels of achievement," says McGee.
ALLEGRO IN VIRGINIA AND BEYOND
In 1973, he moved back to the commonwealth and enrolled at Virginia State College to finish his degree. Three weeks later, he co-founded Trussel, a funky outfit that ended up playing with big names like Chic, purveyors of groovin' hits like "Le Freak" and "Good Times," and hanging out with legends like Patti LaBelle. He went on to be the tour manager for Klymaxx, the group responsible for the hit "I Miss You," and played on seminal rap tracks like Sugar Hill Gang's "Apache." "When they needed horns on track, I got the call."
As the shimmer of the music biz started to fade and fresh brass was replaced by synths and samplers, McGee decided to move on to being an educator and stuck with it for 30 years. After all, he's the kind of guy that likes to pay it forward.
AND THE BEAT GOES ON
Since then, he founded the Funtown music label and 804 Music Group, which enables him to nurture his solo career and budding young musicians, something he's passionate about post-retirement. "Being able to make quality music at home with all this technology makes me feel like I'm 18," he says.
As a survivor of prostate cancer, he's also looking out for others as an outspoken advocate of early detection. "Men just don't talk about it. That's part of the problem," he says. McGee was lucky and addressed his case with a simple surgery and no chemo. "Doing nothing is dangerous. Get checked. Period."
As a result, the juggernaut of jazz plays on and encourages others to give it a try. "It's never too late," he says. "I've been on this musical journey since 1963 and I'm thankful for everything that's come of it. I'm blessed," he adds.