Cultivating an Eye
| June 7th, 2018
Richmond Photography Meetup Group's annual show
---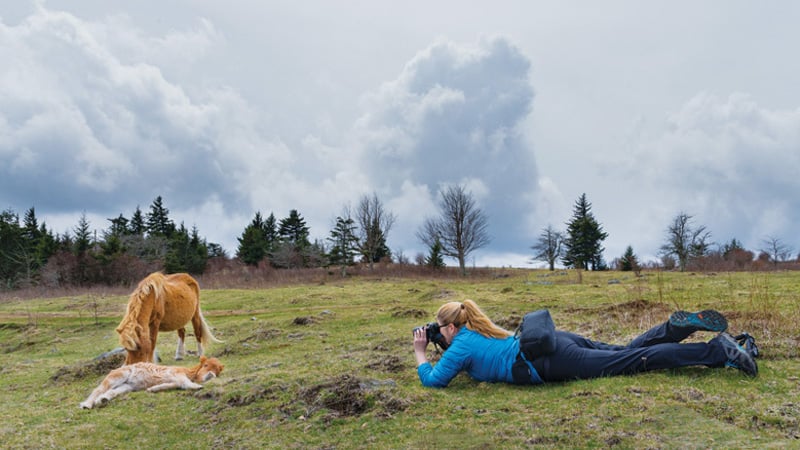 What makes a photograph worthy of display on a gallery wall? Robert Pfeifer, head organizer of the Richmond Photography Meetup Group (RPMG), and co-organizer Liz Clayton have pondered this question for the past three years in choosing the works to include in the group's annual exhibit at Richmond's ArtWorks, running through June 16.
This year, Pfeifer, a prepress technician by day, and Clayton, a retired science teacher, chose the best 19 of 50 works submitted by full members of RPMG. "One of the coolest things is to have your photograph in an art gallery," says Pfeifer. "You see people's faces when their work is on the wall for the first time, and they're just beaming." The pleasure is doubled if someone buys their photo.
When deciding which photographs to showcase, Pfeifer, who studied art and has worked as a professional photographer, and Clayton, whom Pfeifer describes as having an excellent eye, look for two things: creativity and technical ability.
First and foremost, they ask themselves, "Is the image more than just a snapshot?" One element that distinguishes a photograph from a snapshot is composition, the way the visual elements are arranged in the frame. What should be the vantage point? What should be at the center of the image? What details need to be cropped out?
Those of us who use a smartphone to document our lives may not think about the role composition plays in photography. Despite my art history background, I admit I tend to just point and shoot. For RPMG members, however, there is much more to it than that.
Selecting what to include and exclude in a photograph is as important as in a painting. Though a photographer doesn't have the same ability as a painter to manipulate the scene to create the perfect composition, she uses an artist's eye to frame it.
While creativity and composition are important, Pfeifer and Clayton also consider technical ability, including the use of lighting, exposure and depth of focus.
LEARNING AND SOCIALIZING
Members of RPMG can hone these technical skills at meetups held once or twice a week at various locations. Pfeifer is often on hand to answer technical questions. "I'm there and teaching," he says.
At a recent meetup at Lewis Ginter Botanical Garden, the group worked on macrophotography, which involves an extreme closeup of a small object, like an insect or flower. "We had a challenge of shooting three inches off the ground," Pfeifer says, "so everyone was crawling around."
Other meetups have included historic sites, like the North Point Plantation on the Mattaponi River, nighttime skyline photography, workshops on photographing models and photographing plein air painters.
"We are fortunate to live in a city with so much to photograph," says Pfeifer.
After each event, members upload their photos to the meetup site. Other members can comment on what the photographer has done well or needs to improve, so further education takes place online.
RPMG also hosts social events, like brewery gatherings and a weekly coffee for members to get to know one another and discuss photography. The group consists of nearly 300 members, from highly skilled artists to amateur hobbyist photographers, from millennials to boomers, including about 60 retirees. According to Pfeifer, typically about 20 to 30 attend each event.
Whether they are 20 or 80 or somewhere in between, the members are united by a love of photography and a desire to share that interest with others.
---
Richmond Photography Meetup Group annual show
Through June 16
Art Works Skylight Gallery, 320 Hull St., Richmond
Meetup.com/richmondphotography/
---
---
Catherine Brown studied art history and has worked in several museums, including a brief stint at the Virginia Museum of Fine Arts. She is passionate about sharing stories, connecting with people and celebrating the good in the world. WriteHappy.net