Richmond Restaurants: What's New?
September 6th, 2019
Cupcakes, barbecue, waffles, smoothies, and ... mini golf?!
---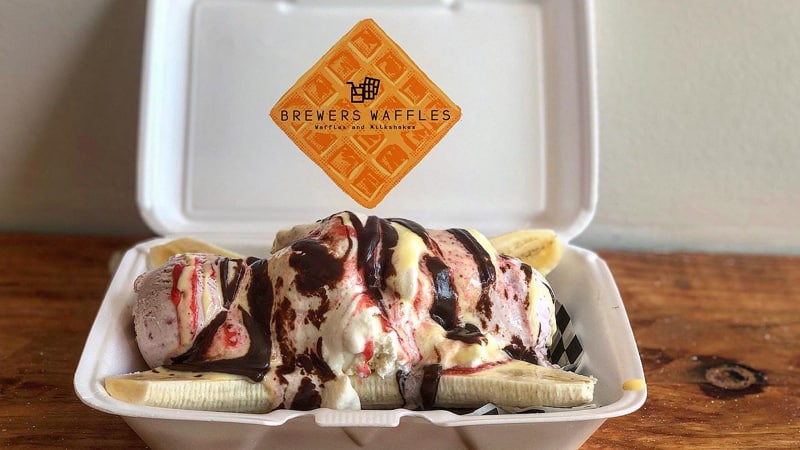 ---
STARTERS: News bits from diverse RVA producers
BREWER'S WAFFLES
Why waffle between savory and sweet? 
Choose a signature waffle or build your own. Begin with traditional, cornbread, gluten-free-vegan or waffle cone, a half or whole; top with fruits, candies and other sweets, or savories like jalapeños, egg and sausage (pork, turkey and vegan); then add the finishing touch with a sweet or savory syrup or sauce. Craft your own milkshake, too, from dairy, almond, rice and soy base. Counter service, Coke products and informal seating (check out the art in the adjoining, room, too!), so perfect for to-go. Serving all day into night. ~ AT
1311 Hull St., Manchester
TIPSY CUPCAKES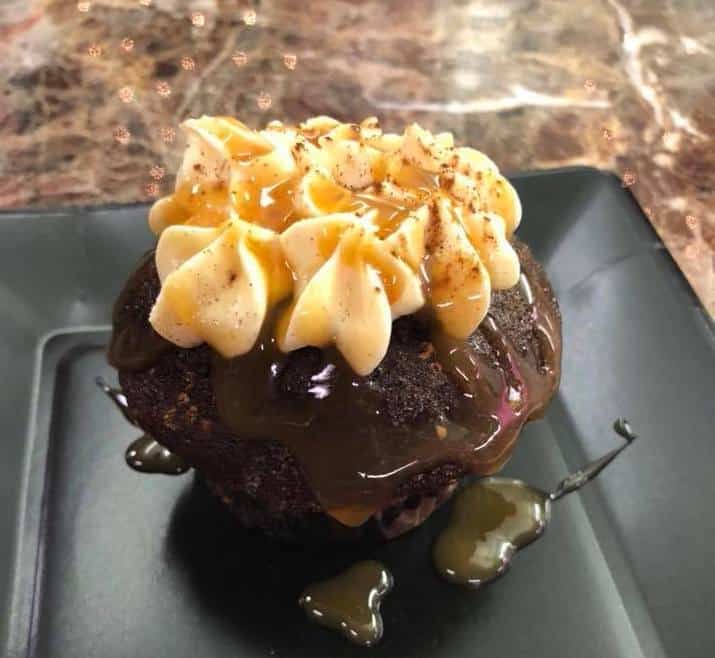 A dessert, a cocktail or both?
Whether after a meal or as a sweet snack, these alcohol-infused cupcakes are a pairing in themselves. Look for flavors like Peach Bellini, Boozy Maple Bacon, Gin and Juice, Spiked Cookies 'n' Creme and Patrón Margarita. And for orders of a dozen or more, you can pre-order a custom flavor combination. The shop also serves virgin cupcakes so everyone can enjoy. ~ AT
3423 W. Cary St., Carytown
PULP FICTION
A forever home for these elusive smoothies
The popular smoothie-based food truck has gone brick and mortar. Find their three staple smoothies, with a diverse and unique selection of add-on ingredients (coconut flakes, wheatgrass powder, goji berries or bee pollen, anyone?). For something more substantial, the menu boasts a variety of bagels with both classic and internationally inspired toppings, plus a smattering of wraps and salads. Round it out with an espresso drink, paired with an oversize pastry – many that are dairy- or gluten-free! Serving breakfast and lunch. ~ RM
5411 Lakeside Ave., Richmond
FUEL PUMP
From morning espressos to evening proseccos
Carytown's newest café seeks to fulfill customers' needs from sunup to sundown. Enjoy a full espresso menu for morning fuel or a handpicked selection of beers and wines for the latter (or better) half of the day. Edible provisions consist of pastries and light snacks, with tapas and small plates on the horizon. ~ RM
3200 W. Cary St., Richmond
HOTEL GREENE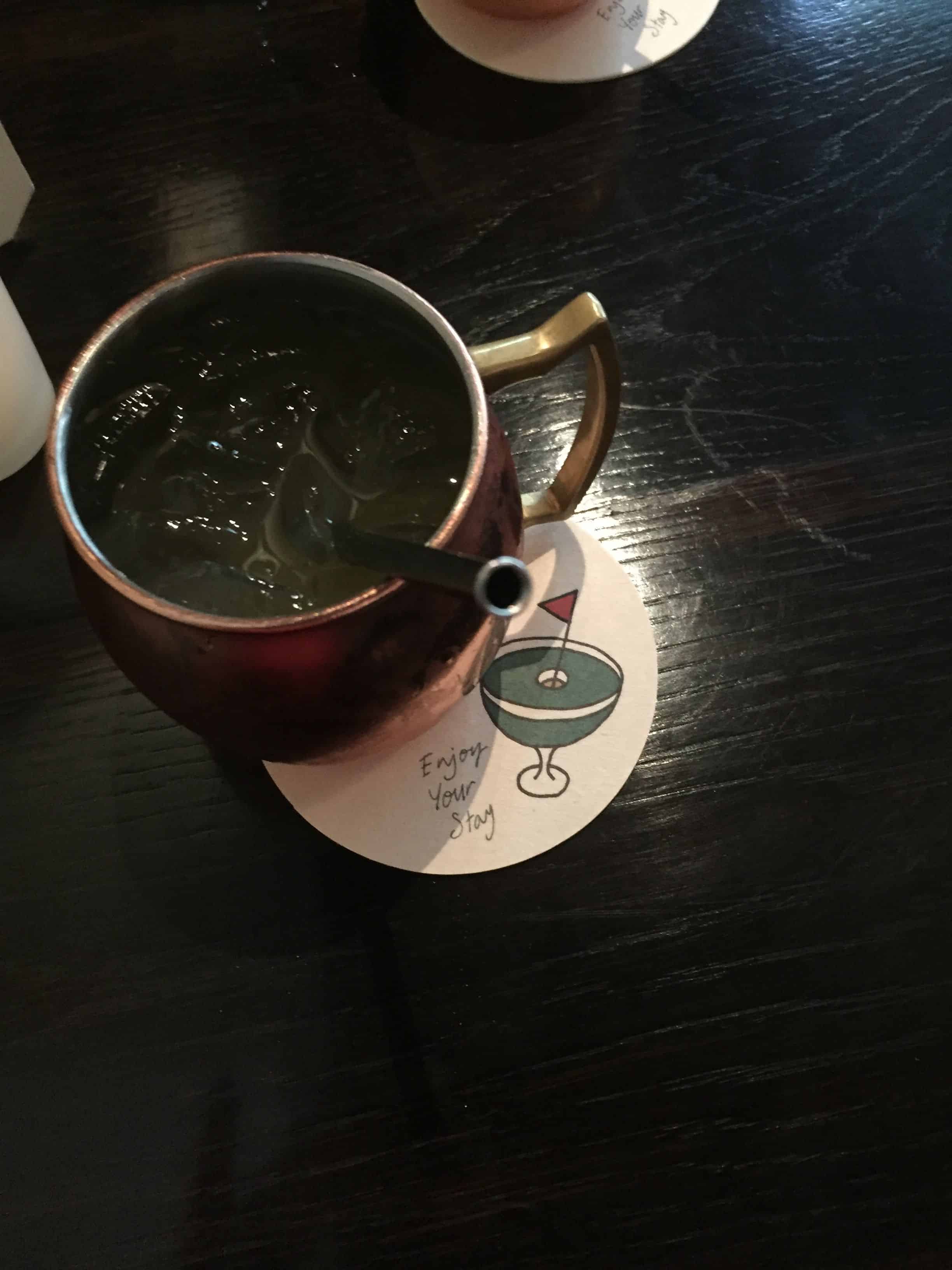 Not your childhood mini-golf course
Housed in what was once the Hotel John Marshall, this indoor mini-golf experience takes its roots seriously with a well-executed and detail-oriented atmosphere that feels vintage, swanky and just a tad mysterious. Wander among all 13 (coincidence?) holes, through the mock rooms and corridors of this late-19th-century hotel-themed course. Grab a drink at the bar before hitting the tee (or along the way), with a variety of cocktails, beers and wines to choose from (yes, you can sip while playing). The bar also offers savory small plates, sandwiches and sweets. ~ RM
508 E. Franklin St., Richmond
---
ENTRÉES: News to chew on
OAK & APPLE
Natural pairings of smoky, cidery and more
More than just another barbecue restaurant, Oak & Apple begins with savory smoked meats, mountain trout and jackfruit, served traditionally and in unexpected preparations. Get beef brisket, ribs, chicken, etc., on a sandwich or not, with multiple sauces. Choose creative sandwiches such as BBQ Bahn Mi. Other options make for challenging choices, including "Que-tine" (think poutine), nachos, lettuce wraps, salad and desserts from Root Stock Provisions and Postbellum (same ownership). Multiple craft ciders pair wonderfully with the food, or choose from a thoughtful selection of craft and domestic beer, wine and wine-based cocktail-like drinks (think Sweet Citrus Tennessee Tea). ~ AT
1812 E. Main St., Richmond
THE BOMBAY COMPANY
The marriage of two cuisines
Who would've thought that Indian and Latin food complemented each other? The blend evolved easily for Jazz Singh, co-owner of Lemon Cuisine of India, with locations in Richmond and D.C. Singh's grandsons are of Indian and Latin descent, providing inspiration for the new Rocketts Landing restaurant. With exceptions such as the burger and empanadas, most dishes lean Indian, with dashes of Latin where appropriate – like the Chorizo Bomba Masala. But rich, earthy spices like cinnamon and cumin demonstrate the cuisines' affinity. So does appreciation for spicy heat, but the kitchen makes each dish to order, from mild to hot. ~ AT
4821 Old Main St., Richmond
SCUFFLETOWN GARDEN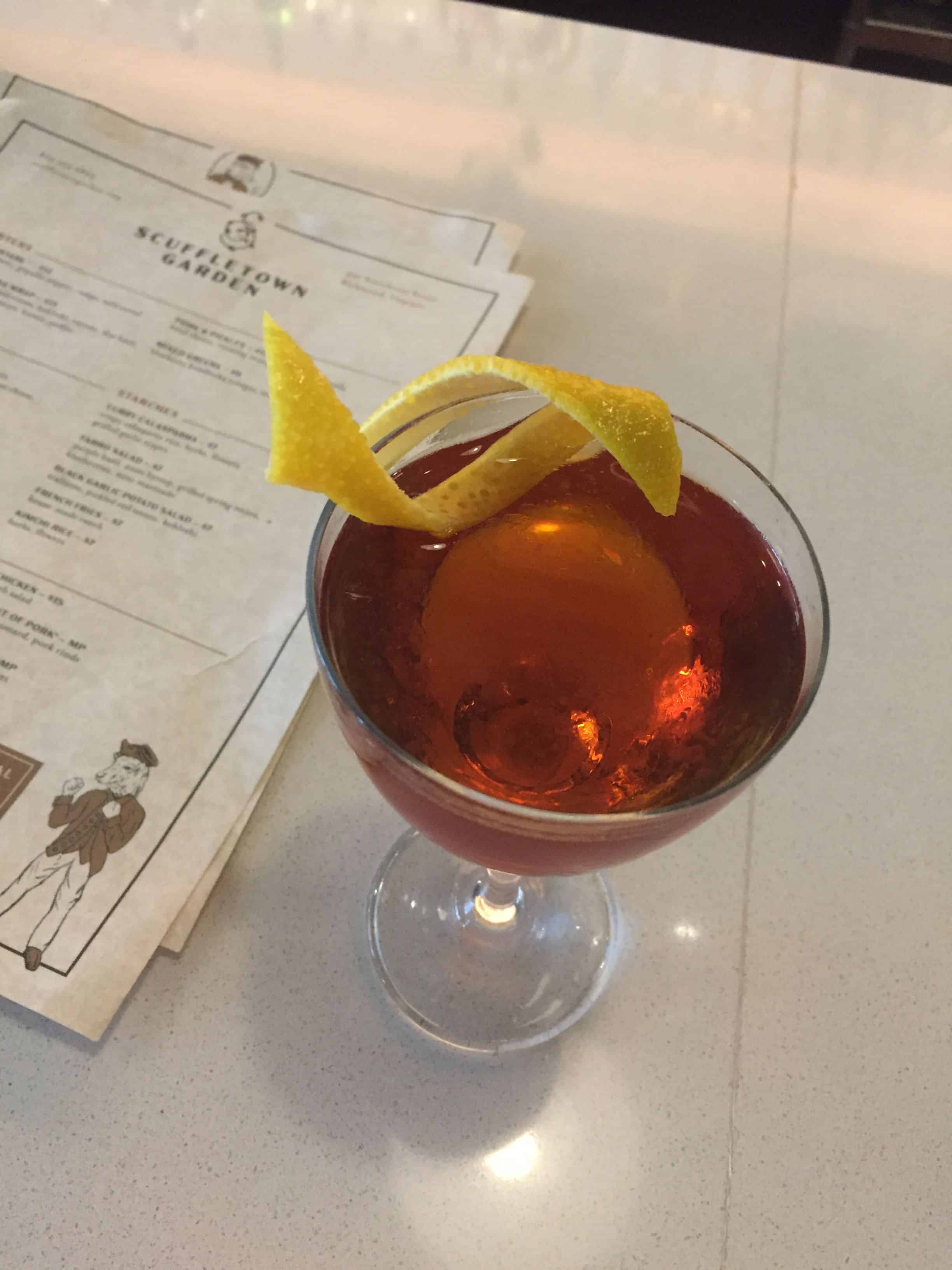 A garden for your eyes, your nose … and your palate
This chic, plant-inundated Fan restaurant looks like a page out of Home and Garden. Its menu boasts small plates, veggies and proteins, made up mainly of local and organic ingredients – whose freshness becomes obvious with the first bite. The bar serves a wide selection of beer, wine and liquor … and for you indecisive drinkers, take a spin on their "cocktail roulette" wheel! ~ RM
421 Strawberry St., Richmond
SOUTHERN KITCHEN
A tasty celebration of old and new
An established Richmond restaurant has moved into the new Eggleston Plaza in historic Jackson Ward, on the site of the former Eggleston Hotel, which for decades welcomed African American travelers. Southern Kitchen continues to serve Southern country favorites: catfish, okra, cornbread, chicken fried or baked, meatloaf and more – with sides like Granny would've whipped up (collard greens, black-eyed peas or stewed tomatoes, anyone?). The new digs feature classic décor, and foods are served with an eye toward pleasing presentations, demonstrating a thoughtful melding of the past and present. ~ AT
 541 N. Second St., Richmond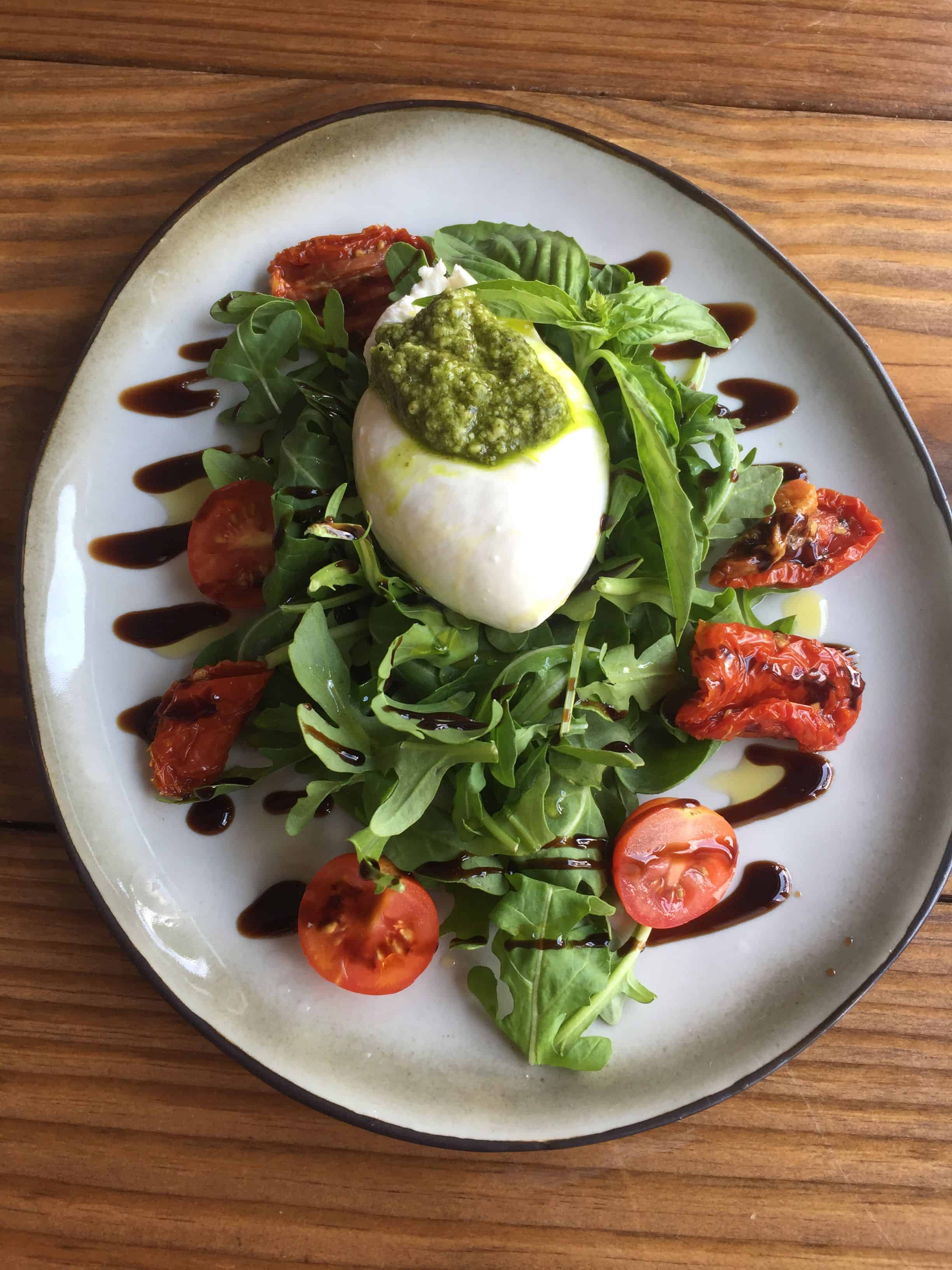 CARMELA'S
Shockoe Bottom adds a dash of culture
Though Carmela's touts a variety of authentic Italian antipastis and insalatas for sharing or starting off a meal, their specialty comes atop a crust. Enjoy the selection of brick oven pizzas, featuring exotic toppings like prosciutto, cremini mushrooms and soppressata (Italian salami) ­– best paired with a European-inspired cocktail or glass of wine. The restaurant's two large windows, which face out toward Shockoe Bottom's 17th Street Farmers Market pedestrian mall, adds an extra layer of magnifico to the experience. ~ RM
3 N. 17th St., Richmond
POOR BOYS
Great news, Richmond: New Orleans has arrived
Find all of the usual New Orleans culinary suspects, like jambalaya, dirty rice, fried catfish and gumbo. Then, of course, the menu features a variety of po' boys to choose from, including fried shrimp, fried oysters, grilled smoked sausage and even crawfish tails. In addition to the classics, Poor Boys has thrown in their own twist on NOLA cuisine: ever heard of jambalaya spring rolls or crawfish beignets? ~ RM
203 N. Lombardy St., Richmond
BATEAU: COFFEE AND WINE EXPERIENCE
Respecting history, honoring the present
Sure, Bateau elevates the coffee and wine experience, carefully choosing coffee growers as well as vintners, including top black-owned and South African wineries. The menu matches the beverages in quality and service, from roasted hazelnut snacks to entrées like salmon, pasta, lamb and New York strip. All are served in a tastefully decorated space beside the downtown canal. Owners Harry Watkins and Arvat McClaine carry their concept deeper: the name and a wall mural pay tribute to the African American bateaumen who navigated Virginia's rivers and canals during the 18th and 19th centuries. The restaurant also hosts live jazz and history happy hours with respected experts from the African American community – food for the mind! ~ AT 
301 Virginia St., Richmond