Richmond Restaurants: What's New! March-April '20
March 6th, 2020
Sushi, seafood, tacos, tequila, coffee, and gelato waffles
---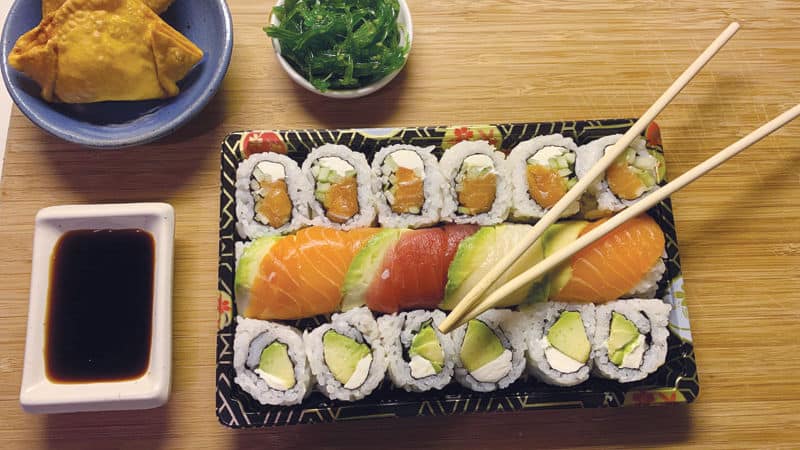 KIRIN CAFÉ
Time to break out the chopsticks
Kirin Café offers a deliciously large array of Japanese cuisine: from traditional dishes like yaki-udon and oyakodon and poke bowls, to lighter fare like miso soup and edamame. But their greatest claim to fame is the vast selection of sushi, with nearly 40 types to ponder: from traditional rolls like spicy tuna and Philadelphia to more extravagant bites (might I recommend the "crazy dragon"?). ~ Rachel Marsh
302 N. Robinson St., Richmond
---
BARRIO TAQUERIA AND TEQUILA
Tacos & tequilas & tacos & tequilas
A multitude of Baja-inspired tacos fulfill the taqueria in Barrio's name – from adobo chicken to carne asada to crispy shrimp, plus a few for vegetarians. For something heartier, choose from a handful of "not tacos," including burritos, quesadillas and tortas. As for the tequila part, enjoy a range of margaritas – from classic to "salt air" to soft serve with the sorbet of the day – in addition to a full menu of beers, wines, craft cocktails, tequila flights and delicious non-alcoholic options: agua frescas, Jarritos sodas, mango tea, and fresh-squeezed lemonade or limeade. Opening with dinner hours, with brunch and lunch to come. ~ RM
2229 W. Main St., Richmond
---
THE ANGRY MUSSELS
A signature dish, not a description
Seafood plays an important role at this Italian restaurant in Shockoe Slip, including traditional mussels and spicy "angry mussels" appetizers, plus a variety of pasta dishes and entrées with seafood, meats and chicken – solo and combined – in huge portions. The Angry Mussels kitchen touts homemade sauces and sausage. Their bar serves a limited selection of liquors, beer and wine (served in traditional Italian wine tumblers). The farm-like décor, casual but neat, strikes a Goldilocks balance of light and sound – not too dim or too loud. Serving lunch and dinner. ~ Annie Tobey
1331 E. Cary St., Richmond
---

WONG'S TACOS
'Mexicanese' in Short Pump
Similar to sister restaurant Wong Gonzalez, Wong's Tacos blends Asian and Mexican forms and flavors: burritos, poke bowls, tacos and fried rice, using flavors distinct but complementary. Think ahi tuna with corn-black bean salad and gochujang aioli, or chorizo with bok choy and fried rice. Vegetarian options are minimal but can be extended by tailoring existing dishes. Other flexible options include choosing tacos with flour tortillas, corn tortillas or lettuce; and rice bowl or salad instead of burrito.
The bright, airy, colorful space features a Día-de-Muertos theme. Acoustics encourage easy conversation, which can be stimulated by the large selection of tequilas and craft cocktails, beers, wines or craft sodas. ~ AT
201 Maltby Blvd., Glen Allen
---
MS. BEE'S JUICE BAR
Bee healthy and happy
This cute little Brookland Park café will make you happy through and through. The menu, with oodles of vegan choices, reflects an emphasis on health, a value that owner Brandi Brown wants to share with the community. Begin with cold-pressed juices or smoothies (choose from a variety of add-ins if you wish, such as turmeric, soursop, ginger and sea moss). Get solid with soups and salads (including vegan "tuna," made with carrots, red onions, red pepper and other veggies). The vibrant gold wall and colorful floral mural match the friendly service. Eat there or take your nutritious choices to go. ~ AT
114 W. Brookland Park Blvd., Richmond
---
BARTIZAN
Elevating Short Pump
A thoughtful, Mediterranean-inspired menu joins a curated selection of wines and cocktails, plus beers, served in an elegant space with industrial-chic highlights. Meat and seafood play starring roles, with worthy vegan and vegetarian options; a big plus, menu items are marked for dietary preferences. Bartizan also serves up entertainment, from Saturday night jazz to the occasional drag benefit brunch. Open for dinner Tuesday through Saturday.
A sister property of Goochland's grand Dover Hall, the restaurant adjoins its event hall for private use. ~ AT
4035 Whittall Way, Glen Allen
---
ROASTOLOGY
Delicious caffeinated magic and more
Relocating from its original space in Chesterfield, Roastology is now offering Fan-dwellers and other visitors a place to sit back and sip. In addition to a menu filled with coffee, carefully small-batch-roasted onsite (touting all of the usual suspects, from Americanos to cappuccinos to classic drip), Roastology offers a range of tasty belly-fillers as well: breakfast sandwiches, small plates and salads, pastries and biscuits. The indoor ambience – a well-executed array of rustic furniture, plants and a fireplace – makes it easy to settle in for a while. Like what you're sipping? This micro-roaster sells its coffee wholesale, both in-store and online. ~ RM
2701 W. Cary St., Richmond
---
MOONROCKS GELATO
You'll be over the moon
What's better than a wide array of ever-changing gelato flavors (like pistachio, raspberry white chocolate or s'mores), with or without your choice of myriad toppings? How about that gelato on top of a warm waffle? Or on a "bubble waffle"? Or a Moonrock Panini, a warm brioche stuffed with your choice of gelato and toppings, heat pressed with the gelato inside? Maybe a gelato shake, float, fruit bowl (healthy, right?) or cereal sundae. Currently for take-out only. At Moonrocks Gelato, your biggest problem will be deciding. ~ AT
2400 W. Main St., Richmond
---