Richmond's Four-day Food Lovers' Paradise
| October 11th, 2016
Fire, Flour and Fork returns for another year of food-centered fun
---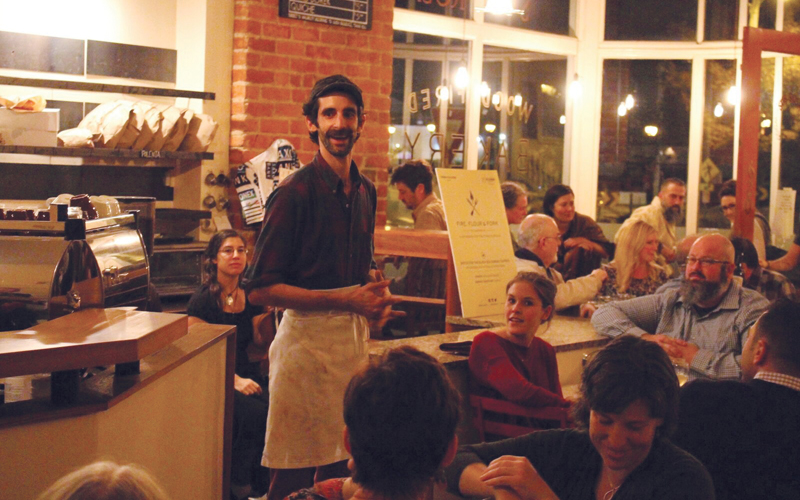 Curious food-loving individuals won't want to miss Fire, Flour and Fork, Nov. 17-20, rolling food, history and education into a four-day celebration with a variety of events.
Stephanie Ganz, one of the event's organizers, describes the festival as an "immersive experience for people to learn about food." Think tours, dinners, tastings, lectures, pairings and drinks.
The Talking Turkey Tour demonstrates how food is sourced, taking participants to the farm of Tanya Cauthen of Belmont Butchery, where she raises turkeys. The tour includes a boxed lunch and a trip to Cooper Vineyards.
At Yes, We Can Can Beer vs. Wine Dinner, beer and wine fans can determine which beverage pairs better with a multicourse meal at Can Can Brasserie. Master Cicerone Neil Witte of Duvel will go head-to-head with Level III Sommelier Bob Talcott.
Cornucopia allows Lee Gregory of The Roosevelt and Southbound, Adam Hall of Saison, Michael Hall of Spoonbread Bistro and other chefs to experiment with the theme of corn and Thanksgiving – including corn-based dessert – washed down with samples from Virginia wineries, distilleries and breweries. During the dine-around at the John Marshall Hotel, chefs will discuss their thought processes for their dish and its connection to maize.
Another dinner pays tribute to John Dabney, a well-respected caterer and bartender in 19th-century Richmond. "We wanted to create something that we could go back to every year," Ganz says of this second annual event. This year, Michael Hall of Spoonbread Bistro and Velma Johnson of Mama J's will serve traditional soul food in Dabney's honor at the Black History Museum and Cultural Center as diners learn about Dabney's story.
Barbecue fans can warm up to Cool Tips from Cool Smoke with Pitmaster Tuffy Stone, who will share some of his best barbecuing tips in a three-hour session. Lunch will be served.
Ganz says Fire, Flour and Fork isn't like most food-related festivals because of its intimate element with smaller groups, with diners often eating family style. She adds that the events also connect foodies with experts and with those preparing their meals, often not the case at similar festivals.
For a complete schedule and tickets, go here.