'Rumors of War' and Other Statues Speak Volumes
| January 6th, 2020
A more inclusive Richmond
---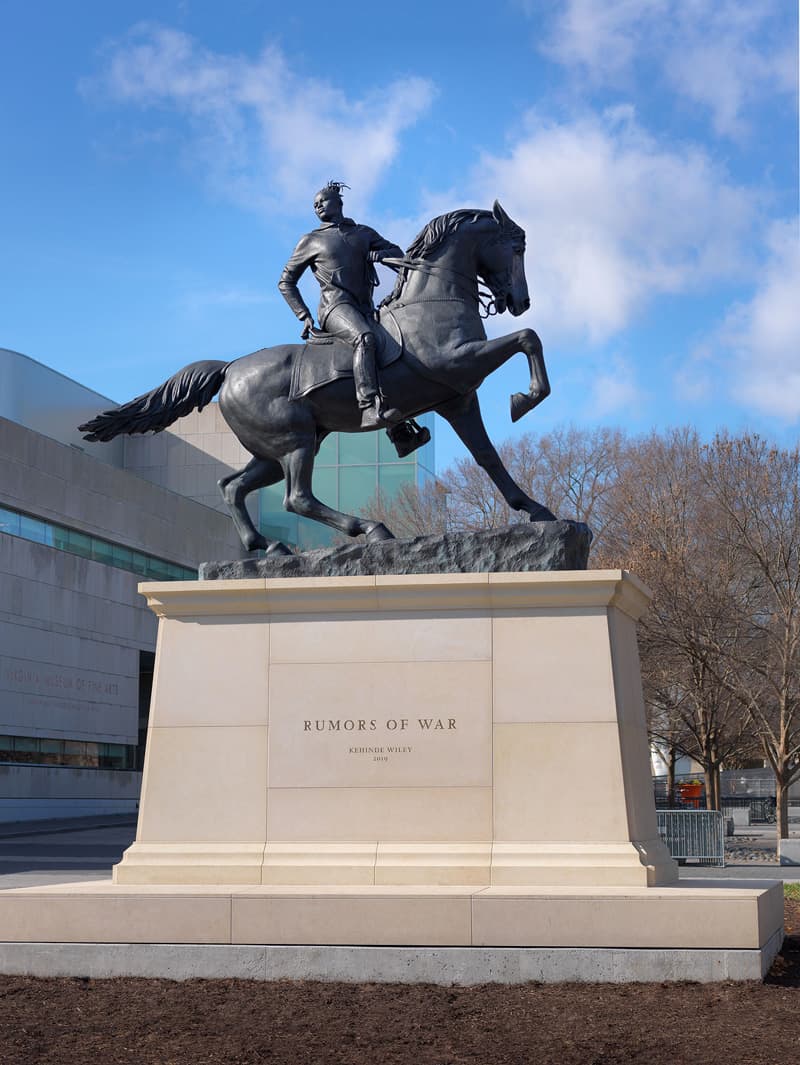 Unveiled at a well-attended public program at the entrance to the Virginia Museum of Fine Arts, Kehinde Wiley's Rumors of War sculpture represents a seismic shift for Richmond in its embrace of cultural inclusion and a more complete American history and its rejection of racist mythologies.
LOCATION MATTERS
"Virginia has more monuments and symbols honoring the Confederacy than any other state in the Union," said Alex Nyerges, VMFA director and CEO. "As with many Confederate monuments, these statues were erected after Reconstruction. Their function was not only to honor the fallen; but also to reestablish and reinforce a social order based on racism and white supremacy."
So, installing Wiley's first public sculpture at the entrance to the museum on the newly named Arthur Ashe Boulevard serves as "an institutional response to the persistent form of historical salute to the Confederacy and the lack of monuments to people of color in Virginia and across the nation," Nyerges said.
Richmond played an important role in not just the story of American slavery but the story of the defense of slavery and the Confederacy. Therefore, placing the striking bronze statue with the stone pedestal on the VMFA grounds speaks to the city's progress and reverberates beyond the museum's property, said Julian Maxwell Hayter, associate professor of leadership studies at the University of Richmond.
"The location of the statue is just as important as the statue itself. I call it historical jiujitsu. You are exposing the memory of the Confederacy by placing the statue there. Generations of people were victimized by this legacy and the reclamation of this memory in this space is nothing short of legendary. It means a lot," Hayter said.
EXPANDED VISION
The Monument Avenue statue of Confederate Gen. J.E.B. Stuart – erected five years after Virginia doubled down on African American oppression at its 1902 Constitutional Convention – served as Wiley's inspiration for Richmond's newest statue and VMFA's most expensive purchase ever. Both memorials feature dominant men posing undaunted on a muscular horse, for instance; an image of power and status typically reserved for white men of influence. For Wiley, the artistic ideas fueling his equestrian portraiture differ.
A composite of six faces, his horseman with upswept locks is not "about an individual, but rather about black men and their place in this society; and in a much broader way, a society that can say 'yes' to black men and their place in this society," Wiley said during the unveiling, as cheers erupted from the throngs overflowing onto Ashe Boulevard.
Rumors of War, inspired by a New Testament passage about a "changing of times," should not be viewed as a man's story for it also serves as a symbol of empowerment for women, Wiley said. "What this represents is not just a story about race or gender. It's a story about openness. It's a story about America 2.0."
The unabashedly black horseman in sneakers and ripped jeans was molded in a posture associated with white Confederate soldiers. Even his casual streetwear defies stereotypes as he makes his hoodie look heroic. The utilitarian sweatshirt is often a factor during racial profiling. Trayvon Martin was targeted, in part, for wearing a hoodie the night he was killed in Florida.
"Wiley uses posture and attire to negotiate power and black bodies," Hayter said. "In fact, he has, yet again, flipped a symbol on its head – 'reclaiming' the hoodie."
CHANGING STATUARY
Above all, the Wiley statue paves the way for future statuary diversity.
"I think very few people anticipated that you could interpret statues in this manner, with an artistic creativity that has been brought to bear on this long-standing issue of Confederate statuary [that] is nothing short of deep innovation. It … opens avenues to a different kind of latitude on how to deal with the legacy of Confederacy and Jim Crow segregation and slavery," Hayter said.
Wiley birthed his vision for his sculpture after seeing the Stuart statue while visiting Richmond during his career retrospective at VMFA in 2016. The monument gave him a "sense of dread and fear," he said. So, as a result, he approached VMFA about acquiring art that responded to what he encountered. VMFA was enthusiastic about the idea, recalled Monroe E. Harris Jr., the first black president of the board of trustees in the museum's 83-year history. Consequently, the board unanimously approved the acquisition.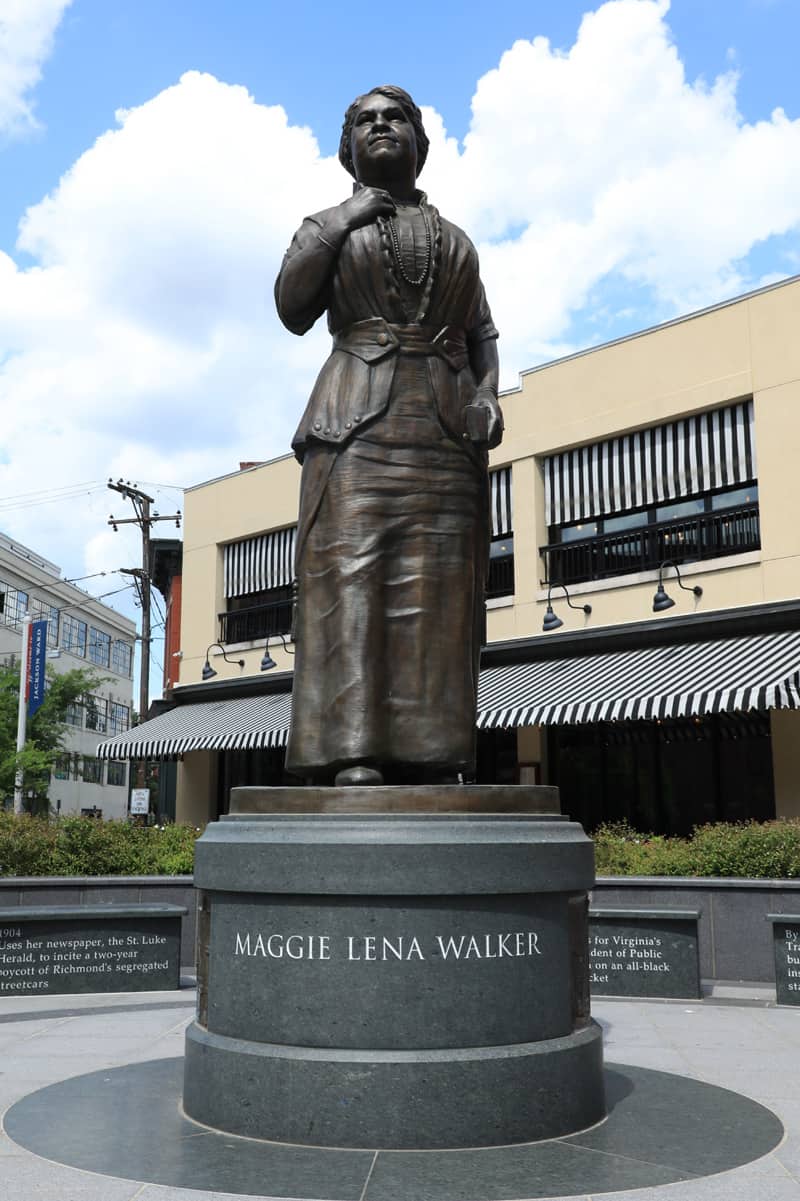 Moreover, since Wiley's visit, the statuary in Richmond has expanded and diversified. Richmond has added a statue of businesswoman and civic leader Maggie L. Walker. It has memorialized the contributions of Virginia women on Capitol Square. And it has renamed the former Boulevard for Richmond's native son, Arthur Ashe Jr., tennis champion and humanitarian. Planned next is the Emancipation Proclamation and Freedom Monument on Brown's Island.
ART OF INCLUSIVITY
"It means so much to so many. A black man on a horse in all his royal splendor has never been seen before on this scale," Harris told the diverse crowd at the public unveiling. Other speakers included Mayor Levar Stoney, Nyerges and Valerie Cassel Oliver, curator of modern and contemporary art.
Speakers praised the role of art and its role during toxic times to help provide a sense of purpose and direction. An energetic crowd listened as intermittent rain fell. One spectator described the rain as "tears of joy from our African ancestors." The crowd generally remained upbeat even after the sculpture's locks entangled the tarp and delayed the reveal. As the evening sky darkened, a Richmond firefighter climbed a ladder and cut the cloth that masked the man's face. Rousing applause greeted the historic reveal, and folks scrambled to take turns posing for selfies.
Above all, the VMFA hopes the sculpture encourages constructive engagement and civic discussion. Consequently, they hope to provide meaning of the Confederate monuments within the context of history and contemporary culture. They hope it "forces us to consider broader perspectives of traditional narratives and representation," said Nyerges. "The VMFA believes Rumors of War will prompt us to be more aware of the underrepresentation of overlooked American communities; and what we can do to collectively build a more inclusive society."
Harris agrees that the city is making historic strides. "We're stepping into another realm for Richmond. Who knew?"
---
Robin Farmer, an award-winning journalist with more than 25 years' experience, has worked as a staff writer for The Hartford Courant and the Richmond Times-Dispatch, where her work earned national honors.