RVA Brew Crew: A New Beer Shuttle Bus Is Brewing in Richmond
| December 6th, 2018
No designated driver necessary
---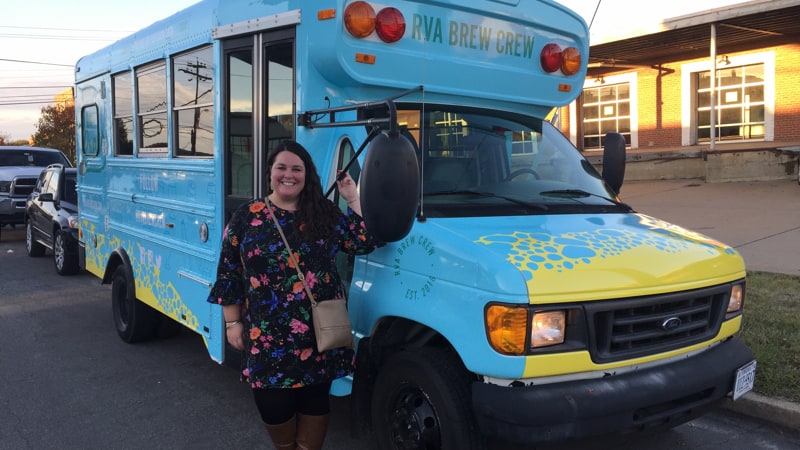 There's a new way to enjoy spirited Richmond, and its name … is Lola.
RVA Brew Crew, which launched in November, shuttles participants to breweries – plus cideries, distilleries, a wine venue and a meadery – allowing free time to indulge without the concern for pestering someone to be DD.
The Brew Crew bus (fondly dubbed "Lola") offers three different route options.
The Eastern Route treks downtown and into Manchester, zipping to breweries such as Legend, Basic City Beer and Stone. The Scott's Addition Route winds through the neighborhood and over to the Hermitage Road area. And the Western Route offers the opportunity to more easily visit outlying breweries such as Lickinghole Creek, Midnight and Kindred Spirit.
Within each route, the bus (sorry – Lola) takes participants to three stops. Each stop gives participants at least two venues to choose from, with an hour at their chosen destination. For example, on the Western Route, stop one can be Hardywood West Creek or Kindred Spirit, stop two can be Lickinghole or Courthouse Creek Cider, etc.
RVA Brew Crew is like a personal designated driver, allowing for indulgence without worry, or for a unique way to entertain the family during the holidays.
Every tour begins and ends in Scott's Addition – and after you bid Lola goodbye, let Uber or Lyft chauffeur you safely home.