An Unlikely Sisterhood
| February 15th, 2018
Women engaged in a singular goal
---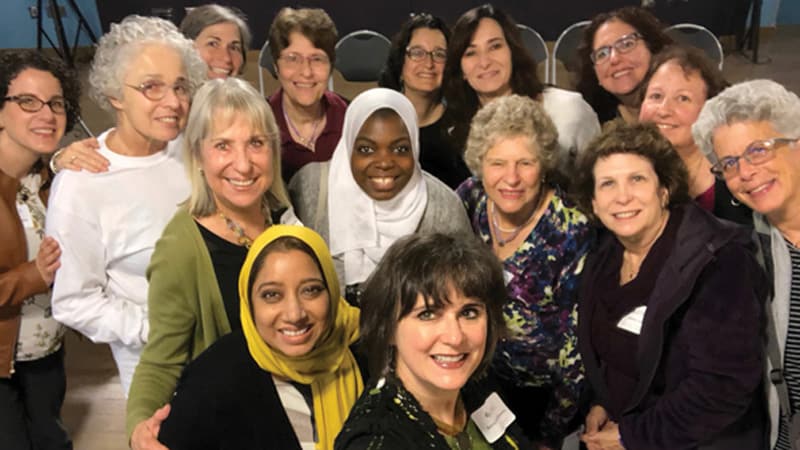 The only certainty in life is change.
In 2010, when Sheryl Olitzky visited Poland, her life changed forever. When a Jewish person visits ground zero of the destruction of the Holocaust, it has an ineffable impact. While in Poland, Olitzky was not prepared for the anti-Jewish sentiments she faced. On her way to Auschwitz, she witnessed interactions and heard language that communicated to her that Jews were still unwelcome. She noticed there were no Muslim people or people of different races that she could see. Olitzky was compelled to ask her guide about it – maybe she was missing something. His response was shocking:
"You are right, my dear. Poland is for Poles. We don't have a Muslim problem here because they aren't welcome."
Olitzky says this harsh statement opened her eyes to the truth, as she puts it, "We cannot change the past, but we can change the future." She set out to change the future.
SPARKING INCLUSIVITY
She called the local Mosque and asked to be connected to Muslim women in the community. They connected Olitzky with Atia Aftab, and together they gathered six Muslim women and six Jewish women to meet, get to know one another and discuss how they could unify to make a more just, welcoming and interconnected world.
For several years their group met. They felt good about the impact they were having in their community. In 2013 they invited their friends, through social media, to a film screening hosted by the group – and something big began to happen. Other women wanted to be a part of the sisterhood. "It became a movement." Olitzky was surprised to see the interest. "We were changing our lives, but [we thought], maybe we can change others' lives."
THE FIRE SPREADS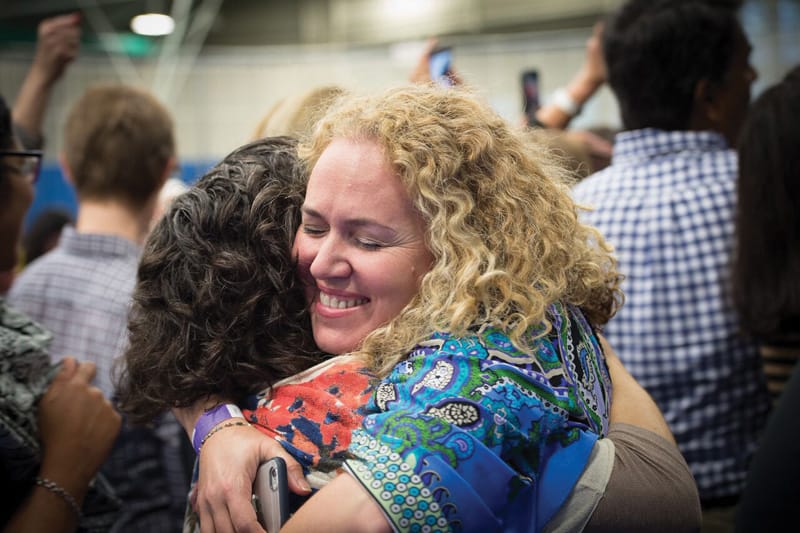 By April 2016 there were 26 chapters across the U.S., and by November 2017 there were 150 chapters, a waiting list of 1,500 women, five teen girl chapters, a professional affinity group, a budding Mommy and Me chapter and an annual conference. With a focus on dialogue, socialization and social action, the Sisterhood of Salaam Shalom has grown to meet a demand at a time when people of minority faiths feel threatened and misunderstood.
In the spring of 2017, Richmonder Lisa Halberstadt read an article about the Sisterhood in The New York Times. "I immediately knew I wanted to be part of this movement." Halberstadt connected with eventual co-leader Sadia Khalid, and the Richmond chapter began with 12 women from diverse backgrounds. Halberstadt is empowered by "building close relationships among Muslim and Jewish women – forging friendships built on respect, deep listening, trust and love."
Another Sisterhood member, Amal Damaj, believes these groups can deepen "a feeling of mutual solidarity in the face of the rising tide of hate around the world." A Muslim woman who moved to the U.S. from Lebanon 26 years ago, Damaj says, "We [Jews and Muslims] have much more in common than people usually think: our Semitic roots, many of our beliefs and religious practices … There's been mistrust between our communities because of the Israeli-Palestinian conflict. I don't pretend that we will be able to solve that, but we could at least build bridges of understanding."
Olitzky says that the organization is dedicated to "giving women every resource to come together and support each other … As women, mothers, daughters and grandmothers, the continuation of our generations are in our own hands." She believes in the power of women to change the world.
To learn more about the Sisterhood of Salaam Shalom, visit SOSSpeace.org.
---
Erin Mahone is a wife, mother of three, writer and storyteller. She's also Jewish, a proud member of the Richmond Chapter of The Sisterhood of Salaam Shalom and author of IfYouCouldSeeMe: Life, Motherhood, and the Pursuit of Sanity. Mahone presents a one-woman show of about life, laughter, mental illness and love entitled "It Runs in the Family." IfYouCouldSeeMe.com