Scan, Bag, Go comes to Kroger at Willow Lawn
July 17th, 2018
Kroger Mid-Atlantic offers new technology to make shopping even easier and faster.
---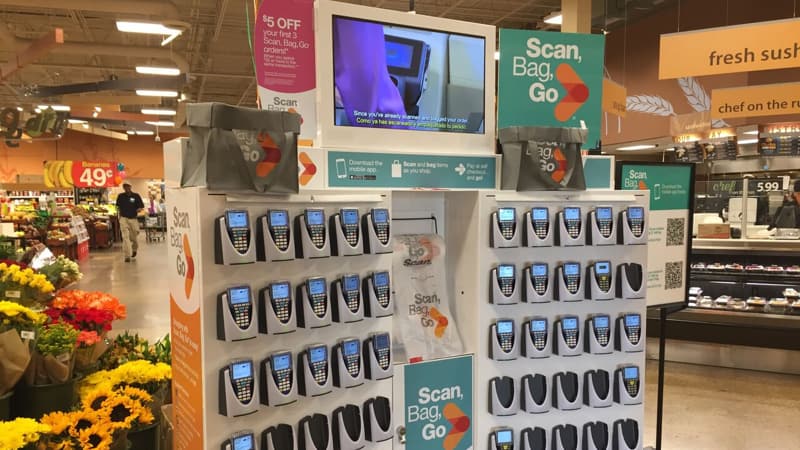 Skip the checkout lines by using the wireless handheld scanner as you shop. Scan each item, drop it in your bag, go through self-checkout (or use the app on your phone, then pay without even going through the line!) – how easy is that?
The scanner also allows customers to view, download digital coupons and view current sales. A team member applies paper coupons.
Kroger also provides bags at the kiosk, but customers are encouraged to bring and use their own reusable bags.
Kyle Russell, Scan, Bag, Go manager for the Mid-Atlantic Division, demonstrates how it works.
After hearing Kyle's tips, I took the device for a test drive. It was very simple, and I know with a little practice, it would easily become second nature.
The option to skip the lines is perhaps the most obvious benefit, but the running total of your groceries is another huge perk. Not only does the scan of each individual item display the price of that item, you'll see how much you've spent so far as well.
The service adds to Kroger's shopping options, alongside online ordering and pick-up through ClickList, traditional checkout lanes and home delivery. Kroger's in-house research and development team invented and built the Scan, Bag, Go technology.
The Willow Lawn Kroger is the first store in the Richmond area to offer Scan, Bag, Go. The technology will be added at more stores in the Richmond area in the future.