A Special Day for Coneheads at Scoop RVA
September 21st, 2023
For National Ice Cream Cone Day, or any other day of the year
---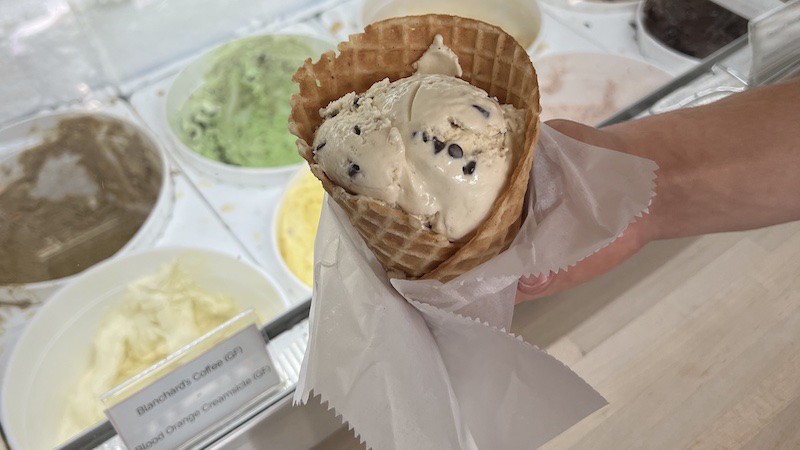 Richmond, Virginia food and travel writer Steve Cook takes us to his favorite local ice cream shop as he prepares to celebrate National Ice Cream Cone Day: Scoop RVA tops his list.
---
My guess is that there's as much excitement around your home today as it is around mine. How could there not be? I'm talking, of course, about National Ice Cream Cone Day. Which happens to be Sept. 22 every year. Unless you choose to celebrate year-round. Hey, we won't judge.
How do you celebrate in your household? Around here, on National Ice Cream Cone Day Eve, we get to have one ice cream cone before bed. But tomorrow we get up early and start eating ice cream cones, mostly filled with our favorite ice creams.
If you are a Conehead, as am I, you may be interested in the history of the ice cream cone. I wish I could tell you, but no one seems to really know. I've seen articles that say it started at the World's Fair in St. Louis in 1904, but I've seen other articles that take its origins back to 1807. Then, another article says the first recipe for the cone was found in an 1825 French cookbook. So, who knows?
Anyway, in order to make this year's celebration even more special, I went in search of the perfect ice cream cone. And I think I may have found it.
I don't like to proclaim anything as the "Best in Richmond." That's absurd. For starters, "best" is very subjective. Plus, if I were to proclaim anything as the "very best in Richmond," wouldn't I have had to check out every ice cream shop in Richmond? While I might want to, even I couldn't do that. But I have tried enough that I think I can say I have found the best.
In my not-always-so-humble opinion, the best ice cream cone around these parts is Scoop RVA at 403 Strawberry Street in the Fan.
After tasting their cones along with some of their excellent flavors and determining that their cone is my favorite, I contacted owner Paula Demmert. I wanted to learn (and taste) more.
Paula bought the Scoop RVA business from its original owners back in 2020. But before that, she had owned the Video Fan store in the same location prior to Scoop RVA setting up shop in June 2018.
Paula referred me to Becky McMorrow, the store manager, for more info.
Becky, a native of Durham, first began working in the store in 2019. "That was my first job in the food industry, she says, "although I have had a passion for baking and cooking my entire life."
Referring to a sign in front of the store proclaiming Scoop RVA to be among the nation's "Top 100 Ice Cream Shops," I asked Becky what she felt was the secret to the Scoop success.
"We are known for our unique flavors," she answers. "We offer elevated flavors that are always changing. Our big emphasis is on the good ingredients and an exciting menu."
She says that everything is made in the shop. "We purchase our mixes but everything is combined here," she explains, adding that all of the extra ingredients that go into their everchanging menu of flavors are produced right in the shop.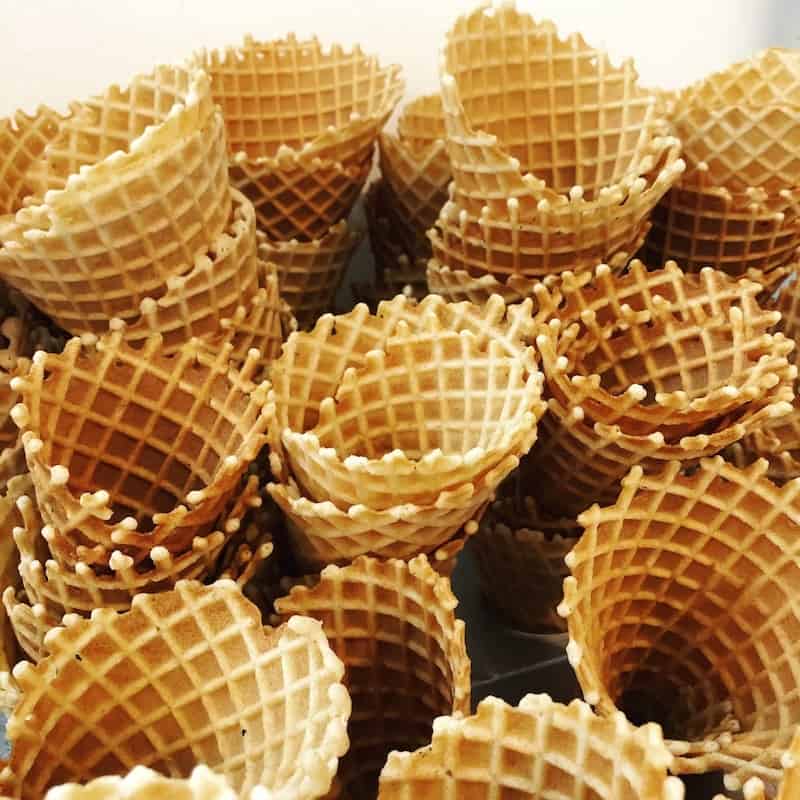 Of course, since we were there to help celebrate the cone, I wanted to know just what made their ice cream cones so fabulous.
"They are made from scratch here every day," Becky says. "It makes our shop smell amazing when we are making them." She explains that the batter is cooked for about a minute in a cone iron and then using a roller and a mold, the batter is shaped into a cone. "If it's all timed perfectly," she says, "we can make about 120 cones per hour."
Becky did tell me a little secret that I think truly makes the Scoop RVA cone stand out among the cones of Richmond. "We add a little cinnamon and brown butter," she says. Yes! Yes! I can taste it. It's subtle, but delightful.
I asked Becky to choose a flavor. I was hoping she wouldn't choose one of her favorite flavors, the Peanut Butter Crunch (with chocolate) because, to be honest, I'm not a fan of mixing peanut butter and chocolate. I don't look down on those who do. My wife loves the combo.
Fortunately, Becky chose their "flagship flavor," the Brown Sugar Cookie Dough. It's delectable … rich and sweet and cold. I do like my ice cream served cold.
Because, technically, I'm on a low carb diet, I brought my 17-year-old grandson Jacob along to help finish off the cone. As he happily did so, Julianne Landrum, who was working behind the counter, offered me an opportunity to sample some of the other flavors. My favorite, perhaps, was the Chocolate Oreo, which is both vegan friendly and gluten free. The Roasted Strawberry was also exceptional.
There are so many other flavors from which to choose, many of them being flavors one doesn't normally see in an ice cream shop, such as the Sweet Basil or the Sweet Corn & Blackberry. Of course, Scoop RVA offers their unique take on the more traditional flavors as well, but they are unique. For instance, they don't have a plain old vanilla. It's Creme Brûlée. Check out the current lineup on their website. And let me know what you think of the cone.
Try to make it when they're baking the cones. Becky says, "It smells like breakfast cooking."
---
Taste for yourself at
Scoop RVA,
403 Strawberry St.
Richmond, Virginia