'Seasoned Women'
November 29th, 2022
From the new poetry collection by Cathy Hollister
---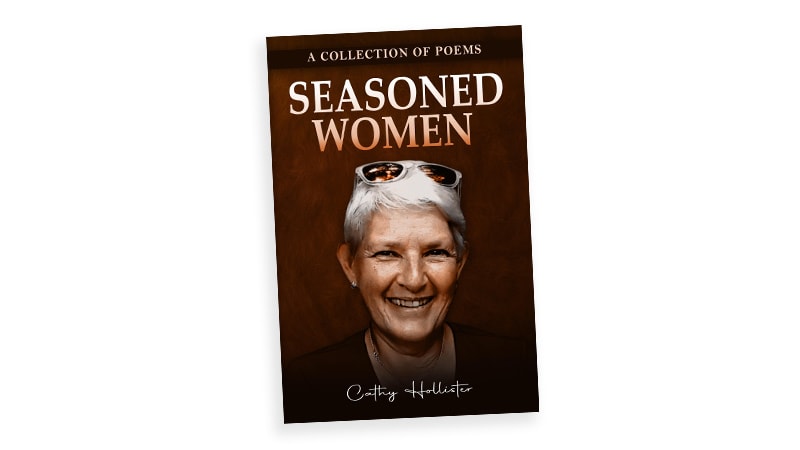 Cathy Hollister is a "champion of ageist poetry," celebrating the life lessons, wisdom, and memories that result from aging. She shares one of the poems from her latest poetry collection, "Seasoned Women."
---
Seasoned Women
A winter's Monday by the lake,
a day for soft silence, wool blankets with friends,
warm socks and no clocks and hot tea by the fire
while thoughts wander out
to stroll between snowflakes.
These women have taught me to think and to breathe
in autumn's riotous landscape.
In tumultuous times of our past
we've strained and saved and bought and thought
a new summer dress and a compliment
was so important.
Fresh spring sprouts, wild and tender
might have perished
but soon learned to bend, to ponder, to provoke,
as the wizened among us
illuminated our path.
A waning moon still lights the night sky
inspires the poets, pulls the tides,
sees the young lovers' kiss.
As sure as the sun rises, darkness will come.
Life's breath will shallow and fade
in its own good season.
Tonight, a blazing hearth draws us close,
and binds us in good company.
Like rusty old keys that still fit in the door,
we jingle and dance in time.
---
Read other poems like this in Seasoned Women: A Collection of Poems available from Poet's Choice.
Growing older is full of opportunities. That is the philosophy expressed in Seasoned Women: A Collection of Poems by Cathy Hollister. Poems in the book begin in autumn with contentment and reflection. Winter brings some harder times of depression though always tempered by hope. Spring and summer laugh, appreciate the wonders of nature, and the joys of family. A must-read for readers of a certain age, Seasoned Women calls to attention some benefits of growing older that may have otherwise gone unnoticed.
Hollister is a champion of ageist poetry. Her work celebrates life lessons, wisdom, and precious memories.
---
A sneaky bias pervades our society: ageism
---
A retired public health professional, she fills her time with grandchildren, reading, hiking, and leading dances. When she's not writing, she can often be found on the dance floor enjoying the company of friends or deep in the woods basking in the peace of solitude. She enjoys long-distance hiking and has completed multiple routes of the Camino de Santiago in Spain and Via Francesca in Italy. She is also an English Country dancer and caller and a contra dancer.
Her work has appeared in Silent Spark Press, Humans of the World Blog, Open Door Magazine, Beyond Words Magazine, The Ekphrastic Review, Smoky Blue Literary and Arts Magazine, Poet's Choice anthologies, and others. She resides in middle Tennessee. You can learn more about Cathy Hollister and her work at CathyHollister.com.