BOOMER Collaboration Beer with Three Notch'd RVA Collab House
| January 3rd, 2017
---
When we learned that the new Richmond location of Charlottesville-based Three Notch'd Brewing included collaborations with local businesses, we knew that a BOOMER beer was in the stars – a beer that, like boomers, ages well, is strong but subtle, well balanced, not bitter.
I contacted head brewer Stefan Mcfayden, who suggested a strong, malty, Scotch-style ale. We planned an early November brew day and a mid-January release, giving plenty of time for the beer to finish because, yes, this 8.5-percent ABV beer ages well.
"Since it's a malty beer and pretty strong," said Mcfayden, "we'll have plenty of time for the beer to finish and store in kegs."
On Tuesday, Nov. 1, three Boomer staff members – Paige Baxter, Jared Ross and I – joined Mcfayden at the Three Notch'd RVA Collab House in Scott's Addition to brew our BOOMER beer.
The recipe called for a grain bill of mostly Maris Otter malt, for a rich, slightly nutty flavor reminiscent of British beers, complemented with biscuit malt, crystal 60 and 120 for deeper color and caramel flavors, and a touch of roasted barley. The mash was followed by a 90-minute boil, with CTZ hops added to balance the malty sweetness.
After the "invaluable" contributions of BOOMER staff – measuring malt, stirring mash, emptying spent grain and adding hops – we ended with the beer nestled snugly in the fermenter for a two- to three-week nap with the Three Notch'd house yeast (which just happens to be a Scotch-style ale yeast).
BONUS: A BOURBON-BARREL BOOMER BEER
In addition to the beer's ingredients, Mcfayden acquired two Reservoir Distillery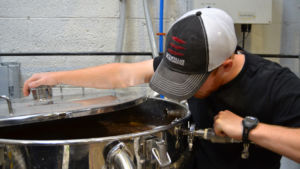 bourbon barrels for aging a portion of the ale. Reservoir Distillery, also located in Scott's Addition, produces three 100-percent mash-bill spirits, using locally sourced grains: Reservoir Wheat Whiskey, from 100-percent wheat; Rye Whiskey, with all rye; and Bourbon, using corn. Reservoir ages their spirits in small barrels to increase the surface-area-to-distillate ratio and allow for faster aging. This advantage will convey to aging the BOOMER beer.
Join us for the "Life Can Be a Dream" release of the Sh-Boom Shcotch ale and the bourbon-barrel version at Three Notch'd RVA Collab House, 2930 W. Broad St., on Thursday, Jan. 12, beginning at 4 p.m.
You can find the Facebook event page here.