The Shaved Duck
| October 13th, 2017
No decoy, just honest American cuisine in Chesterfield
---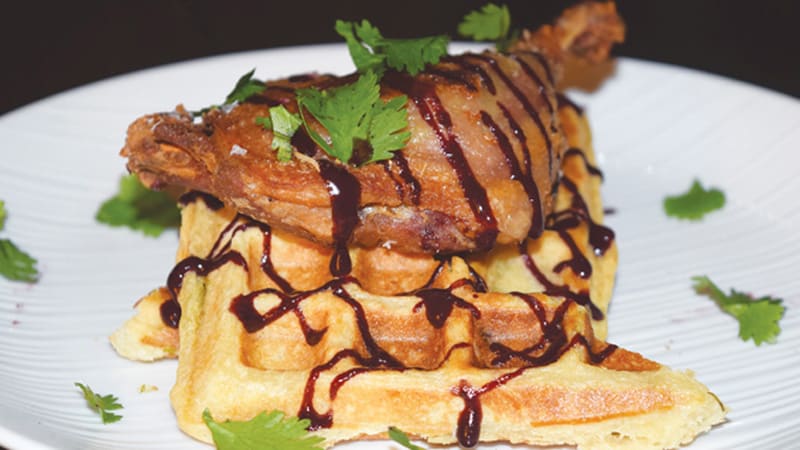 It's new, it's hip, it's in Westchester Commons – and it's part of the movement of independent restaurants moving in to Chesterfield.
The Shaved Duck Restaurant is brought to you by Joe Kmetz, who has brought in Matt Kirwan as chef. Kmetz and Kirwan both grew up in Midlothian and have known each other since their school days.
The Shaved Duck concept brings a downtown vibe to the Westchester area, targeted to appeal to the rural and urban residents that the shopping center is sandwiched between. Customers will get a rustic charm that meets an industrial blend, a 16-seat bar with about 130-seat capacity and a private dining area suitable for 30 guests.
The name of the restaurant may be a bit misleading – it was named instead after traditional duck decoys, carved and shaved from wood, which Kmetz's paternal grandfather collected, and duck may or may not be on the menu. Chef Matt Kirwan will be serving up eight to 10 entrées that feature new American cuisine with an old French flavor and seasonal ingredients. Expect to pay between $18 and $24 per entrée with a mix of small plates and appetizers. Like pasta? You'll appreciate the scratch-kitchen concept that Kmetz and Kirwan want to incorporate, featuring made-in-house pasta as well as homemade ice creams. Even better than the scratch concept is the open-kitchen concept.
The bar program is designed to stand apart from other nearby establishments: classic cocktails with a creative twist. Expect to see about 12 cocktails, eight local draft beers and packaged beer.
Another highlight Shaved Duck patrons can count on is featured pairings. Plan to get the seasonal entrée with a local beer or cocktail – no worries, these guys will take the guesswork out of what pairs best.
Kmetz says his sights are set on an early October opening, and he hopes to be completely up and running by mid-October.
---
15408 Westchester Commons Way, Midlothian